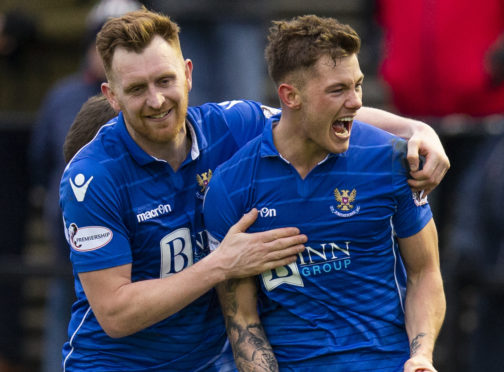 There is no shame in being called a supersub when you have been as good in the role as Callum Hendry this season.
St Johnstone would be in a much more worrying position in the Premiership without his goals off the bench, which have secured two priceless league wins and two draws.
But as proud as the Perth striker is of his contribution to the cause this campaign when he has been asked to make an impact as a second half replacement, he took great satisfaction at turning a game as a starter.
"It's not a title you want," said Hendry of the supersub tag.
"Coming off the bench and making a difference for the team is important and I want to try and do my best to show that I can start games and come up with a couple of goals as well."
Manager Tommy Wright is certainly happy with Hendry's career trajectory – an extended deal last month told you that.
"The new contract was a massive confidence boost," the 22-year-old admitted.
"I'm just getting my head down now and concentrating on my football.
"If I am coming on and showing the gaffer that I can do it, hopefully he will put his trust in me.
"It's been hard to get match fitness. He has to trust me and I have had injuries and stuff like that. Niggles.
"But a starting position is up for grabs and, as long as I stay on my game, I'm capable of taking it."
Hendry's first goal (or own goal by Aaron Muirhead as some are suggesting, not the Saints player funnily enough) was a big moment in the match.
Up until that 18th minute equaliser the Premiership side had been poor. Ayr had adapted to the conditions much better and deserved their early lead.
Hendry and Muirhead challenged for a David Wotherspoon cross and keeper Ross Doohan's indecision proved fatal.
Then came Muirhead's straight red card for a crude, over the ball, challenge on Liam Craig, swiftly followed by a classic number nine's back post headed winner from Hendry.
The control Saints then exerted ensured an improbable Ayr comeback didn't materialise, with the only slight criticism being the Perth men didn't score more. But it mattered not.
"I've never played in a game like that before," said Hendry. "It was a new experience for me. I enjoyed it even though it was hard.
"Every credit to Ayr –they fought for every ball even though they are a league below and I'd never played in a wind that strong.
"It was a tough game and it was just glad to get a result out of a tough cup match."
On the first goal, Hendry insisted: "I headed it.
"I think it came off the boy, but it was on target and I'm definitely claiming it.
"For the second one, I know what Drey (Wright) is capable of when he is out wide and it was a great delivery. I just had to hang back and take it."
Dad Colin Hendry enjoyed his afternoon on the terraces with over 1,000 Saints fans, who gave loud support to their team from the first minute to the last.
A bit of wind wasn't going to put Braveheart off. The former Scotland hero has given the same dedication to his son's career as he did his own.
"I asked him if he wanted a ticket with the fans or with the directors," said Callum. "He said to stick him in with the fans.
"He grew up in that weather. He loves it. He texted me after the game to say he was buzzing and he'd see me at home.
"To be fair, he's seen most of my goals this season because he has been at most of the games.
"I've told him he now needs to come to all of the matches. If he's not there, it seems I'm not scoring.
"I think what I'm doing is what every dad would want. I've got no right to be a professional footballer with the injuries I've had and he's been my man the whole time through it.
"He also looks after my contracts. He's my agent. It's great to have him there."
Hendry believes the club's three strikers are bringing the best out of each other at the moment as Wright mixes and matches during a busy spell of midweek-Saturday football.
He said: "Everyone has a chance of getting a place in the team and we are all happy if we do make it.
"There's always going to be competition there because we have three strikers, but the three of us, even if one misses out and the other two play, we still gel.
"Mayso and I have turned up with goals, but people don't realise the work Kano does on the pitch. It's a lot easier when there are two of you and he's the other striker because he does so much hard work."