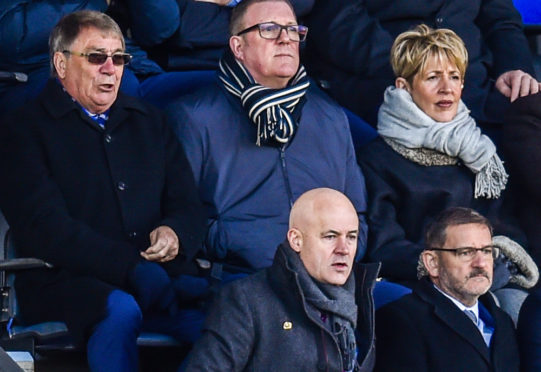 Friday night football should be the way forward for the Scottish game after it re-emerges from the coronavirus crisis, according to St Johnstone owner Geoff Brown.
The Perth businessman, who handed over the reins at McDiarmid Park to son Steve eight years ago, still has the majority shareholding in the club. And he still has strong opinions on how the SPFL can prosper.
Playing on a Friday is now part of the landscape and Brown believes it should become the norm rather than the exception.
"If I had my way – which isn't likely to happen – I'd have all games played on a Friday night," said Brown. "The whole lot.
"Nobody can give me a good reason for that not to happen.
"Think about it. Families do much more at the weekend than they do on a Friday night.
"There are so many more things to take people away from the football on a Saturday – and by the time we get the football started again after this break, people will have got into different weekend habits.
"I've never heard any complaint in a boardroom about playing on Friday nights. They complain about lunchtime kick-offs and about playing on a Sunday, but not Fridays.
"I hear the: 'Oh we'll have to travel to so and so on a Friday night' argument. But no club is taking a huge travelling support around the country these days and even the Old Firm have a lot of supporters local to the area they are playing at on a particular day."
Brown would also split the country across the middle as far as the bottom two divisions are concerned.
He said: "Leagues one and two should be regionalised. Having the likes of Stranraer travelling to Forfar is absolutely ridiculous."
As far as finishing this season goes, Brown doesn't believe there is any point in making solid preparations for a resumption until an end to the pandemic is in sight.
"If we get a date to start, we can plan around that," he said. "You can't really plan until that point.
"Things can then be done around the club when that happens – like working on the pitch for example. You'll be starting to get some growth if there's a rest period.
"The players are already into a close season so that's not a problem.
"People have forever been talking about summer football and that could end up happening this year."
Meanwhile, Brown has sympathy with the Ann Budge's stance that calling the leagues on the basis of current positions would be intolerable.
"Legally, there's a competition and it's to play 38 games," he said. "That has to happen.
"Ann Budge was right that the leagues have to be completed. It's hard to disagree with that.
"Would it be a big deal scrapping the League Cup for one year to help catch up? I don't think so."