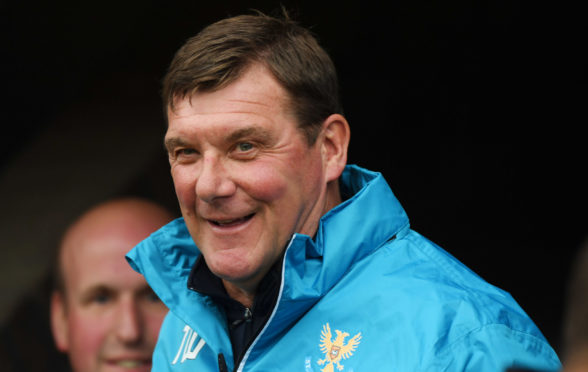 There are plenty of story lines running through St Johnstone's Premiership opener against Dundee United next month.
The Tangerines' return to the top flight after a four-year absence, the resumption of a local rivalry that peaked with a Scottish Cup final and two managers taking charge of their new teams for the first time are all in the mix.
As ex-United defender Callum Booth admitted, however, if it had been early bookies' favourite for the Tannadice job, Tommy Wright, in the home dugout rather than Micky Mellon, there would have been a Tayside derby plot for the ages.
"That would have been interesting!" said the Saints full-back.
"Although he was getting linked with the job I could never have seen that happening.
"He likes to run a club from top to bottom and I don't think he'd have got that at United. It wouldn't have suited him.
"I'm not too surprised he hasn't ended up at United. He will get a good job somewhere, though."
Booth coming up against his old club for the first time since he left a year ago is another talking point ahead of the August 1 clash.
With supporters being kept away, the 29-year-old will have to wait a while longer before he finds out whether his return is met with Arab indifference or memories of his last contribution as a United player, missing the decisive penalty in the play-off final against St Mirren, provokes something a bit stronger.
"I enjoyed my time there," said Booth. "I played for the majority of the season and we only missed out on promotion on penalties.
"One of the boys asked me what sort of reception I could expect if there had been fans in the ground. I said that I didn't think it would be good or bad – most of the fans would just look at me and say: 'There's that boy who used to play for us!'
"I wouldn't imagine they'd be too interested in me.
"Mind you, maybe after that missed penalty I could be getting all sorts of abuse! We'll have to wait to find out."
He added: "I had a feeling it was either going to be Easter Road (where his career began) or Tannadice first up.
"There are pluses and minuses. It's good because it's an attractive game to get started but the downside is we would have taken a lot of fans to it and United would have had a big crowd as well after coming up.
"It would have been close to a sell-out.
"Hopefully when we go there later in the season the supporters are allowed back in."
Booth left United as Lawrence Shankland was arriving so he doesn't have any inside knowledge of the Tangerines' dangerman that he can pass on to the Saints centre-backs. He has played against the Scotland striker often enough, though.
"Shankland is obviously a really good player," he said.
"I played against him when I was at Partick and he was at Aberdeen and then when I was at United and he was at Ayr.
"He's a top player. Whether he'll be there the full season, time will tell, but he's definitely one we'll need to be on top of in the first game of the season.
"United romped the league last season. With the budget they had that's what you expected.
"It will be interesting to see how they get on in the Premiership after being so comfortable in the Championship.
"I don't know too much about their new manager – I was only down south at Bury for about a month!
"He seems to have done well in England. I'm sure he'll know a fair bit about the league up here being Scottish.
"We'll soon see if it's a good appointment."
Booth, who signed a six-month contract through to January, reported that pre-season training is progressing nicely at McDiarmid Park.
"For the first couple of days it was strange," he said. "The set-up around the ground was different obviously and there were so many rules to follow. You're trying to remember them all!
"But you soon get into new habits.
"It was the same as going shopping – the first two or three times you were a bit spooked but after that it became second nature.
"Everything has gone smoothly.
"We've moved on from smaller groups to being back together as a full squad.
"The next step is friendlies. I'm sure the gaffer is working away on that – we can only play other Premiership teams because it's not as if we can travel down to England."
St Johnstone boss Callum Davidson has no worries about extra games against Premiership teams ahead of Dundee United opener