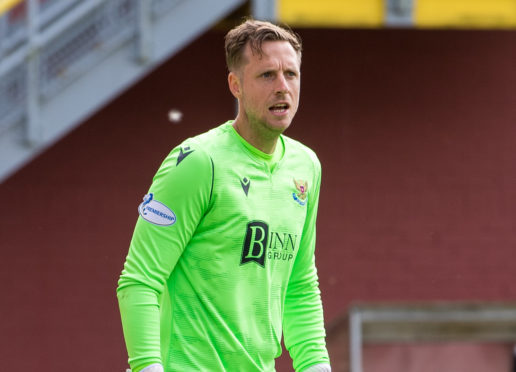 The coronavirus shutdown stretched the patience of every footballer up and down the country.
But St Johnstone goalkeeper Elliott Parish had already had his tested for eight months before the pandemic took a grip.
Signed by Tommy Wright last summer as a back-up for Zander Clark, the form and fitness of the Perth number one ensured the wait for a league appearance went on and on and on.
It meant recent recruit Danny McNamara wasn't the only one making his Premiership debut for Saints at Tannadice on Saturday.
Parish's drought was over and he put in a performance worthy of the landmark.
"It was great to get a game again," said the former Dundee man. "It has been long for a lot of people but nothing compared to what it has been for me.
"I played a couple of cup games last season (July defeats to Montrose and Forfar) but nothing in the league, so it was a long season.
"Sitting on the bench for a whole season is tough but as you get older you understand things better.
"Five or 10 years ago I would have been pulling my hair out, but the older you get you understand the situation better.
"There's no point jumping up and down about it. All you can do is be patient, work hard and be ready for when the chance comes.
"It always does in football. A week can be a long time in this game, so you just have to keep yourself right.
"It's a good squad here and the rest of the lads help you through it.
"I've been here before several times, I have been playing 12 or 14 years so it's part of the job.
"In the past I have always been able to get in at some point, not a whole year waiting.
"But the chance has come now and it's up to me to take it."
No timescale has been put on the return of Clark from a knee injury he sustained in pre-season training.
Parish's confident display against United – there was an excellent save at his near post from Jamie Robson in the first half and he commanded his box well when there was a late spell of pressure – will have reassured his manager.
And the Englishman wants to make Callum Davidson's decision as hard as possible by the time there are two fit senior keepers in the Saints squad.
"Zander is working hard to get back fit and strong," said the 30-year-old. "So I just have to make sure I do well enough that when he does get back the manager has a headache over what to do.
"That's what I have to aim for. I've done it before and I'm looking forward to the challenge of keeping the jersey."
When the half-time whistle blew at the weekend it was shaping up to be three games for Parish and three defeats. What followed in the second 45 was a reminder that although the manager and formation may have been new, the never-say-die Saints spirit was exactly the same as it always has been.
"The gaffer has worked on the formation since he came in so it wasn't a shock to us the way we lined up," he said.
"I just think we didn't start great against United. We were poor for the first 25 minutes or so.
"Losing a goal to a penalty early on and then having a man sent off isn't how you want your season to start!
"But I thought we were excellent in the second half. We came out and were the better side.
"The fitness levels were good and even though we were down to 10 men, I thought we looked the stronger.
"You expect that of a St Johnstone team. Having played against them in the past, the fitness and the work-rate is in the DNA.
"That's what this place is all about and you saw it again at the weekend."
The transition from Wright to Davidson has been a smooth one, according to Parish. And the way the Dundee United game developed was evidence of that.
He explained: "It was just a continuation of last season, really – apart from that first 25 minutes.
"The form we'd been in since December meant we were gutted the season had to end when it did because we were flying.
"We've had a change of manager and Tommy's shoes are big ones to fill, but the new gaffer has come in and made a real impact.
"The knowledge he's got and the ideas he's putting across have really impressed the lads.
"We believe that with the squad we've got we can keep things going the way they have been.
"It's a great bunch of lads here, we won't be talking about our targets – the main one being getting off to a better start than last year!
"I think as a group we have learned a lot from that experience because we were cut a little bit adrift at the start of December but fought our way out of it.
"That takes character because it's not easy when you are on a run like that.
"What you saw on Saturday was a continuation of how we ended the season, we got off to a bad start but we dug in there and got a point."
Parish believes the Tayside derby showed the absence of supporters in the stands won't dilute the Premiership product on the pitch.
"It's odd when there are no fans," he reflected. "It has the feel of a bounce game but you know what's at stake.
"It's a step into the unknown for everyone.
"We have all played in pre-season games and bounce games before with no fans but these are real league matches.
"The motivation comes from within and we all have to motivate ourselves and each other to make sure it's at the right levels.
"I thought the intensity was there for us at the weekend. It felt like playing in a proper game.
"There were tackles going in and it was played at a tempo."
Davidson has given Parish the incentive of challenging Clark for a start when both men are available.
"Elliott looked solid and I was delighted for him," said the Perth boss.
"He's not played for a long time, which is difficult, but he started well and making a save in the first half really helped him.
"He'll have the opportunity now to have a run of games and it's up to him to put pressure on Zander when he's back fit again."
Tommy Wright's best St Johnstone signing, David Wotherspoon, quickly proves his worth to new boss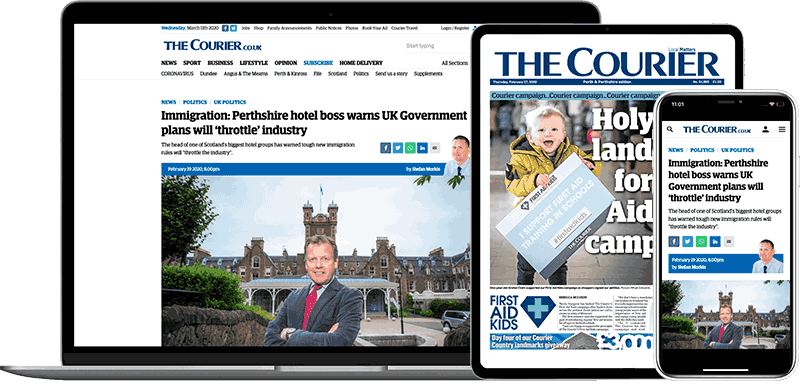 Help support quality local journalism … become a digital subscriber to The Courier
For as little as £5.99 a month you can access all of our content, including Premium articles.
Subscribe