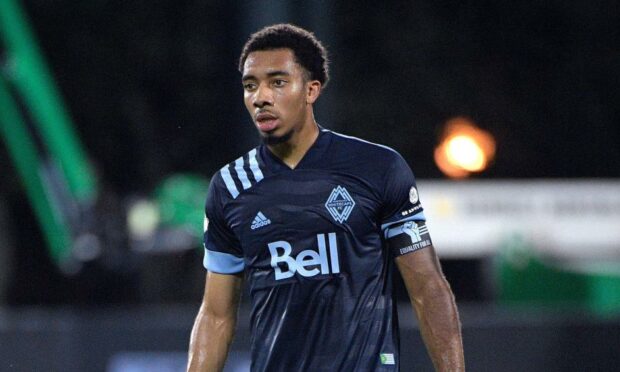 The man set to be St Johnstone's sixth January signing Thelonius Bair, all six feet and four inches of him, burst onto the MLS scene with an acrobatic, outside-the-box volley as a 19-year-old and also made an instant goalscoring impact with the Canadian national team on his debut.
Courier Sport delves deeper into the career of the 22-year-old, who makes no attempt to hide his desire to go to the very top of the game and has already been helped along the way by a Perth football legend.
---
The (unofficial) best first goal in MLS history
The Ottawa-born player has been in the Vancouver Whitecaps set-up from the age of 14.
There have been 18 starts, 39 appearances and three goals across all competitions.
One moment stands above all the rest, though.
As a 19-year-old playing against Portland in August 2019, with the Whitecaps trailing 1-0, Bair found the net with an over-the-shoulder volley from 20 yards out after a half-cleared header from a corner dropped in his direction.
His team lost 3-1 but even the pain of defeat couldn't detract from the individual achievement – a finish that would be shortlisted for MLS goal of the season.
Well, that's one way to open your MLS account.

Take a bow, Theo Bair! #PORvVAN pic.twitter.com/FDRIonzS0f

— Major League Soccer (@MLS) August 11, 2019
"It's the best feeling I've ever had," he said. "Very unfortunate to get the result that we did, but it's still the best moment of my life.
"In that moment I saw the ball dropping and I said: 'If I shoot this and it goes in, then nobody's getting mad at me.' And it happened. The most unbelievable experience of my life."
Coach Dasovic
It was the sort of strike Nick Dasovic famously produced for Saints in a League Cup final against Rangers.
Maybe the popular Perth midfielder talked him though it on the Vancouver training ground.
Dasovic is a senior member of the Whitecaps academy coaching staff and helped develop the young Bair, bringing him to England for a series of matches against the likes of Brighton and Bournemouth's under-23s in 2019.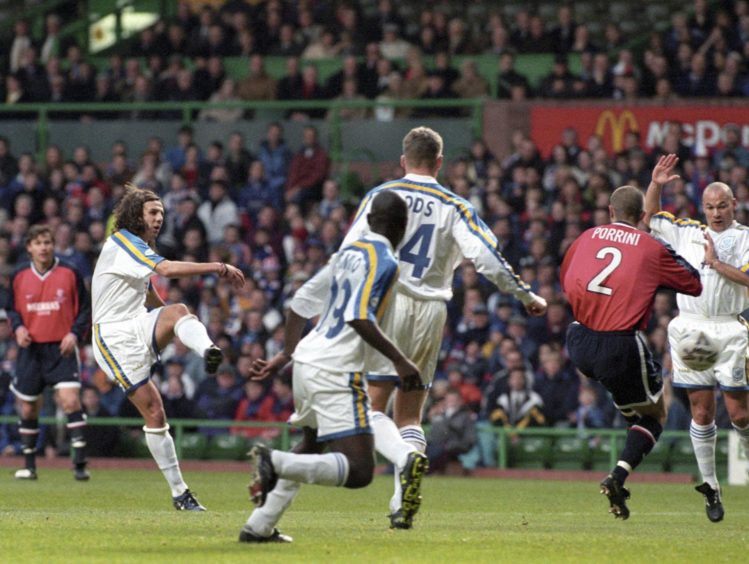 On the Canadian Soccer News fans' forum, there is an interesting post from one supporter –
"If Theo Bair doesn't make it with the 'Caps, it'll be mostly on MDS (then head coach Marc Dos Santos) for me. I watched him playing with the U23 development team, managed by Nick Dasovic, and he ran non-stop for 90 minutes. He was played as a CF, but not as your stereotypical lump with his back to goal, trading elbows with the CBs. He made decent runs into the channels and led the press very effectively. If Dasovic could get that out of him, why can't a supposedly better, more qualified manager in MDS?"
Rising international star
Bair's path may have already crossed with St Johnstone's double-winning captain, Jason Kerr, and current forward, Glenn Middleton back in 2018.
All three took part in the prestigious Toulon Tournament for under-21s.
Bair's one goal of the competition came in Canada's 1-1 draw with Japan.
He also represented his country at under-20 and under-23 level.
Full cap and a goal in six minutes
Bair was called-up for the senior squad in 2020 for friendlies against Barbados and Iceland in California.
He made his debut against the former, and scored in the 4-1 victory at Orange County Great Park.
Theo Bair wastes no time! Just minutes into his #CANMNT debut, he hammers home Charles-Andreas Brym's blocked shot for his 1st 🍁⚽️#CANMNT 🇨🇦 4-1 🇧🇧 pic.twitter.com/LAXDnr2YgT

— Canada Soccer (@CanadaSoccerEN) January 8, 2020
After being introduced as a second half substitute it only took him six minutes to get on the scoresheet when he finished from inside the six-yard box.
Bair also came off the bench for the Iceland match but only got two minutes of game-time in that one.
Best position
It remains to be seen which role emerges as his main one with Saints but Whitecaps sporting director and CEO, Axel Schuster, has gone on record as saying it is through the middle.
"Something we learned in the season is that Theo is much better in a striker position than a winger position. So we see him there," he said.
"He's our most skilled player for the last touch scoring on to the goal. If he is in a position to shoot, he has the best finishing."
The man himself is happy to keep his options open.
"It (striker) just makes it so that I get to use all of my abilities," he said. "I have lots of space and, and you guys know I like open space and running at people.
"But I'm ready to go wherever they put me, man. I'll play right mid, right wing, striker, left wing … if I had to play full-back, I will. I just want to play."
Happy to travel
With opportunities at Vancouver diminishing in the last MLS season, Bair, who has a Norwegian agent, was sent on loan for half-a-campaign to Hamarkameratene.
Helping HamKam secure the title and promotion in Norway's second tier (four goals in 17 appearances) has whetted the mature 22-year-old's appetite to further his travels.
And he'll be looking to take the European club route back into the national team.
Having already secured promotion and the title, Theo Bair and HamKam finished their 2021 season on a high note today, beating Grorud 2-1

Bair scored the 1st of 2 goals, his 4th of the year

Here it is. Lovely turn and finish#VWFC bound in 22?#CanMNTpic.twitter.com/rJo4aVodH8

— Alexandre Gangué-Ruzic (@AlexGangueRuzic) November 27, 2021
"I wanted to play," he said on a recent episode of the popular AFTN Canadian soccer podcast. "That's basically what I want all the time.
"It was definitely a great experience. I was ready to be in a team every week.
"Life goes by fast. I want to enjoy every moment I get.
"I want to make it to the top of European football.
"I want to be part of this golden generation for Canada.
"I want to be one of the better forwards to play for Canada.
"That's a stretch at the moment because we have so many good players and it's going to be difficult for me.
"I'm not the type to give up on that. It's been my dream since I was a little boy.
"Wherever I'm wanted is where I'm going to play.
"I'm addicted to playing and competition – I can't go without it."
St Johnstone set to sign Canadian international striker Theo Bair from Vancouver Whitecaps until summer 2024