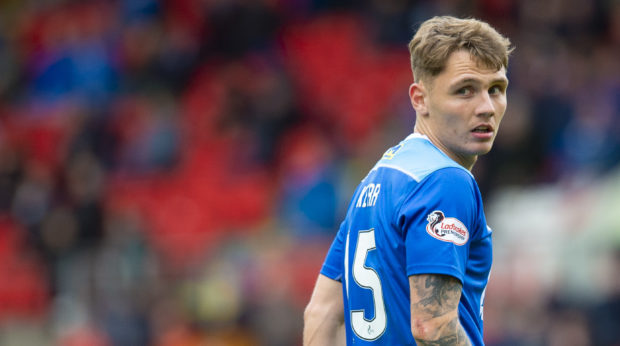 The St Johnstone captaincy will take Jason Kerr "to the next level" according to one of his deputies.
Vice-skipper Richard Foster has backed Tommy Wright's decision to give the armband to the young centre-back and the former Aberdeen and Rangers man believes it will accelerate the development of last season's Perth player of the year.
"His level of performance was excellent last season and he is very assured on the ball for someone so young," said Foster.
"Managers like a centre-half as captain because they can see the whole game in front of them.
"He needs to be more vocal but I think this will help him. Jason has to develop his voice on the park and the captaincy will bring him out of his shell a bit more.
"It will also help take him to the next level."
Foster added: "I have been in his situation when I was captain at Aberdeen.
"It can be difficult when you're a young player shouting at older and more experienced players, especially one like me who can bite back quickly.
"But now he's the captain and hopefully that will spur him on.
"He will certainly get the respect he deserves from the older players like myself, Liam Craig, Murray Davidson and Steven Anderson.
"Liam captained Hibs, I was captain at Aberdeen. We have played more than a thousand games between us.
"We might have been the logical choice but the manager has obviously put a lot of thought into it.
"And he knows there are more experienced players around to help Jason.
"We have been around the block.
"So we can help out on the pitch and also when Jason is in negotiating the bonuses!"
The summer breaks are much shorter than when the veteran defender started out as a professional at Pittodrie nearly two decades ago but Foster was a busy man in his time off.
"We took my little boy to Florida and it was great," he said. "I love the fast roller coasters!
"I also had a week doing my A licence assessment, which luckily I passed.
"Then after a week in the Maldives it was right back into my 19th pre-season.
"The close-season is getting shorter and shorter.
"I must have had seven or eight weeks off when I was a youngster at Aberdeen under Ebbe Skovdahl.
"I have never been one who can go for too long without running or doing gym work.
"It was Jimmy Calderwood who was the first manager to send me away with a programme for the summer. That was before we had even met.
"I used that to gauge my level of fitness for a few years after that.
"Nowadays you get a couple of weeks off and then you have a programme to work through.
"My wife (singer Amy Macdonald) got a spin bike for the house that is interactive. You hook it up with the wi-fi. I hate spinning but there's a guy pushing you on and that's great.
"I was using that a lot. You don't even have to leave the house."