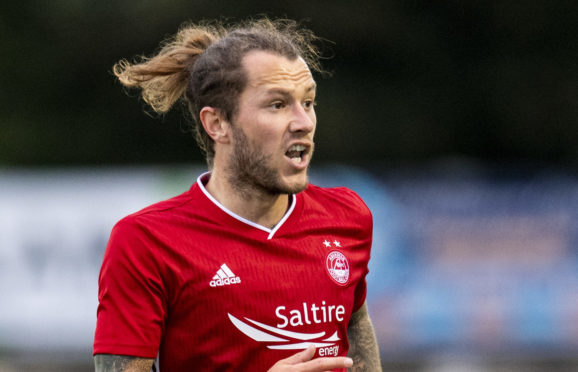 Dundee have made contact with Aberdeen regarding their striker Stevie May, manager James McPake has confirmed.
But the Dens Park boss pointed out that he will have a number of options, as will they.
"Look, I like him as a player," said McPake of the forward the Dons have made available for transfer.
"Would he interest me? Absolutely. But he'll probably interest every club in the lower half of the Premiership, if not some in the top half.
"He's one of a number that I like who are on a list, which is probably the size of a phonebook at the moment.
"Dave Mackay (McPake's assistant) has had a couple of conversations with Del (Derek McInnes) and Doc (Tony Docherty) because he knows them so well to see what's happening.
"That's the process when you're looking into any player.
"Obviously we know Stevie a bit more than some of the other ones and we've done the background on him, as well as with about 15 others."
McPake admitted that securing a forward is proving to be harder than strengthening the other areas of his squad.
"I'm finding that out," he said.
"I'm not going to be rushed into it just because we're low on strikers. It needs to be right.
"We're working in the background."
On the general issue of what business still needs to be done in the transfer window, McPake said: "I've not put a number on it.
"We're continually looking for quality. Names are being thrown at me from everywhere.
"We believe in what we're doing. Yes, we've got a lot of midfielders and defenders but if the right midfielder or defender pops up then I'll have a look at it. That's why I'm not putting a number on it."
McPake is "itching" to get the competitive football started against Raith Rovers in the Betfred Cup tomorrow.
"I know that people have a moan about going into the competitive stuff so early but for me it's been great," he said.
"I've been itching to get going.
"Fans expect the competition to be treated seriously. There are no excuses for us. We're ready to go.
"I've been a part of poor cup runs at this club.
"We won't be looking for excuses if things don't go our way. We're certainly ready.
"Raith will be feeling good about themselves (after winning all their pre-season matches). They're decent. We watched them on Tuesday night against Cowdenbeath.
"We know what to expect."
McPake will have a full squad to choose from bar one.
"We almost got through the full pre-season but Callum Moore has picked up a calf injury," he reported.
"He'll not make Saturday. It's unfortunate for him because he was looking good."