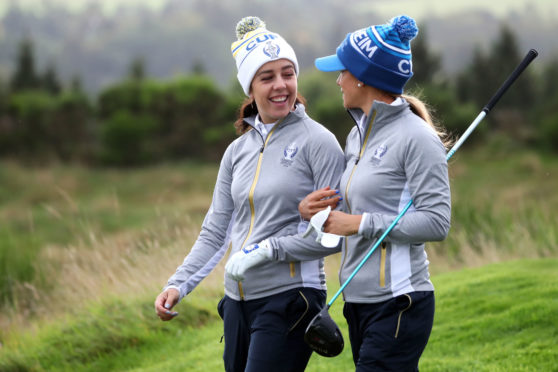 Georgia Hall has seen too much of fire and rain over the last week or so, so is looking forward to getting back in her favourite place, the links.
The 2018 Women's Open champion was caught up in the brush fire that brought and unfortunate end to the Rose Series at Wentworth last week, seeing the flames rising just a 100 yards from the seventh fairway where she was standing.
Then she arrived in Scotland for the Aberdeen Standard Ladies Scottish Open just in time for Tuesday night's epochal thunderstorm as it swept over Fife and Edinburgh.
"The weather's been very strange for me the past kind of ten days, but I'm hoping it stays kind of normality throughout this week for the tournament," she said. "I was out this morning very early and there were a few more rumbles in the distance, but nothing too major.
"Last week I was halfway down the 7th hole and you could just see so much smoke coming in. Wherever you looked, everything was so orange and there was black ashes just floating all around us.
"It was very strange, and then obviously we had to evacuate. I think it was about 20 yards from the actual 9th or 10th tee box, so it got extremely close. I've never seen anything like that before."
Georgia won two of the Rose Series events so is rounding into form nicely for this, playing her favourite form of golf in her favourite place to play it.
"Links golf is the natural way to play," she said. "Coming to Scotland is always great, being able to drive up and play in one of my favourite events of the year. I don't really treat it as like a warmup for next week, both are just as important.
"This is my first kind of main event back, so I do want to get off to a good start but I'm not putting any pressure on myself. I'll just go out there and stay calm and let all my practise do the work."
The Renaissance has undergone some subtle changes in the year since the first two events, and Hall thinks it plays more "linksy" than it did.
"The course has changed around the nines and some holes kind of swapped," she said. "I noticed that the rough's are much longer this year compared to last.
"I think the back nine now is the hardest, and I think it's a great last few holes. I notice going down 18 they took a massive tree out on the right, which caused a lot of problems for players.
"I think we're quite happy to let that one go, and obviously made it definitely seem more linksy. You can definitely hit it out further on the right on your tee shot now.
"It's definitely a links feel. We haven't actually played in much wind yet, so I think when the wind gets up, it will definitely feel a bit more like that."