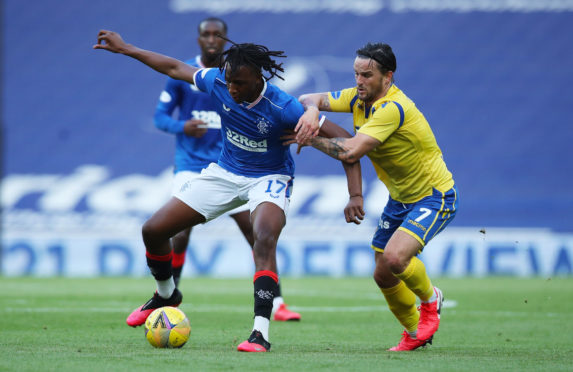 When your working view is from the second front row of the Ibrox main stand enclosure, being deprived of a panoramic picture of a game being played out is offset by the little details that can be gleaned from being so close to the action in a near-empty stadium.
The touchline exchanges between the two managers and between them and their own players is always worth keeping an eye and ear on when not engaging in the primary task of the evening – protecting your laptop from stray clearances. (Sitting duck journalists must be far too tempting a target for centre-backs to resist).
That Steven Gerrard was losing his patience in the first half, rather than Callum Davidson, was an indicator of whose game plan was working best. Not as reliable an indicator as a little tete-a-tete between Danny McNamara and Joe Aribo, mind you.
I've seen enough of the on-loan Millwall full-back already to realise this is a feisty competitor who doesn't care about reputations, egos or transfer fees.
Late in the first half the pair got involved in the sort of corner flag tussle that happens every game, with it being a flip of a coin as to which one of them gets the free-kick from the referee. On this occasion it was McNamara.
The outburst that followed from Rangers' star man, and the to-and-fro that continued all the way back to the half-way line, showed that not only had the Republic of Ireland under-21 international got under Aribo's skin, there was frustration at how the match was playing out for the Light Blues and that frustration was getting the better of him.
Rangers scored their second goal a few minutes later and the narrative changed for them at that moment but it shouldn't mean the first 45 minutes is overlooked – certainly not from a Perth point of view.
Aribo wasn't the only one exasperated. He had Alfredo Morelos and Ianis Hagi for company.
It was because St Johnstone were pressing high and aggressively, smothering the Rangers playmakers in midfield and pinning their opposition back for long enough periods to now be able to bank that first half and use it as proof to themselves that their formation works against the best in the league, so should work even more effectively against the rest.
It wouldn't be too much of an exaggeration to say that Saints imposed their style of play on Rangers more successfully than on Dundee United. More specifically, Ali McCann influenced the contest much more obviously, which was reassuring after an untypically quiet 90 minutes in the Tayside derby.
For all the talk about the pros and cons of different systems, getting your best player on the ball as regularly as possible and providing him with the platform to let his supreme talent flourish, which it did against Ryan Jack and Glen Kamara, should always be a basic principle.
McCann was wearing last season's kit and this was last season's standards.
The much talked about match sharpness of Saints, or rather the lack of it, will not handicap them for much longer, if at all.
Craig Conway, making his first start on Wednesday, believes the advancement his new team have made between day one at Tannadice and night two at Ibrox was evident.
"I thought we were able to pin Rangers in, especially in the first half," he said. "They couldn't really get through us and didn't exactly create chance after chance.
"I thought we were really solid and looked a threat going forward but against the top sides they are always going to punish you and are only going to need half a chance, which is what happened.
"A 3-0 was harsh on us but Rangers are a top side. We made sure it wasn't easy for them. You could sense they were getting frustrated and probably if their fans had been in the ground they might have got on top of them.
"We can take the positives and go on from here.
"The manager has been working on our shape. It is a new formation and as the weeks go on we are really nailing it and I think it worked at Ibrox for long spells of the game. I think you will see it improve over the coming weeks."
You would like to think that the part Saints played in all three Rangers goals can be put down to poor decision-making born of lack of top level game-time. It is painful in the moment but in big picture terms, better that than being cut open on three occasions.
"Rangers were always going to be a threat but we gave them their first goal on a bit of a plate by giving a cheap free kick away," said Conway.
"We'd had the best chance before with Callum (Hendry) who did really well but it has been a good save from the keeper.
"We limited them to few chances and our shape was very good but it was a blow losing the second goal with literally the last kick of the half. I still felt if we could get a goal back we were in the game but again a cheap goal from another set play, very early on in the second half made it uphill from there."
There is no doubting the fact that Saints have had it hard since football returned. A Covid-19 call-off in pre-season was bad enough given the St Mirren friendly would have been the last and most important bounce match before the league got going. And the Aberdeen postponement opened up a yawning competitive gap between themselves and Rangers.
Now Davidson's team have the opportunity to find the sort of rhythm that has marked out the haves from the have-nots in this unique Premiership campaign. There are three games in eight days, starting with a trip to Kilmarnock tomorrow.
"Due to unforeseen circumstances it has been a frustrating couple of weeks for us," said Conway.
"We seem to have been the victim of everything else.
"We have a chance now and a few games coming up.  We have Kilmarnock and the Aberdeen game as well. We have a few games in a short spell of time but if we can build on the Rangers performance and carry on then I don't think we will be far away from where we want to be."
This is an improving team and the next logical step, if there is such a thing in football, is that results will soon improve with it.
St Johnstone boss Callum Davidson 'pleased with a lot of things' after 3-0 defeat to Rangers