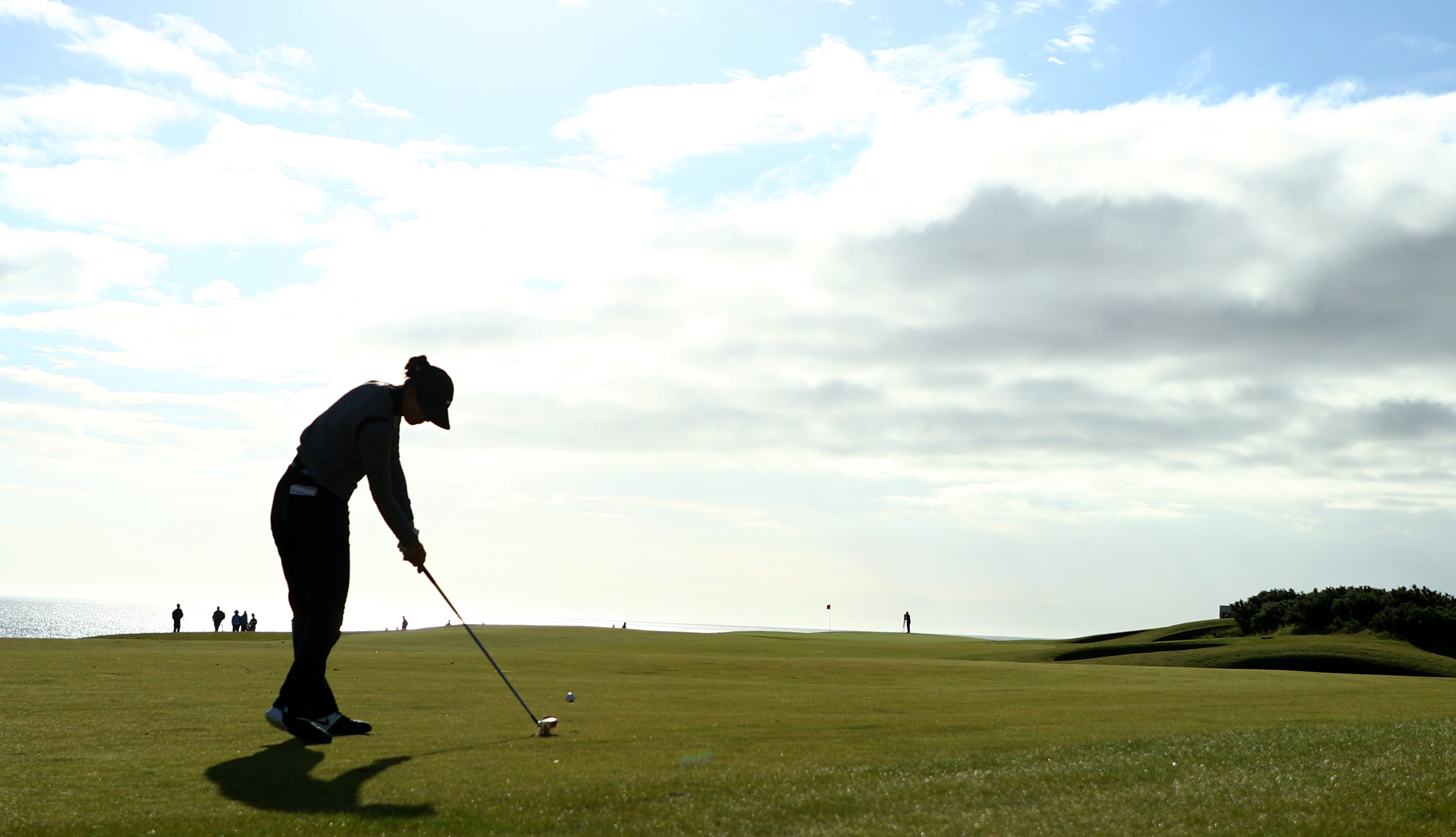 The nerdy guys in lab coats at Callaway Golf will do anything for Michelle Wie, delving deep into their vaults for whatever she desires, and the result was record-setting in the opening round of the RICOH Women's British Open at Kingsbarns Links.
Wie, still only 27 but with a lifetime of experience (good and bad) behind her, stormed the course for a superb eight-under 64 – a new women's course record – including an astonishing back nine of 30. She then watched as actual storms delayed play twice and slowed the field in pursuit of her, only In-Kyung (IK) Kim getting to within a shot.
But Wie had secret weapons at her disposal – well, actually forgotten by most but not her and the boffins at her club manufacturers. She asked them to go back into their vaults to find her an 11-wood – which she hits instead of a five-iron – and they then customised it for her 6 foot one inch frame.
There's a nine-wood in the bag as well, which she uses instead of a four-hybrid.
"Yes, I have an 11-wood and nine-wood and I don't even know the lofts on them," she said. "I asked the guys at Callaway to look back in their archives to find me an 11-wood and they were great.
"I definitely had to cut it down, and I've never played such a high-lofted wood before, so they;'ve done a great job of working with me and making it work.
"I hit the 11 about 180 yards and the nine 190-195. But it doesn't go that far in these conditions. It's a lot easier hitting the 11-wood than a blade 5-iron."
Easier-hitting clubs are not because of her issues with injury, specifically the neck problem that had her scratch from the US Women's Open last month, but Wie has a new philosophy rather than the driven young teenager we remember from the WBO at St Andrews ten years ago.
"I'm just happy to be playing and at full capacity," she said. "I've struggled with injuries the last two years and I took things too seriously. You play in pain, you grind trough it and lose sight that this is a game.
"I needed to take a step back and realise how lucky I am that I play a sport I love for a living and get to travel to beautiful places like Kingsbarns. I live a pretty lucky life, and I just think having a different perspective, thinking less about results and just having fun out there, is going to help."
With this attitude she was able to laugh at herself dropping a shot on the second hole and coiiming back with a vengeance.
"Driver in the middle of the fairway, laid up to the perfect spot and then skulled a lob wedge through the green. A lob wedge!
"That got me very angry, but I nuked a drive on the next hole, and that got me going."
Only Anna Nordqvist in the field got within three shots of Wie's back nine of 30, but she and the early starters enjoyed almost perfect playing conditions, just one sharp shower to distract them.
In the afternoon however there were two separate deluges and two breaks amounting to 75 minutes in total separated by a roughly an hour, but the disadvantage was mostly just inconvenience.
Kim, playing after Wie but long before the rains came, opened with two birdies and dropped just the one shot, ironically at the picturesque 14th of all places as she was enamoured by views.
"I'm just so amazed by the golf course," said the 29-year-old. "It's so pretty out there, and I was kind of expecting the rain, but it was blue sky the whole time.
"It's my tenth year here and I think playing the Scottish Open really helped me to prepare for this week because we had so much wind over there.
"I never got used to the ground and how to play in just one week before , so I think it has really helped."
Lindy Duncan's six-under 66 was down to some local knowledge on her bag in caddie Ruairi Roberts – "crazy spelling" according to his new boss – but the young American admitted she couldn't quite believe where he was telling her to go at times.
"He tells me where to hit and I'm sometimes, like, `really?' " she said. "But he's been right on every time so I told him after a practice round, only half joking, remind me to listen to you because you know your way around here.
"I don't have a regular caddie so I just called the club. I got so lucky."
Lexi Thompson, with her regular caddie Kevin McAlpine a Kingsbarns veteran, plotted her way around and a timely birdie at the last – just before more rainstorms, brought her in with a five-under 67.
A resurgent Mel Reid was another with a 67, and on a good day for the English, Laura Davies, Charley Hull and the promising Georgia Hall all had 68s.
Hall, gunning for a Solheim Cup place, was one of those who felt properly prepared having been at Dundonald last week. "What wind?" she asked. "Every day last week was a four-club wind."
Davies and Hull both had cause to be slightly disappointed even by four-under, as both reached six-under before falling back, Davies in two bunkers on the 15th and Hull with a short miss on the 16th.
Of the seven Scots in the field, Pamela Pretswell, qualifiers Sally Watson and Heather MacRae all both shot par rounds of 72.