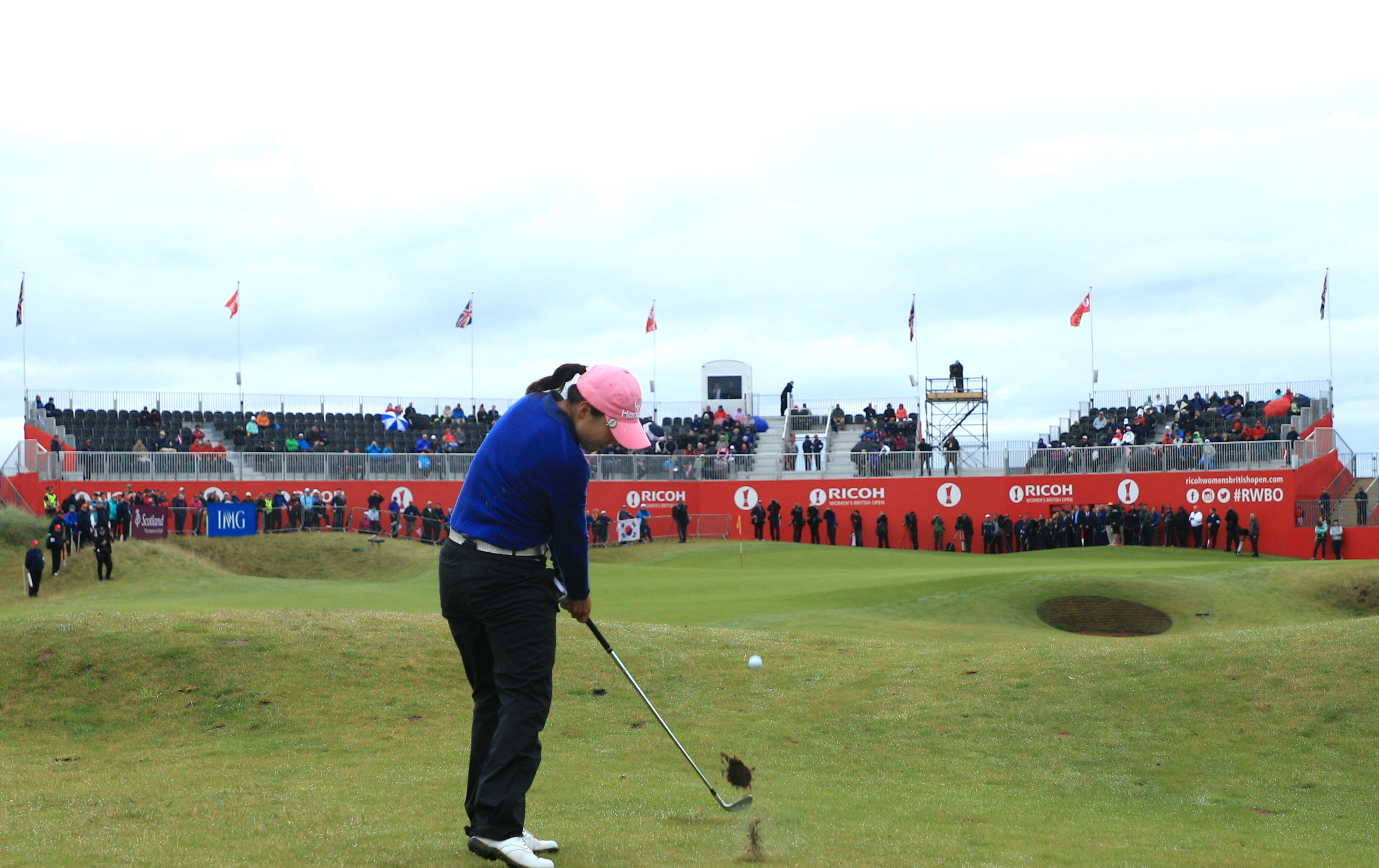 They sent out the cavalry at Kingsbarns to try and discomfort In-Kyung Kim, but the Korean nervelessly repulsed them all to coast to victory in the RICOH Women's British Open at Kingsbarns Links.
The 29-year-old, who famously missed a tiny putt on the final green to win her first major at the 2012 ANA Inspiration and heartbreakingly then lost the play-off, this time resolutely refused to bow to the pressure on a miserably dreich final day on the East Neuk coast.
"Upflifted," she said when asked how she felt about her victory. "I used to get annoyed when people asked me a question about that putt, but you know worse things happen in life than missing a short putt.
"Maybe I won't get asked about it anymore now."
There was pressure there alright, provided by Jodi Ewart Shadoff's record-equalling 64 and Michelle Wie's blistering outward half of 30, just two performances that lit up another dour day of overhead conditions, not helped by a funereal pace of play that saw the final two ball take more than four hours to get round.
But Kim wasn't to be rushed or frightened, and her first major came five years after she missed what many regard to be the shortest missed putt to win any major championship.
She finished with one-under 71 for an 18-under total of 270, two ahead of Ewart Shadoff and three from Wie, Caroline Masson and Georgia Hall.
It was a long day even before she got to the course for Kim as she'd got up at 4.30 am, but it wasn't nerves over her six shot lead.
"I saw the sunrise, which was really nice," she said. "There was nothing to do but have a bit of fun, do some shopping. I had the best warm-up I ever had and I felt great on the course.
"I saw that some of the guys were shooting good scores but I was pleased at that, I thought maybe that means I can shoot a good one too."
While the assault was being attempted ahead of her, Kim showed no sign of distress and anxiety at all. She birdied the first as an opening statement, and a bogey at nine was no real issue after she had a regulation two-putt birdie at the long eighth.
Kim's only real escape was at the short 12th, when her tee shot was a little too well hit, but her ball stopped dead on the fringe of the bunker at the back and she was able to get her par faior;y routinely from there.
The final, decisive blow was her second to the 17th – usually Kingsbarns' challenging 18th – when she had a five-wood at the very edge of her range and backed off the first attempt just before she began her downswing.
The second time, however, she put every bit of her tiny frame into it, swinging nearly off her feet and it just carried the burn at the front of the green, from where she just missed a 15 foot birdie putt.
"It only just carried," she admitted. "A lot of the pins were hard for me to reach with my ball-striking and I didn't get many birdie chances, but that was obviously a big shot for me."
Anxiety over, she parred the last – to complete nine of them on the homeward half – for the title.
Ewart Shadoff was nine off the lead going into the final round but did everything she could to pile the pressure on Kim, getting to within two at the end. Birdies at five successive holes from six through to 10 made the chase actually feasible, and we rolled in a putt at the 17th to get to two behind, with Kim on the tricky short 14th, it even looked possible.
"I didn't think starting the day that I would have a shot," he said. "IK was way ahead, and I just started out really strong, and my putting was really on fire.
"I had a great stretch in the middle of the round to get me going. I just saw myself at the start of the round just take the opportunities when I get them and that's what I did."
But she always thought Kim would hang on, and was instead mostly pleased to have secured her place in the European Solheim Cup team.
"I missed the cut last week at The Scottish Open, so my confidence wasn't that high coming into this week," she admitted. "So it's been a huge shift of confidence for me, and I'm excited to go play match play, actually. I really love the format and I love being in a team environment."
Wie's second round 76 was her biggest cause of regret on the week as she surged on the front nine, but the putter went cold on the back nine and a 66 was good enough for a tie for third with Caroline Masson and Georgia Hall, both of whom she'll see again in Des Moines in a couple of weeks in European colours.
"I'm really proud of myself for how I chased it today," said Wie. "I just tried to play my butt off, basically, and try to make as many birdies as I can.
"I really thought all those putts at the end were going to drop and if they did, I would have had a real chance. But I'll take what I get this week and move on with a lot of confidence."
Scotland's sole survivor for the weekend Sally Watson finished off with a 76 in what was her final round before quitting professional golf to back to university.
"I think my parents are more emotional than I am," she said. "It was great to play the weekend and kind of enjoy my last two rounds, knowing they were the last two, rather than these might be the last two if I hadn't made the cut.
"I've love the competition of golf so I'm hoping I'll find other venues to exercise that, my competitive nature. But I'm sure I won't find too much trouble for that."