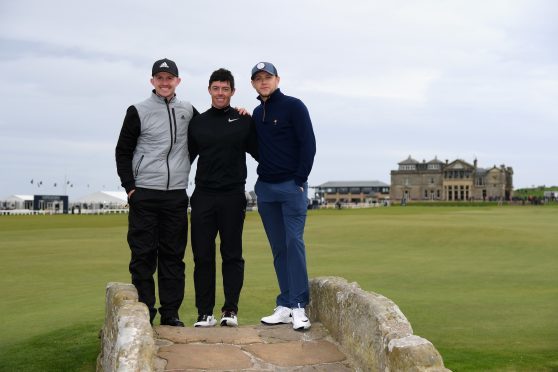 Connor Syme's feet look pretty firmly planted on terra firma and his head seems to be some way below the clouds, if Rory McIlroy's opinion is to be believed.
"His game is very good, but I was more impressed just with him as a person, if anything," said McIlroy after the two played a practice round on the Old Course yesterday ahead of the Alfred Dunhill Links Championship, as you do, with mutual friend Niall Horan of One Direction in tow, which was nice.
"It seems like he's got a really good head on his shoulders, at 22 years old. He seems very mature, not fazed by anything at all," continued the former World No 1 of Drumoig's Syme, just a pro for two weeks.
"He finished 12th in his first event as a pro in Portugal. Just by that, you can tell he's not really fazed by this environment. Nice game, solid swing and sort of does everything the right way. I don't see any real weaknesses.
"It was good to get out and play 18 with him. Hopefully he has another good week this week and he can do well on his way to getting his Tour card."
Rory did that right here in one bound during the Alfred Dunhill Links Championship of 2007, of course, and he told Connor of that going down the first fairway.
"He mentioned that going down the first and obviously it was a big stepping stone for him," said Connor.
"It certainly was his ambition to do it, but I know you can't really think about that sort of thing. If it comes around, grab the opportunity with both hands, for sure, but I'm well aways from thinking about that.
"I can only hit the first shot at Carnoustie tomorrow, and that's all I'm thinking about, really. If it becomes a good week, then brilliant, but I'm looking forward to the challenge for sure."
Despite his 12th place on debut in the Portugal Masters, Connor  is really only thinking beyond the Dunhill to his next definite date, Stage 2 of Q School next week. This is probably just as well considering it would take as much as second place here to secure his full tour card, Rory having been third ten years ago to win his.
"Certainly Stage 2, that's where my head's at," added Connor. "I know that's exactly where I'm playing.
"It's kind of a bit stop/start at the minute. Obviously I don't have any status anywhere. Maybe a few invites here and there, and the management company I've signed with, Modest, have given me a couple of great opportunities here and in Portugal.
"It's not in my personality really to kind of get too up about things. I think certainly being in The Open and stuff like that will help me this week. It's going to be a similar sort of feeling to it."
It's all moving very quickly for Connor. He's signed a clothing deal with Adidas, and there was the great experience of playing with Rory.
"It's been a fun two weeks since Portugal and obviously getting to play with Rory today, you can't buy that experience. I was picking his brains about stuff all the way around.
"It's obviously great to hear Rory talking highly about my game there and it means a lot. It was great to play with him and a great insight for me to see how he does it."
Connor has played St Andrews plenty times in the amateur Links Trophy, played in the Amateur Championship at Carnoustie a couple of years back and knows Kingsbarns very well.  What with staying at home and mum's cooking, it could hardly be a better place to play.
"ll these of courses I've grown up playing and had the opportunity to play and practise last week after Portugal, so I was over at Carnoustie.
"I'm familiar with St. Andrews and with Kingsbarns a little bit. It's nice to stay at home definitely, you don't get that very often playing pro golf, so it's going to be a fun week."