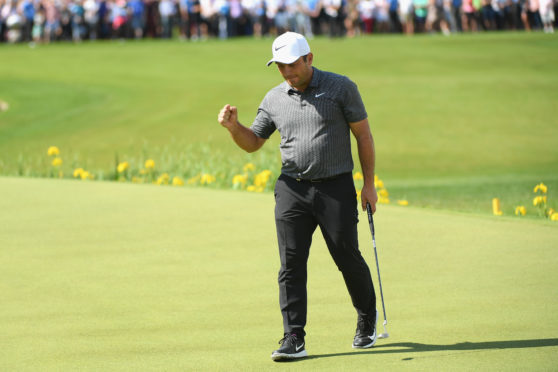 Francesco Molinari always seemed destined to win one day at Wentworth, and the London-based Italian chose yesterday by holding a listless Rory McIlroy and the field at arms' length to win the BMW PGA Championship.
The consistent, reliable 35-year-old didn't have a top ten for a year but a return to Wentworth – where he was second to Alex Noren last year – proved the perfect antidote to that. Starting the day level with McIlroy on 13-under after playing himself into position on a windy Saturday, it was the Italian rather than the former world No 1 who pulled effortlessly away.
He eventually completed a 68 to complete a four-round 17-under aggregate of 271, two ahead of McIlroy. The four-time major champion has the consolation of moving into second place in the Race to Dubai, with Molinari motoring up into third.
For all that Molinari played exceptionally well on a course he is supremely comfortable on and  McIlroy was positive about his improvement afterwards, it's still hard not to be concerned about the lack of spark from Europe's acknowledged leading player.
The majority of the 23,000 plus crowd had come early –  times were moved up to avoid a predicted thunder threat in the late afternoon – to see a McIlroy charge, and it didn't materialise.
The Italian wasn't intimidated anyway by the presence of his former – and probably future – Ryder Cup team mate.
"I'm old enough now that I've played in probably tougher circumstances even than today; playing against Tiger in The Ryder Cup and stuff like that.
"Rory is a great guy. I didn't feel intimidated at all. It's just the last couple of holes, he's basically thinking eagle, eagle while I'm thinking par, par, and that makes the whole difference."
But he was pleased by his performance over the whole weekend, not bogeying a single hole from the tenth in Friday's second round onwards.
"To play, I don't know even know, 44 holes was it without a bogey here? It's impressive, even for my high standards!" he joked.
"I don't want to sound too arrogant but when I play like this, I think I do everything well. Chipping was good. Putting was good. I think I showed today that I can do pretty much everything as good as the top guys in the world."
Molinari might have been relentless enough to beat anyone. However until the very last blows he didn't get a real challenge from behind once he assumed a share of the lead on Saturday.
Three birdies on the front nine while McIlroy flat-lined established a lead that didn't seem likely to be challenge. Known for his addiction to tee to green golf, and for a predilection for the West Course despite never being a winner – five top tens in his last six championships – the Italian purred along like a sponsors' BMW rather than a flighty Italian Maserati.
There were a few probes from lower in the field, from defending champion Alex Noren, from Kiradech Aphibarnrat's early eagle, and then a late charge from first round leader Luca Bjerregaard, who matched his Thursday 65, no doubt bitterly regretting he played level par golf in the two rounds inbetween.
After the regulation birdie at the par five 12th, Molinari had his three shot lead, McIlroy was still becalmed and the trophy was assured if the Italian didn't do anything daft, and that appears to not be in his DNA.
However for the second day in a row he stumbled slightly on the final hole, making a mess from the perfect position in two and faced with a six footer to save his par. Dramatically, McIlroy was on the green in two blows 20 feet away, and it seemed an unlikely three-shot swing could snatch the title from Molinari yet again.
However, rather fittingly for a day that there seemed no spark from Rory, he left the eagle putt unforgivably short – on line but in the jaws. It was resonant of his tentative play all weekend, in contrast to the free release of Friday's 65.
Molinari, freed from any doubt, promptly holed the six footer to maintain his bogey-free streak and take the title, the near €1 million winner's cheque as well the armfuls of Ryder Cup qualification points.
And he's thinking about that for sure now.
"I was too far back, really, in the standings to be seriously thinking about it, but it's on a course I love (he has three second places there) and where I have almost as good a record as I have on here, so I'd love to be there.
"I've put myself in a much better position. But right now, playing two tours and trying to play well, it's enough on your mind without thinking Ryder Cup."
For McIlroy, it was the same kind of flat feeling we'd seen at the Masters when he didn't engage gear and really put any pressure on Patrick Reed. This time Molinari was more proactive in building his lead, but it was still surprising – and surely troubling for his devotees – to see nothing from McIlroy until it was all but over.
McIlroy admitted "disappointment that I put myself in position and didn't get the job done."
"At least it's better than the Players, there's an improvement," he added. "I didn't get off to a good start today and Francesco was three or four shots ahead of me by the ninth, and it's hard to claw that back when he's playing like that."
He heads to Jack Nicklaus' Memorial Tournament to "try and put myself in position again and see if I can get it done there."
"When you are working through a swing tweak it takes more than a week's work to get it bedded in," he said. "It's not a bad week, but I had I given myself a nice cushion after 36 holes.
"There were still enough loose shots in there to know it is not quite there."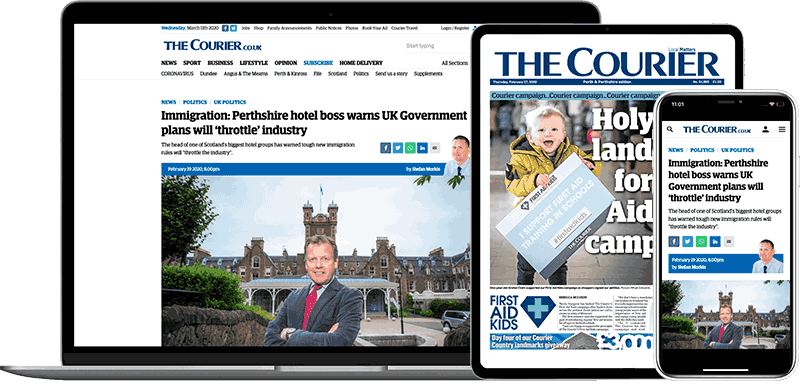 Help support quality local journalism … become a digital subscriber to The Courier
For as little as £5.99 a month you can access all of our content, including Premium articles.
Subscribe