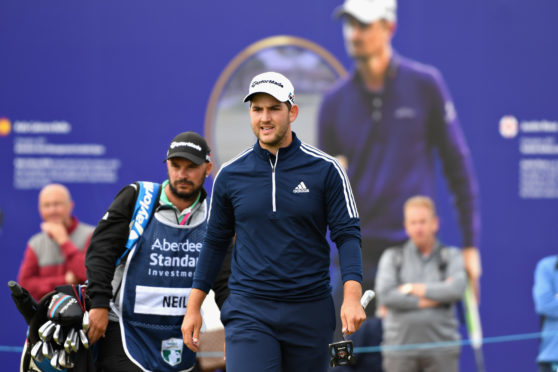 Bradley Neil's attempt to reboot his game and rookie European Tour season survived a traumatic moment at Gullane but left him in decent position after the first round.
The 22-year-old from Blairgowrie called together his brains trust – caddie, coach, manager and dad Rod – after his opening 79 in Ireland last week was the latest in a series of dispiriting scores after the promise of the first two rounds at Wentworth back in May.
A two-under 70 on the second day at Ballyliffin seemed to work and he was going well again at Gullane until an errant tee shot struck a young boy on the 10th.
"When I got there he was still lying on the ground and I thought "oh no"," he said. "It struck him on the shoulder and we had a long wait there until he seemed okay, but I was definitely a bit thrown and it took me a couple of holes to get past that."
Playing partners Robert Rock (64) and Julien Guerrier (65) were tearing up the course and Bradley "was thinking about what might have been" but was content in the end to finish on two-under.
"We had that big chat after Ireland just to try and see what was going on," he explained. "Dad's not been part of it for a while but he's obviously watched me play golf since I was three years old and he's been at a few tournaments recently.
"So it was great to have his input and come up with the best way of moving forward."
Meanwhile Jamie McLeary has avoided his moving house day and if he sticks around and improves on two-under he could get off with unpacking as well.
The former Tour player qualified at the weekend to play at Gullane and therefore the family move back to Fife to Springfield near Cupar went on without him.
"They'll manage fine without me hopefully for the rest of the weekend as well," he said, having taken advantage of calm early conditions.
The best of the veteran tour Scots was Richie Ramsay, who birdied the last after nine successive pars to complete a 66.
"It was more what I'd call 'Richie Ramsay golf'," said the Aberdonian, who made a slight adjustment to the lie angle on his irons which makes him feel more comfortable. "I was very steady and able to pick off shots.
"I just need to putt a bit better. But I've got complete control of my ball flight, and when you have that, you can swing freely and hit good shots."
Russell Knox also had a tidy 66, his only dropped shot coming after a visit to  bunker on the short 12th.
Connor Syme's Scottish Open debit began in inauspicious fashion with a lost ball off the first tree and a bogey five, but he battled for a one-over 71.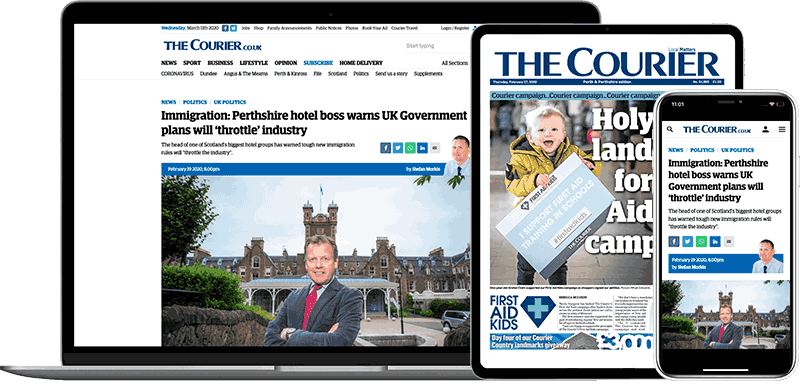 Help support quality local journalism … become a digital subscriber to The Courier
For as little as £5.99 a month you can access all of our content, including Premium articles.
Subscribe