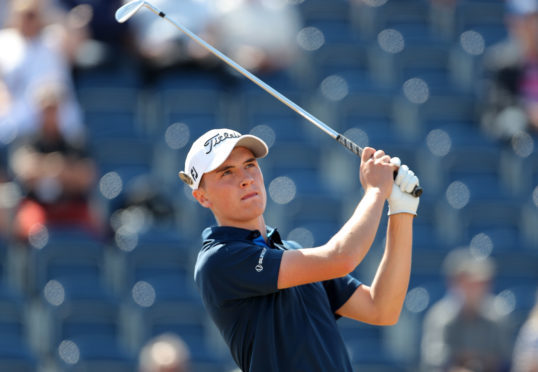 Whatever happens over the rest of his career, young amateur Sam Locke will always have the tale to tell of the afternoon he roled home a birdie putt on the famous 18th hole at Carnoustie in The Open.
The finishing three for Paul Lawrie's protégé gave him a one over par 72, and a fighting chance of making the half-way cut.
There were five birdies on the teenager's card but one of them stood out as the highlight.
"The birdie at 18," he said.
"It was a good drive down the middle and a really nice wedge. To see that putt go in the hole was a great feeling."
Setting foot on the first tee would probably come a close second.
"I maybe didn't show it but I was a bit nervous," Locke admitted.
"I really enjoyed the whole experience. Obviously it's a bit different to what I'm used to but once I got the first tee shot away I settled down.
"It was really cool to walk on the first. That's as good as it gets. I felt like I dealt with it quite well.
"I didn't feel like I was in total control of the ball but I holed a lot of nice putts. If I can just get a bit tidier off the tee I should be in for a good week."
Coach and dad Andrew is on the bag this week but Locke didn't need him to stay calm.
"It is a cool experience to be out there, father and son," he said.
"I did almost start losing my temper at one point but we were pretty grounded most of the way.
"It was a big event but the focus was to just go out and play golf and enjoy it. I felt like I did that.
"I'm happy to go out early tomorrow (in the first group) and hopefully we can post a good number."
Locke came through the Paul Lawrie Foundation and has had the 1999 champion walking the fairways with him in practice.
The American Lawrie famously beat 5&3 to help set up the Miracle of Medinah Ryder Cup comeback, Brandt Snedeker, is one of his playing partners in the first two rounds. But 2012 didn't crop up in the conversation.
"We chatted about a few things but Medinah wasn't one of them," Locke said.
"He was brilliant to play with. He is a really nice guy.
"Whoever I played with, it was a chance to learn a lot from them.
"As an amateur you want to do as best you can but also soak up the whole experience.
"I was learning from the way the other guys deal with it, as they have been here for years.
"It was good fun.
"I just went out there trying to enjoy it and play the best golf I can. Thankfully I posted a decent enough number and hopefully I can do better tomorrow."
Locke's Open strategy is to plot his way round the longest links on the Open rota rather than try to over-power it.
"I hit a lot of irons short of the bunkers," he said.
"You can play the course one of two ways. You can either take the driver over all of them or lay-up.
"I'm not quite as long as some of the big hitters here so that was out of my reach. I stuck to my game plan, like I did in the practice rounds."