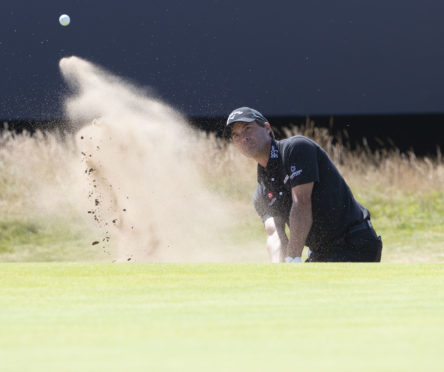 Someone in one of Carnoustie's better appointed housing estates answered their door this week to an incredibly polite, prematurely receding young man with a familiar face and even more familiar refrain: "Please, can we have our ball back?"
It was Jordan Spieth, apparently, detailed by his housemates – eight major championships between them no less – to recover the "soccer ball" (their words, not mine) kicked over the fence.
A kickabout in the back garden – oblivious perhaps to this being what knocked Rory McIlroy out of his defence of the Open in 2015 – is the way to relax after a long toil at the links, it seems.
Spieth has four of those majors in the house, Zack Johnson two, Justin Thomas one and Jason Dufner one. The two housemates without majors are Rickie Fowler, and the leader of the 147th Open Championship after one round, Kevin Kisner.
The 34-year-old from just over the Savannah River to the north of Augusta needed just 22 putts for his five-under 66, shooting an eagle at the sixth and five other birdies, but his round was defined by the three tenacious par saves on the final three holes.
Several players throughout the morning wave, with no wind to speak of to distract them, reached the giddy heights of four or five under but almost all retreated once they reached Carnoustie's testing final three holes. Kisner had his struggles on those holes too, but somehow got his par on each of them.
He holed from eight feet after missing the 16th green left by 30 yards, from 25 feet after getting bunkered on the approach to 17, and got up and down from the U-shaped bunker at the last.
"I just want the ball on the fairway because it's not an overly long golf course," he said. "If I can keep it in the fairway, I feel like I can control my golf ball around the green.
"The greens are calm, and around the greens is flat, so I feel like any time I'm around the green I'm going to make 4 or par at the worst. That's been my game plan.
"The golf course is great for me. I know the rain is coming in tomorrow, but I don't think the rain is going to affect how the golf course is playing in one day. If I have 22 putts the next three days, I think I'll have a pretty good shot."
He's not intimidated by his company in the shared house, either.
"I probably get to eat first tonight," he said. "It's not intimidating at all, they're all great people. We're out there playing soccer at night and hanging out. Everybody is just really chilled.
"It's really cool just to hear what they have to say, and everybody's sitting around at night scratching their head on what club to hit off of every tee."
We established that Dufner is the chosen goalkeeper, Johnson is the striker, and Spieth the best player, apparently.
"At least until he hits it over the goal and we've got to knock on the neighbours' door for the ball," added Kisner.
Spieth was not so thrilled with his work on the course, although he admitted he felt he was lucky to be three-under before he blew up at the 15th, and that with a four-iron off the tee.
"The bad decision was on the second shot," said the defending champion. "I'd say a significant advantage for me is recognising where the misses are, and I just had a brain fart, missed it in the only location where I could get in trouble, and it plugged."
A double bogey from that "poor, poor decision" followed, and he dropped two more strokes on 16 and the last.
"I felt like that was a missed opportunity," he said afterwards. "I got some good breaks early. I was 3-under and kind of felt like I had stolen a couple there."
The greens were "boring", he added, but he didn't mean it disparagingly.
"For want of a better term," he clarified. "This course is the first two shots, you know, and a lot of par four play.
"The greens, there's so little to them and they're so big, that sometimes you're kind of missing where those double breakers are. And they're sneaking pins on the locations where there is a little bit to it."
He's still optimistic, however.
"I think I'm certainly in a recoverable situation," he said. "I imagine this is as easy as the course could play. I don't see the winning score being any better than it was in 2007 with (the forecast of ) tomorrow's tough conditions and Sunday's heavy winds.
"I think wherever it is Saturday night, it comes back on Sunday too."