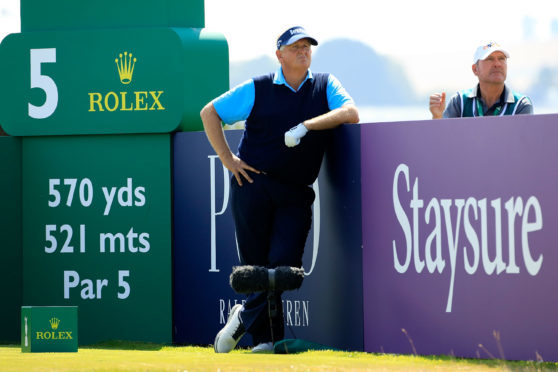 Colin Montgomerie needed some refreshment and comfort, it seemed, for his frustrations between his round and the Q&A with Andy Nicol in the Senior Open tented village just after he walked off the course.
On the face of it a 68 to get back into the championship at five-under – eventually just three off the lead – didn't seem bad at all. But with a double ice-cream cone in one hand and a pint in the other, it was obvious Monty was in need of something restorative .
"Bloody awful" was his verdict, to launch into one of those vintage Monty post-round press huddles when you're never totally sure whether he's joking or being serious, and usually it's a bit of both.
"I was four-under through eight and had 10 chances, missed them all," he said. "It was golden opportunity to get going today and I didn't do it."
Further references to "it's all negative in my world" and "there's a wee black cloud that follows me around", probably showed he was still feeling those two dreadful lies in the Wig and Road bunkers that cost him three strokes in two holes on Thursday night.
He also made reference to "the German" who had just left the first tee as he arrived. "The wind usually drops when he starts", he bemoaned (actually, it didn't).
"Langer is going to plot his way around, he doesn't make mistakes," he said. "But we wish him well because we love him and he hasn't won for a while, has he?"
His frustrations were not that well disguised by the jokes, however.
"I've never played better here from tee to green," he said. "I hit the ball exactly where I wanted to at most holes, but I didn't hole out at all.
"You've got to take your chances to win these, because unfortunately someone here will.  I've left myself a lot to do." Just three shots off the lead was maybe not as much as he had imagined.