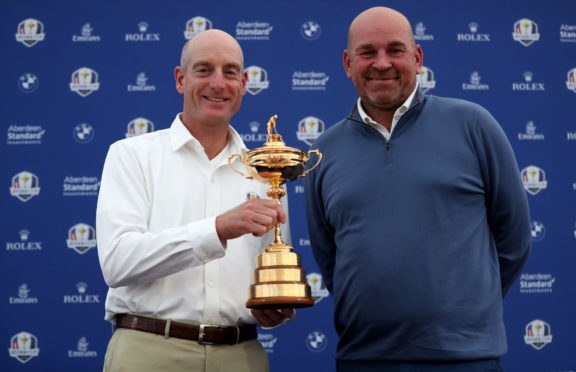 None of Thomas Bjorn's team fears meeting Tiger Woods this week in the Ryder Cup but the Europeans acknowledge the boost his Tour Championship victory will have given the US team.
The European skipper was pleased to see Sergio Garcia return to form in Portugal at the weekend, but he thinks it is the full teams not individuals that will deliver victory.
"These are 24 of the best players in the world, and they are all capable of amazing things on both sides," he said. "We don't fear anyone because we've played against them so many times before individually but we respect our opponents and know what we are up against.
"We know is one of the strongest American teams of all time, and we know we've got to play our best to come up against this team.
"We do what we do as a European Team, and we take that on the golf course, against all 12 Americans. It's not one individual. It's the whole team that we are up against."
For Sergio, Bjorn believes that the confidence shown in him was enough to give the mercurial Spaniard the lift he needed.
"Sergio is the type of guy that sometimes needs that little boost when he feels like things are not going his way," he said. "The conversations I had with him leading into picking him and after, makes him feel like he's in a good place and his golf is moving in the right direction.
"We all know that Sergio at his best, he's one of the best golfers in the world. He's in a good place. He's got a big smile on his face, happy and he just can't wait to get out there.
"He's just one of 12, but I've said it all along; he's an integral part of what we do as a team."
Meanwhile, Ian Poulter would have got started on the course "middle of last week if he could have", said Bjorn.
"We all know Ian's history and feelings about The Ryder Cup, he came in yesterday and wanted to get out on the range," said Bjorn.
"He's certainly ready to go. He's excited like they all are when they get in so he got in a bit early. That's natural.
"Those guys that came in from America today, they are a bit tird and they just want to get this day over with, and then they are ready to go tomorrow."