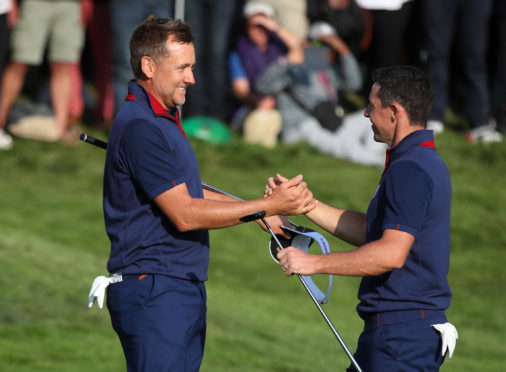 Ian Poulter was in the stands at the first tee as his team-mates started the first session with him on the bench, but after enjoying the fan atmosphere he was in the thick of it in the afternoon comeback.
"The team came out this afternoon and done what they do best, which is be resilient," said Poulter. "It's awesome.
"I didn't need to say anything to Rory McIlroy. He would have been frustrated enough this morning with that loss in the morning, and I didn't need to gee him up at all.
"I just think getting out on the golf course to get straight back at it was good for him, and it was inspiring for me.
"Every time I've played with him, we've had success, so it was great to get back on the course and great to get that feeling again, and he didn't need any geeing up at all.
"He needed slowing down, if anything. I could barely keep up with his little legs!"
McIlroy found something on the range over lunch and although he and Poulter started by going two down after three, they won four holes in a row from the sixth to take control.
"I think a big thing for us this week is as Ian said; resilience, but also persistence," said McIlroy.
"You have to persist and keep doing it until it turns around for you. This morning wasn't ideal, but it was still a better start than the one we got off to at Hazeltine.
"We just needed to putt our heads together and go out there and just hit good golf shots."
McIlroy was most pleased how he and Poulter coped with the winds strengthening across the exposed areas of Le Golf National, something that clearly troubled the Americans as the afternoon progressed.
"Foursomes on a day like this is very, very tough format to play. Just try to get the ball in the fairway and get the ball on the green and for the most part today, we did that," he said.
"It's an incredible afternoon for Europe and one we haven't really had since Gleneagles, I guess.
"You know, there was a couple of times where we threatened to have a great session in Hazeltine that didn't really materialise, but to see all the blue on the board this afternoon is just awesome."
Sergio Garcia made his return in fine style, shooting three-under figures with Alex Noren to be seven-up at the turn against Phil Mickelson and Bryson DeChambeau.
"I felt like our guys played well this morning," he said. "You know, just a couple little breaks here and there that they got and we didn't.
"A little bit of luck and you're looking at 2-2 or something like that, but I thought that the team fought really, really hard this morning.
"The Ryder Cup, there's nothing like it. I've had an amazing partner this afternoon.
"I think the front nine we played in foursomes on this course (five-under) with the wind that was blowing was just spectacular. It was something that I will never forget and I'm sure Alex won't, either."
Tommy Fleetwood, on his son Frankie's first birthday, enjoyed his day with the other Frankie in his life, Molinari, gaining two precious points in the anchor spot.
"You can't prepare for (seeing all that blue on the scoreboards)," he said.
"We said, when we were walking down the sixth, `it sounds a little bit better this afternoon'.
"All the energy that comes off those guys going in front, I don't really know how to describe it. All the preparation you do, just nothing gets you ready for this."
Molinari was keen to remind everyone that it was only the first day.
"I think Tommy and I just combine really well," he said. "The boys that went out early this afternoon made an unbelievable job. It was very, very different from this morning, the atmosphere, and we needed it.
"Yeah, it's great, but we need to put the hat back on for tomorrow and reset quickly. They are going to come out strongly tomorrow, so there's no time to celebrate when there's still a job to be done."
Phil Mickelson, who had been struggling in practice, may find that he doesn't get back on the course until Sunday's singles, but he was keen to stress that it was still early days.
"They played phenomenal golf, we just didn't play well this afternoon," he said. "I'm not taking anything away from them, but we weren't at our best.
"We've played for just eight points. There's a lot of golf left, we had a good session this morning and they've had a good session now.
"We just need to bring our best stuff. And we will."