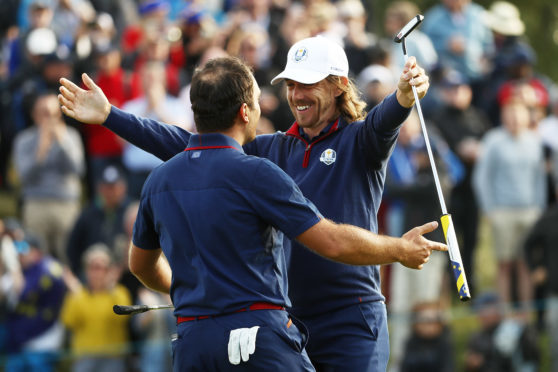 Europe rallied from a morning full of misfortune to record their first session whitewash since 1989 and end the first day of the 42nd Ryder Cup with all the momentum and a 5-3 lead.
Captain Thomas Bjorn had some justification for thinking his team were unlucky not to have done better than lose the morning fourballs 3-1, but all was forgotten as his team delivered their first-ever foursomes sweep in the afternoon to seize the initiative.
It means in the last three foursomes sessions in Ryder Cups on this side of the Atlantic, Europe have taken 11 points out of 12, after winning seven out of eight in 2014 at Gleneagles,
Astonishingly after a hard-fought, fluctuating morning's play full of competitive spirit in the great Ryder Cup tradition, the afternoon was an almost embarrassing landslide. None of the four foursomes matches in front of an ecstatic and partisan Paris crowd even reached the 17th tee.
It's the most decisive whitewash in the competition's history. No previous session has been swept with all the scores 3 and 2 or  better.
In addition, all eight teams that have recorded a whitewash session in the Ryder Cup have gone on to take the trophy – 1989 was the famous halved match where Europe as holders retained possession of the little gold cup.
Yesterday's heavily-favoured USA team looked shell-shocked, and left with serious selection issues for Saturday, specifically concerning a tired and tender-looking Tiger Woods and an out-of-sorts Phil Mickelson.
Francesco Molinari's birdie putt on the 14th closed out the afternoon session at the relatively early hour of 5.35pm local time, completing his and Tommy Fleetwood's second win of the day, a surprising 5 and 4 crushing of Jordan Spieth and Justin Thomas.
Just before that, Sergio Garcia – refuting the idea he had been a risky wildcard pick for Bjorn – and rookie Alex Noren had recorded a 5 and 4 defeat of Mickelson and Bryson DeChambeau, shooting three-under figures for the 14 holes, having been seven-up at the turn. But par figures were all that was required for handsome victories in the other three afternoon matches.
A reunited Henrik Stenson and Justin Rose defeated Dustin Johnson and Rickie Fowler 3 and 2, Rose quickly forgetting his blunder at the 18th in the morning which cost Europe a certain half a point.
Rory McIlroy, a worry for Bjorn after a listless, birdie-free morning performance in fourballs, rewarded his captain for his faith by bouncing back in partnership with Ian Poulter for a 4 and 2 win over Bubba Watson and Webb Simpson.
"It was a bit of a roller coaster ride, to be honest," said Bjorn. "We were obviously disappointed with this morning but there was a good feeling about going out and trying to do something this afternoon.
"The players are happy, but they are also very well aware that you can enjoy this for about an hour. We know it's a marathon, and we're delighted with the way the day turned out, because it was a fairly tough morning.
"We now re-focus and look forward to tomorrow."
Bjorn admitted that in the morning session there had been fears that a sweep against Europe in the first session, like at Hazeltine last time, was possible.
"When you clean-sweep, that is something that is pretty special to all those players that are out on that golf course. But you know, we experienced it against us in Hazeltine the first morning, and that's not a nice thing.
"I think some of the guys who were at Hazeltine probably feared at one stage that it was happening again. The morning session could have finished 2-2, but obviously 3-1 was better than 4-0.
"In the afternoon, we got those crowds behind us and it went through the whole golf course, and then it seemed like nothing could go wrong.
"But also, I've been around long enough to know that tomorrow morning, it could be completely different again."
Bjorn didn't flinch after the morning session and McIlroy's poor performance, and told him "we go again".
"I had a plan and I stuck to it for this first day," he continued. "Great players, when they don't perform to the standards that they want to, they have an ability to just go and prove to themselves that they can put it right, and Rory did that this afternoon.
"I never have any doubt in Rory McIlroy, because if I start doubting him, then I probably shouldn't be doing this job. I believe in him, and it was great to see his response today.
"But that's all on him. I was never in doubt that I wanted to have him on the golf course this afternoon."
Furyk denied that Woods, who seemed to be struggling latterly in his morning fourballs match, was suffering from any problem – "he's been on the practice range this evening", said the captain.
He didn't try to downplay the afternoon whitewash but said it was just a small part of the whole contest.
"We've played for eight points so far out of 28, the event's still pretty young," he continued.
"If we'd have lost both sessions 2 ½ -1 ½ it would still be 5-3and , everyone would probably have a little bit different look on their face about how it happened.
"In the afternoon, going 0-4 is significant, but we liked our fourball pairings and we're sending those same pairings back out.
"We have to shore things up, and I'm guessing we'll switch things up in the afternoon tomorrow. We've already been thinking about that."
Furyk said the afternoon play was about jow well thej Europeans performed.
"Every one of their matches was even par to under par on a pretty difficult setup in difficult conditions where the wind was blowing 20 miles an hour," he said.
"I realise our guys aren't happy about the way they played, but we have to look at the fact that the Europeans did play really well."
He admitted that the demeanour of his team in the afternoon after the thrashing wan;t the best, but that it could turn around quickly.
"Absolutely, 100 percent, you see a change in body language," he said. "I'm sure the Europeans' were all smiles and boisterous and hugs and high-fives, and I'm sure the looks on some of my players were not quite the happiest and dead-opposite this morning.
"The important message is: It was four points out of 28 that we played for. We are not happy with it. And we use it as motivation tomorrow.
"It's significant, but it's a small percentage of the points that we're going to play for this week. Right now we're two points down with 20 left.
"There's time. So we need to talk a little bit as a team tonight, and I think hopefully come out tomorrow and rally."