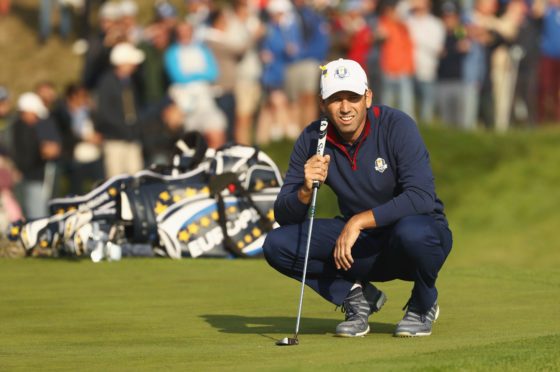 Jim Furyk is sticking rigidly to his plan – for now – and sending out the same fourball teams for the Saturday morning play, although he changed the order.
However if it was his intention to try to avoid having Tiger Woods and Patrick Reed play the unbeaten European duo of Francesco Molinari and Tommy Fleetwood again by moving them to the third slot, he was second-guessed by Thomas Bjorn who moved his winning pairing to third in the rota as well.
Bjorn will rest Justin Rose and start Ian Poulter with Jon Rahm in the anchor match against Justin Thomas and Jordan Spieth, while Paul Casey and Tyrrell Hatton – who lost a tight match with Spieth and Thomas on the first morning – are retained and take on Dustin Johnson and Rickie Fowler.
Bjorn also brings back Sergio Garcia and pairs him with Rory McIlroy in the top match against Brooks Koepka and Tony Finau.
It seems likely that Furyk will finally deviate from his plan for the foursomes after the first day whitewash, but Bjorn has left himself with the flexibility to rest more of his frontliners in the afternoon, especially if Europe can maintain the momentum and add to their lead.
Second fourballs session (US team first)
8.10 Brooks Koepka and Tony Finau vs Sergio Garcia and Rory McIlroy
8.25 Dustin Johnson and Rickie Fowler vs Paul Casey and Tyrrell Hatton
8.40 Tiger Woods and Patrick Reed vs Francesco Molinari and Tommy Fleetwood
8.55 Justin Thomas and Jordan Spieth vs Ian Poulter and Jon Rahm