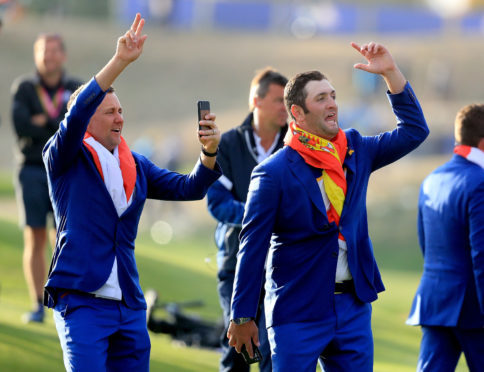 Riding the passion of the perennial Ryder Cup hero Ian Poulter beating the World No 1 and the new star Jon Rahm taking down the greatest of them all, Thomas Bjorn's Europe withstood a mid-afternoon wobble to reclaim the Ryder Cup amid ecstatic scenes at Le Golf National.
Poulter's final hole victory against Dustin Johnson and Rahm's victory over Tiger Woods proved the significant wins to settle some fairly frayed nerves as the red tide promised from the USA started to gather.
But the dam never broke with Poulter and Rahm – as well as the unlikely figure of rookie Thorbjorn Olesen beating Jordan Spieth – filling up the cracks after Rory McIlroy, Justin Rose and new hero Tommy Fleetwood had all been defeated.
In the end, Europe cruised home by 17 ½ to 10 ½, as comfortable a win either side has had since the dual record routs of 2004 and 2006.
There was no winning putt moment, but arguably it was something even better. With Francesco Molinari dormie three and in the middle of the par three 16th green, Phil Mickelson, the chairman of the US so-called "Taskforce" who had instigated the players' revolution at Gleneagles to stop these reverses in Europe happening, dunked a half-shank into the water and conceded the point without leaving the tee.
In truth, Poulter's final hole win over Johnson, Molinari's dormie and Sergio Garcia going dormie two against Rickie Fowler meant Europe already had the 14 and a half points needed, but to the pedantic an act of god or a forfeit of some sort could still occur.
It was fitting for Molinari to take the final concession, leaving the Open champion as the first ever European to play and win all five sessions of a Ryder Cup. The Italian was not at his absolute best yesterday, but good enough to beat the hapless Mickelson 4 and 2.
Rahm's triumph over Woods – he never trailed and won 2 and 1 – confirmed that the Ryder Cup struggles of even a resurgent Tiger continued.
Defeat to Rahm means Woods is just the fifth player to go 0-4 in a Ryder Cup in the modern era, and the second wildcard pick to do so.
However he is still edged out for the most points lost in Ryder Cups of any American by Mickelson, who now has 22 to Woods 21. This week's defeats meant they both passed the previous holder of this ignominy, none other than American captain Jim Furyk.
For captain Bjorn, it was triumph of his strategy and planning. With Rahm and Olesen's handsome and significant singles victories over quality opponents, everyone on the team made a contribution to the points total.
Furthermore, his faith in Garcia – out of form all season but selected anyway – was proved entirely justified. Bjorn's four wildcard choices gave him nine and a half points, while Furyk's four picks brought him just two.
It was a low burner of an afternoon, with European comfort of a four point advantage turning to considerable anxiety for an hour and half but finally, through the screaming celebrations of Rahm and Poulter, to joyous conclusion for those in blue.
In the space of an hour after 2pm, matters drifted from Europe being relaxed to real American hope. Up in seven matches, although only Olesen was in a commanding position against a strangely listless Spieth, brought a reassuring wave of blue, but slowly the scoreboard began to trickle red.
Perhaps it was when the European talisman Poulter, who had eked out a narrow advantage against Dustin Johnson and defended it tenaciously, finally seemed to wilt with two bogeys  while the World No 1 roused himself with three birdies, that the nerve ends really tightened.
Suddenly Rory McIlroy was level with Justin Thomas in the top match, Tiger was level with Jon Rahm, Rose and Fleetwood were never in touch, and everyone was remembering Brookline and Medinah.
The top match was supposed to be pivotal, and McIlroy lost it in deflating fashion – missing birdie putts to win 15 and 16, then plugging in a fairway bunker up the last, only getting out on the second attempt, and that into the water. Thomas accepted his concession in the middle of the fairway.
Webb Simpson beat Rose 3 and 2 and Tony Finau routed a tired Fleetwood 6 and 4, and suddenly things seemed a little tight. However Paul Casey turned a one-down deficit into a half against Brooks Koepka that did much to settle European nerves.
Poulter, now behind against Johnson, rallied with two birdies with his trademark chest-thumping excitement, and the World No 1 surprisingly folded, going 5-6-5-5 over four holes to drop out of the lead again. "Mr Ryder Cup" reasserted his claim to that name by holding off a late Johnson rally to win the point on the 18th.
Shortly before that, Rahm had a celebration perhaps even more passionate than Poulter has ever managed as he holed out for birdie to beat Woods on 17. Rahm had never trailed his childhood hero, and while Tiger had an eagle on the ninth and a birdie at the 12th for his trademark fist-pump, he followed the latter with two bogeys.
It was only Rahm's three-putt at 16 which kept him in touch before Rahm rattled a 360-yard drive down 17, and holed out from five feet to clinch the win..
Olesen finished off Spieth 5 and 4 and Garcia's chance of being the man to secure the winning point against Fowler – he must have wanted it after so much criticism of his selection – went when he found the water at 15.
Instead it was Molinari, who had never won a Ryder Cup match until this week, closing out his fifth point of the week against Mickelson, and Garcia got his point shortly after.
Stenson and finally Alex Noren, with his team-mates leading the Viking thunderclaps in the stands and slopes around the closing holes arena as he and Bryson DeChambeau played 18, added the embellishment with further points.
The American search for a first Ryder Cup win on this side of the Atlantic continues until Rome in 2022.