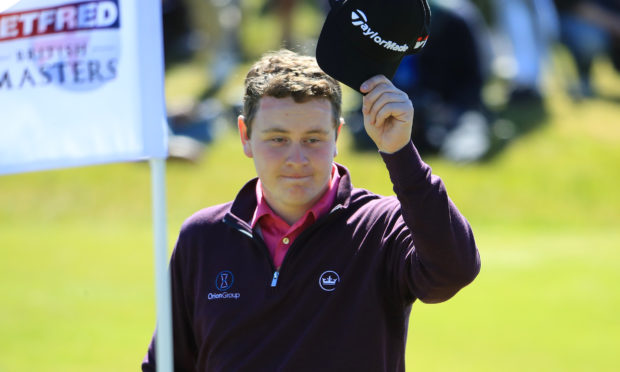 Robert MacIntyre's brilliant finish in the Betfred British Masters proves that he's ready to take the next step, believes tournament host and Ryder Cup hero Tommy Fleetwood.
The 22-year-old from Oban finished eagle-birdie to get to 15-under at Hillside and with a chance of a play-off for the £500,000 first prize before Sweden's Marcus Kinhult – also just 22 – birdied the final hole to take the honours.
MacIntyre still more than doubled his earnings in his rookie season with his £224,000 cheque for a share of second place, and is now in the top 40 of the Race to Dubai as the peak season starts.
Fleetwood, whose hosting duties in his home town course extended to even walking the course after play with the Hillside greenkeepers filling divots, was impressed having played with MacIntyre earlier in the season at Abu Dhabi and again in yesterday's final round.
"He did great today, especially on those last few holes," said Fleetwood, just before catching the European Tour's charter to get players to New York for this week's PGA Championship.
"He had a rough start on the second (with a double bogey seven), but you wouldn't have known what score he was on.
"He's done great after that, I didn't see his second shot at 17 but it must have been a corker from where it ended up!"
But the manner MacIntyre played the 18th knowing he had to birdie it to have a chance to win was impressive, continued Fleetwood.
"The 18th, the way he played that was brilliant, really," he added. "He knew exactly what to do, how to play the hole and he knows his game. What he did there, that'll stand him in really good stead.
"The golf shots are great, but just speaking to him down the fairway, he also knows his game really well, and that's a key."
MacIntyre's performance  is the latest in a series of encouraging performances by the Scottish contingent on the European Tour, following on from tour wins for another rookie, Aberdeen's David Law, and the fourth tour win for the former Ryder Cup player Stephen Gallacher.
The left-hander from the small Glencruitten club in the West Highlands had a superb amateur career, and qualified for the big tour off the Challenge Tour at his first attempt last year.
On the main tour he played 11 events in a little over three months on four continents and making the cut in all of them, but admitted that homesickness finally caught up with him.
He went to Morocco after a long break and missed his first cut, but admitted "I never really wanted to be there".
However with his extended family – Dad Dougie, Mum Carol and young foster brothers Tom and Danny – at Southport as well as a large group of supporters from home, he felt re-energised.
"I wasn't in the right frame of mind in Morocco, I'd had too many weeks off," he said. "Having the family here means everything.
"I had played well this season but hadn't really got into the thick of a tournament until this week, and I had been disappointed by that. It was fantastic playing in front of huge crowds and in the mix."
Another Scot, three-time tour winner Richie Ramsay, finished fifth himself but took time to praise the new Scottish blood on the tour.
"It's a massive week for Bob, obviously," he said. "It takes a lot of pressure off, finishing eagle-birdie changes everything, it makes a huge difference.
"We have a really good group out here now. Stoddy (Iain Stoddart, MacIntyre's manager) has done a great job to get the young guys opportunities and helping them to get money. If you don't have chances and money then it's very, very tough to get a foothold out here.
"Bob finishes like that today and now he is in a great position on the Race to Dubai. The other young boys, Liam (Johnston), Grant (Forrest) and Davie (Law) have had solid weeks. Connor Syme comes back on tour this week and makes the cut and plays really well.
"They are all vying to be up there and that's good, it pushes everyone on."
The British Masters looks set to be come a fixture again on the European Tour, with next year's event returning to Close House near Newcastle, where it was successfully staged with Lee Westwood as host in 2017.
Westwood will again have hosting duties then and the event will be a big part of the final run-in to Ryder Cup selection, taking place in August. A gate of 20,000 a day turned up in 2017 when Rory McIlroy and Sergio Garcia played.
Hillside sold out for two days running at the weekend, and taking the Masters to golf-starved regions with name players hosting the event seems to be a successful strategy for the European Tour.