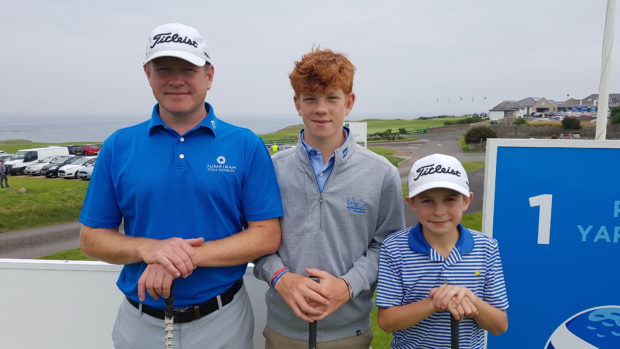 Conor Graham has only one target as the youngest-ever participant in the Scottish Amateur Championship this week – to beat his Dad.
The 12-year-old from Blairgowrie GC, a five-handicapper, came through on the ballot last week into the field playing the Crail Golfing Society's Balcomie Links and therefore gets to play with his Dad Stuart and brother Gregor (16), the current leader of the Scotland Under-18 Order of Merit and an international at U-18 and U-16 level in the last year.
The Grahams are all members at Crail as well as their main base at Blairgowrie, but Stuart knows what his youngest son's aim for the week is.
"Conor was due to play in an under-13s event this week, and while he was initially on the reserve list here at Crail he then got the call last Thursday night," said Stuart, a former quarter-finalist in the championship. "The very first thing he said was that he wanted to beat his dad, so yes he's very competitive.
"It's been a few years since I've competed in Scottish Amateur – I remember one year at Royal Troon under the old format I had a 7 am start in the first round on the first morning and I was out of the tournament by half-nine!
"I guess I will find myself more concerned with what Gregor and Conor are doing rather than focus on my own golf but then this is probably my first and only competitive event of the year.
"But to have both the boys playing is fantastic. They both just love playing golf so much.  Gregor is very dedicated and will be up at half-six every morning before school to work on his game.
The format of the championship means that there are two rounds of qualifying before the matchplay stages, guaranteeing the Grahams at least two days of competition.
Conor, winner of the British Wee Wonders title in 2017 and a finalist again last year, can't wait.
"I would like to beat my dad this week, but I have beaten him a few times now," he said. "Being a member here I have played both courses a good few times.
"I have no expectations, so I am just going out to enjoy it and hopefully I can get through the two qualifying rounds as that would be really good.
"But then there will be people hitting it 200 yards past me, so I not really that worried."
Scotland's two main Walker Cup hopes Euan Walker and Sandy Scott are not in the field but Euan McIntosh, who won the title at Blairgowrie last year at 49, is back to attempt to defend his title.
"The Balcomie's a great golf course and very interesting to play," said McIntosh. "It's the best under 6,000 yards course in Scotland I think, There are so many good holes and, of course, a good few par threes.
"I am very excited to defend this week and I can't quite believe how quickly the year has gone since I won the championship last year.
"My game is not all that bad.   Last year, the greens at Blairgowrie were really good and I putted managed to putt very well for a first time in a while that week, so you hope for the same thing again."