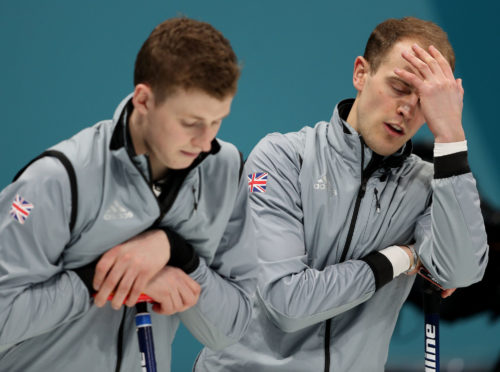 British Curling have confirmed that four Perthshire Olympians have been axed from their elite programme.
Courier Sport revealed last month that Glen and Thomas Muirhead and Kyle and Cammy Smith, who were fifth in the 2018 winter Games for Team GB, had been dropped.
An appeal was lodged but has failed and the official announcement of the Performance Foundation curlers for 2020/21 has now come through.
It effectively ends the top level careers of the quartet, who had been trying to balance their sport with farming.
Being part of the programme, even with the lowest tier of funding Performance Foundation brings, enabled them to play big events in Canada and Europe – claiming some major wins along the way – and get access to all the background support at British Curling's Stirling base.
For the last two years they have been the closest rivals of Scotland's number one rink, Team Mouat, finishing runners-up at the national championships in 2019 and 2020. They also narrowly missed out on earning a place at last season's European Championships.
A controversial break with tradition means that even if they were to win the next Scottish Championships they wouldn't gain automatic entry into the World Championships as always used to be the case. Places in the Europeans and the Beijing Olympics in 2022 will also be awarded through selection.
Ross Whyte's team and Cameron Bryce's rink have been chosen for the programme ahead of the Smiths and Muirheads.
In the women's game, Beth Farmer of Kinross will be funded.
Eve Muirhead had previously been confirmed as the podium team.
British Curling's Executive Performance Director, Nigel Holl, said: "It is vital for the health of the British Curling programme that, while they will all obviously have the chance to compete for Team GB places in two years' time, we ensure that athletes at Performance Foundation level are clearly focused on building towards the 2026 and 2030 Winter Olympics.
"It was a straightforward decision for British Curling to continue its backing of athletes who have the talent and commitment required to give themselves the best possible chance of competing with and beating the best in the world.
"We are extremely grateful to sportscotland for the funding they provide to support our Performance Foundation athletes and we need to use it to reward those who have responded well to the support they have received, while also providing maximum encouragement for our most promising youngsters.
"Our aim is to create an environment which nurtures those who have genuine ambition to excel within the increasingly competitive world of professional curling, where the challenges are ever greater.
"Even since the last Winter Olympics, little more than two years ago, things have moved on in our sport, but our athletes have risen to that challenge with Bruce Mouat and Ross Paterson skipping our top two men's teams to Grand Slam titles in Canada, the first Scottish men to match Eve Muirhead in having done so, while Team Mouat also won the European Championships in 2018.
"In their consistency on the global stage these teams have set standards that the next generation of players are now aspiring to match, as we have seen in the performances of Teams Whyte, Bryce and Wilson in becoming our closest challengers to those senior teams, ensuring that no-one can rest on their laurels."