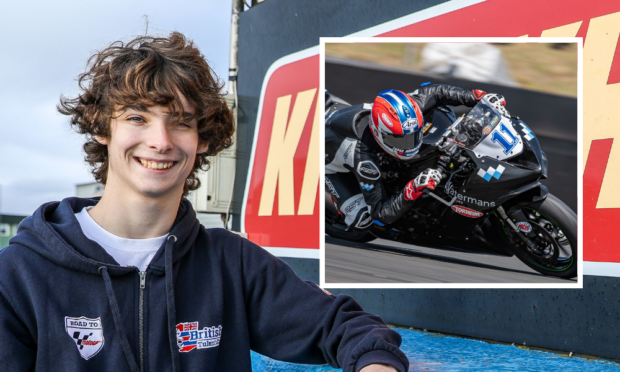 For a young man who has witnessed all the adrenaline and glamour of motorcycle racing, Rory Skinner remains modest and level-headed.
We meet at his family motorcycle shop in Perth where the 18-year-old is an apprentice mechanic under the tutelage of dad Mike, approaching his craft in the workshop with the same tenacity he displays on the track.
Our interview takes place a week and a half before he wins both races at Silverstone, with Sunday's victories making it six from six starts in the British Supersport Championship.
It would be an understatement to say Rory's star is on the rise.
"I'm thankful to my dad," he says. "He bought me a bike when I was 18 months old.
"My dad's always been riding with me. He'd take his Enduro bike and I'd go out on my PW50, which is still here at Skinner's Motorcycles. That was when I was three or four years old.
"At the start of this year, we were in Almeria and dad rode my race bike from last year and I rode my practice bike.
"Even though it's been fifteen years since we started riding together, I think that's one of the best memories.
"The best moments I've had is with my family. The connection I've got with my mum and dad through racing is the best thing."
The former Perth High School pupil has dominated the opening rounds of the 2020 Supersport campaign and is, unsurprisingly, the early championship favourite.
He has ambitions to reach the world stage and spending time in his company only strengthens your conviction that he will realise those dreams.
But for a young athlete in an expensive niche sport, the road to the top is arduous.
Rory's star quality has been evident for some time – in 2014 he became the youngest ever Aprilia Superteen champion with no fewer than seventeen race victories.
Although the grassroots series is no longer in existence, it has an enviable alumni of champions. Most famous of all is Casey Stoner, a double Moto GP world champion and the first man to dethrone the dominant Valentino Rossi.
Many regard Stoner as the most gifted motorcycle racer of all time.
Rory spent his teens competing with the world's best in the 'Grand Prix' paddock. However, the Courier Country starlet has encountered political and financial hurdles in a sport that tends to pander to its Spanish and Italian stars.
For the Scot, victory in the 2018 British Talent Cup – described by Moto GP owner Dorna as a supported pathway to the World Championship – should have been a ticket to the global stage.
Plenty of elite teams wanted the rapid Scot on their bike. The catch? A £200,000 bill for the season.
Many would simply park up and head to civvy street but Rory believed in his ability and refused to give in.
"That is what it is, we just got on with it," he says.
With credentials to ride at World Championship level but no platform to exhibit his gift, Rory explored every avenue to continue his career.
He eventually switched to the domestic paddock, a change that involves more than lower temperatures and a reduction in air miles.
Rory says: "Last year was my first proper season on British tracks since 2014.
"It was a learning curve going from 30 horsepower to 130 horsepower. It was a big jump, but we got stronger every round."
With no berth available in the British Championship, Rory faced a challenge that any top-level rider dreads – running as a privateer.
From finance, logistics and catering to repairs and, of course, the motorcycle, everything rests on their shoulders.
A budget of around £90,000 is what's required for a privateer in the British Supersport Championship.
He says: "We were just doing it ourselves out of the workshop. It was a small, family run effort."
TV viewers see a glamorous world of speed, adrenaline and gargantuan hospitality units but, due to spiralling costs, riders receiving a salary at the end of the month are few and far between.
Behind the scenes, the sacrifice is real. Many talented youngsters struggle to resist the temptation to throw everything at "just one more season".
Facing his toughest race yet, Rory looked to local businesses to help fund a campaign for the British SuperSport Championship riding a Kawasaki.
Two local businesses helped by assisting with two key elements for a racer – food and exercise.
He says: "With a privateer team, everything's on a budget. D.G. Lindsay & Son butcher shop supplied us with food so we were fed well all season!
"J.M Richards gave me a bicycle for the season. Cycling is probably my main training. So, for them to give me a mountain bike for training, was massive."
Reluctantly, Rory set up a crowd-funding page to appeal for support for his British Championship campaign in 2019 and the response was overwhelming.
"It's tough the whole crowd-funding thing," he says.
"It's always the last thing you want to do. The support was amazing. I was so surprised how generous everybody was.
"To have all the support from near and far was really nice. It was a warming feeling to know there was a lot of support out there."
For the 2019 season, 21-time British Championship race winner Chris Walker loaned Rory his Kawasaki bike and, after securing enough backing, an impressive debut season followed.
Rory, a former national champion, adds: "We did the best job we could with the Kawasaki. I think it speaks volumes that we were top Kawasaki, beating the factory team.
"That in itself says that we didn't do a bad job on it."
Robin Appleyard – a paddock stalwart and talent spotter – watched him closely as the campaign progressed and it wasn't long before an approach was made to secure the Perth teenager's services for 2020.
"From then on in, the weight was off my shoulders," says new Tysers Yamaha star Rory. "The next year was sorted and I could have fun."
He joined last year's leading team in a supportive environment with a proven motorcycle at his disposal.
Rory adds: "I was really happy when the team wanted the bike to work for me. Rather than saying here's last year's champion's settings, this worked for him.
"For me, that's important because the team wants to work around you and give you what you need, rather than what anyone else needs.
"You can be the same height and weight but the way you sit on the bike can make a massive difference.
"At the end of the day, a happy rider's a fast rider. If you've got a package that works for you, you'll be fast."
After a winter of comprehensive preparation, he pulled on his Arai helmet and climbed aboard his Tysers Yamaha R6 for the first time in race conditions at Donington Park last month.
There were shades of the late Steve Hislop at Donington on his way to the 2002 British Superbike title as Rory obliterated the competition, setting the lap record in the process and proving, once again, that he is one of Scotland's brightest sporting prospects.
Winning the British Supersport Championship is an obvious priority for 2020 but Rory hopes that is just the beginning.
The former mini moto champ says: "The opportunity is definitely there to be back in the World Championship Grand Prix paddock, it's just going to be a harder route to get there.
"If I put the work in and stick at it, there's no reason why I can't.
"If I had the opportunity in the right team for the World Supersport Championship, that's the way I'd want to go. You can then try and go to the Grand Prix World Championship. That would be the ideal goal."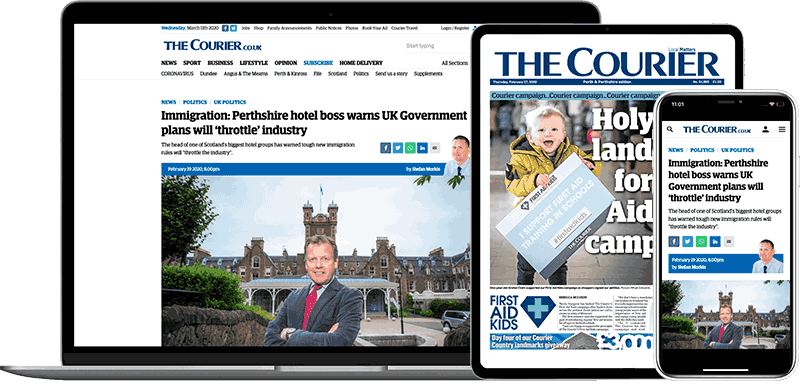 Help support quality local journalism … become a digital subscriber to The Courier
For as little as £5.99 a month you can access all of our content, including Premium articles.
Subscribe