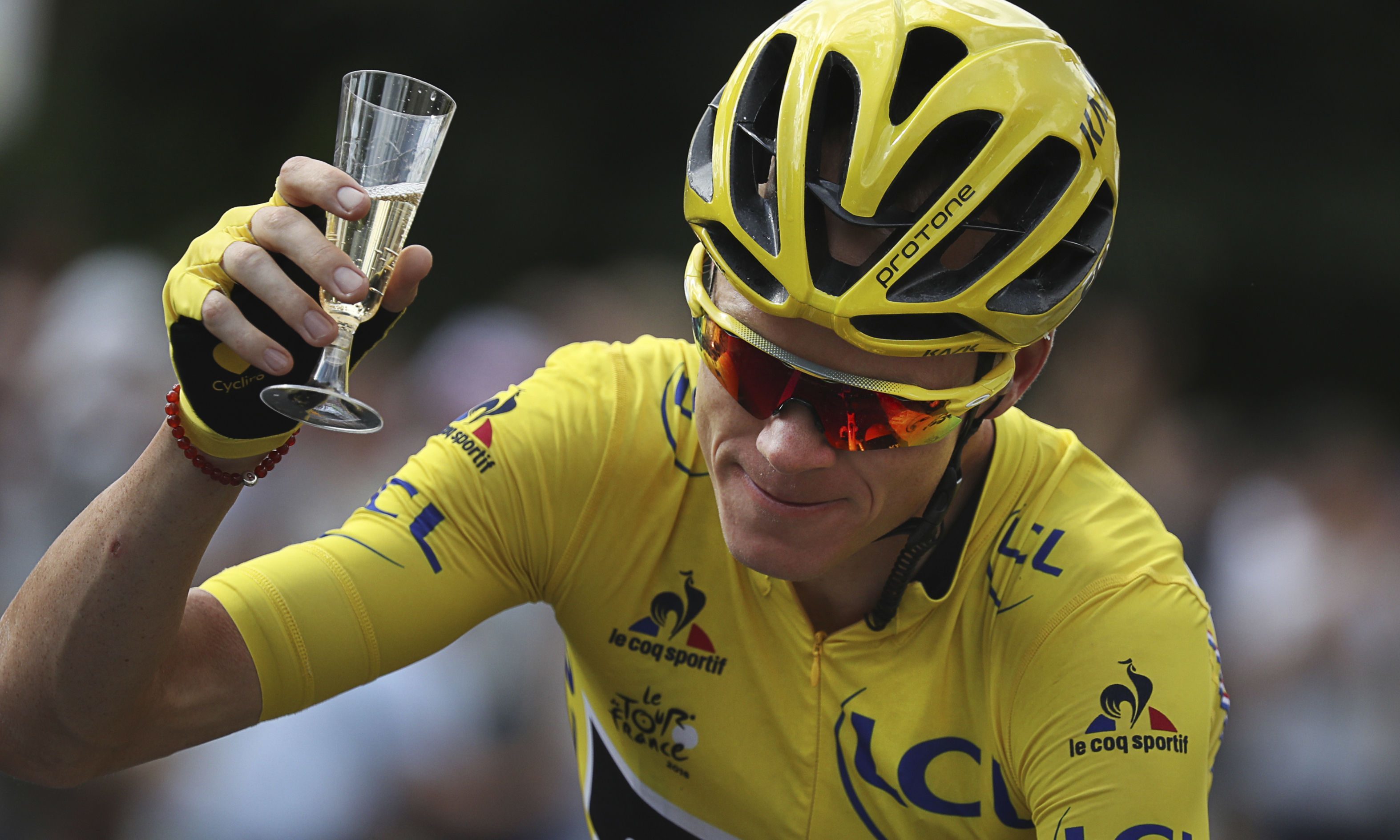 Chris Froome has signed up for membership to a very exclusive club.
The 31-year-old arrived in France this summer as one of 20 men to have won the Tour de France twice, but leaves as one of just eight to have three or more titles.
He moves level with Philippe Thys, Louison Bobet and Greg LeMond but will have his eyes now set on Eddy Merckx, Bernard Hinault, Miguel Indurain, and Jacques Anquetil, the four men who share the record of five Tour wins since Lance Armstrong was stripped of his seven titles for doping.
https://www.youtube.com/watch?v=AXqhxHycuyI
After Sunday's traditional parade into Paris, Froome became the first repeat winner since Indurain in 1995, and seems to have established almost complete dominance over the Tour with this his third victory in four editions. Who is to say he could not have won in 2014 if he had not crashed out in the first week?
"He is a great champion," Merckx said. "I think he can win many more Tours. You see the riders behind him and I don't know who can beat him next year."
But while his credentials are beyond question, Froome remains the unlikeliest member of the rarefied company he now keeps.
Born in Kenya and schooled in South Africa, Froome is an awkward fit in cycling's European heartlands and has yet to acquire the sort of popularity with the watching public his sporting achievements merit.
But if this Tour was the one in which Froome showed us something else on the bike – picking up time on the descents and in the crosswinds as well as on the summits and the time trials – it was also the Tour in which he learned to relax in the limelight and reveal a little more of his personality.
https://www.youtube.com/watch?v=-mrU0I3YSkk
It could be that fatherhood has changed his perspective, or it could be the benefit of experience.
"Certainly this year, being the third time I'm in yellow at the Tour de France, I've taken it less on board," he said. "It doesn't weigh on me quite as heavily as the first time. Then it was just like, 'Wow, what is all of this?'. It's pretty difficult to deal with on top of all the racing, but I'm taking it in my stride this year."
The atmosphere around the race has surely helped too.
Froome's victories in 2013 and 2015 came in the shadow of Armstrong's unravelling lies and Froome faced endless questions and speculation, often of the plain idle variety, about his own performances.
But this year Froome's different approach – he took yellow with a downhill attack and kept it by attacking in the crosswinds early in the second week – helped change the mood.
"I'm sure people are already calculating by VAM (velocity) on the downhill and saying it was off the charts," Froome said with a smile after his stage eight victory in Bagneres-de-Luchon.
Froome has long been known for his unorthodox and, quite frankly, ugly if effective style of going uphill, but it was his shocking style on the downhill which caught everyone's attention on stage eight as he aped the maverick Briton Graeme Obree.
"You really kind of think of Graeme Obree and that eccentric British element," Sky team principal Sir Dave Brailsford said. "I think that's something people can warm too."
But even if it is not what won the race, the defining image of Froome's 2016 Tour came a few days later on Mont Ventoux.
Froome won on the Giant of Provence in 2013 to set up overall victory but his return three years later had a very different ending.
With the stage shortened due to gale-force winds at the summit, the roads were thick with fans packed into confined spaces. In the chaos, Froome, Richie Porte and Bauke Mollema crashed into a motorbike and with Froome's bike broken and no help able to get through, Froome took to running up the mountain in desperation.
"He's from Kenya," team-mate Geraint Thomas said. "You'd expect him to be good at that."
At the time Froome appeared to be in outright panic as he stood to lose his yellow jersey in the most bizarre fashion, but after the race jury intervened he kept the lead, and his sense of humour – later tweeting a video of Brailsford mocking his running style.
It turned out to be one of two times in the race that Froome would crash while in the yellow jersey and pick up time regardless – a sign of the stranglehold he held on the race and his rivals.
"He is the best at the moment," Merckx said. "When you are the best, you have to win."