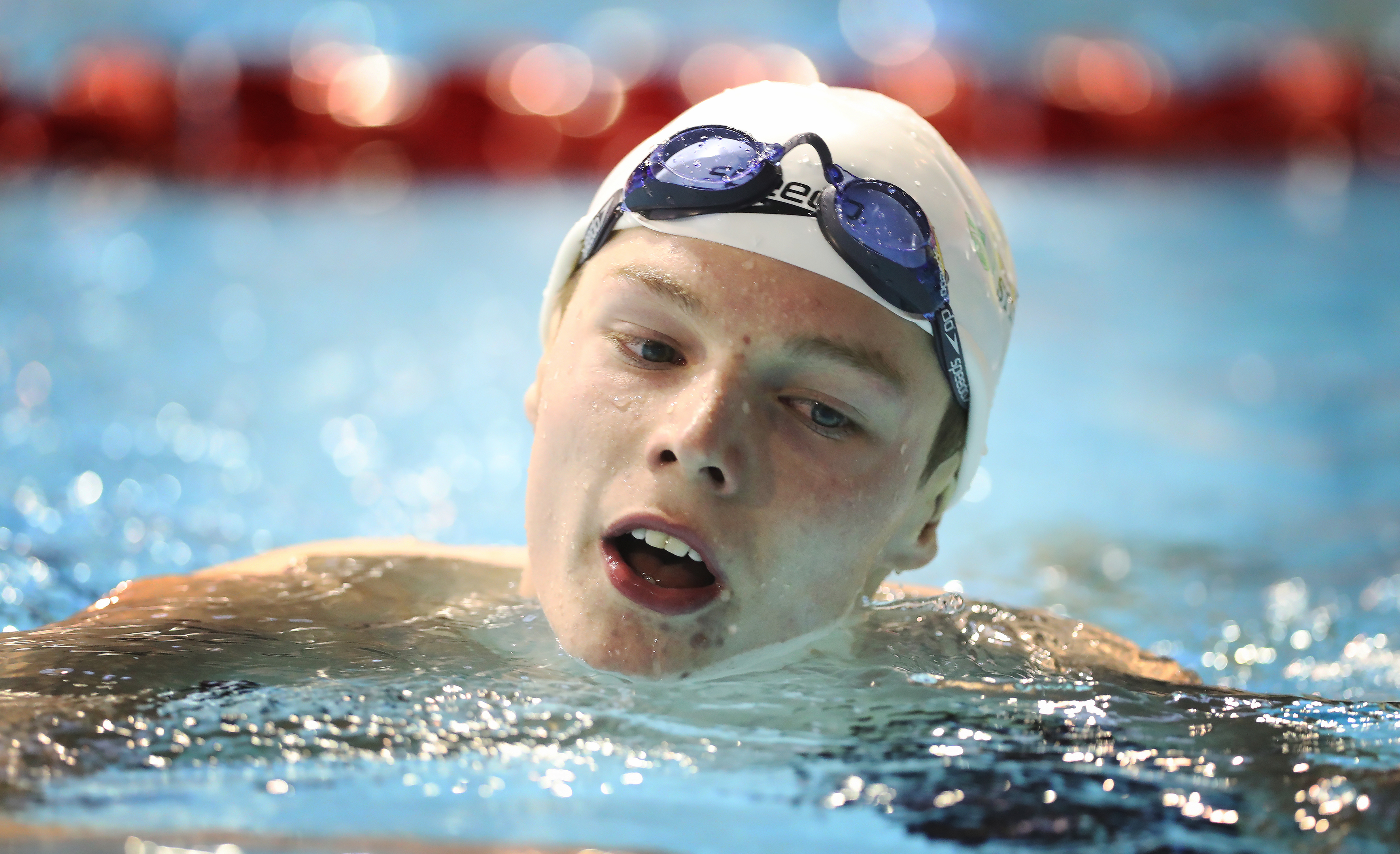 Picking a poster boy or girl for the Commonwealth Games can be a risky business, particularly in swimming.
Four years ago Michael Jamieson's PR-friendly, shiny white grin was the one most seen in the build-up to Glasgow. Yet it turned out to be the wide-eyed amazement of relative unknown, Ross Murdoch, that became the picture everybody remembers.
In a sport in which you can be past your peak before you've reached your mid-20s, star man can become yesterday's man in brutally quick time.
Even taking all that into account, though, there are good reasons to suggest that Duncan Scott will be a 2018 Commonwealth Games hero for Scotland, with some serious recent accomplishments to his name and, at 20, not yet at his peak.
A relay medallist at Commonwealth, World and Olympic level, Scott became the first Briton ever to go under the 48-second barrier in the 100m freestyle this year as he blitzed a British Championship field.
The former Strathallan pupil was a certainty for Team Scotland as the first batch of athletes were paraded in their blue and white yesterday, even though he was too modest to admit it.
"You never expect anything in sport," he said. "Nothing is a given, you learn that every single day. So to be picked feels incredible and I'm proud to be representing Scotland on the Gold Coast.
"It might be a smaller team this time around but the quality is still there. Everyone is sitting here watching the video highlights of 2014, getting goosebumps from seeing those guys perform.
"I'm 20 and I'm one of the older ones!
"We have a really good mix. Hannah (Miley) is in her fourth Commonwealth Games, going for a third gold.
"She's experienced, not old, make that clear! Then we've got people competing in their first Commonwealth Games. That mix is important not just for the future but right away.
"New people coming in will help someone like Hannah, it will push the experienced athletes on."
And as for being a big Scottish medal hope in the first few days of competition?
"That's not something I've thought about," said Scott.
"I've not even thought about events what I'm going to swim at the Games yet.
"The relays are a massive push for medals, obviously, and we have some really strong depth.
"But I've got an altitude camp to get out of the way before we even think about what events I'm doing – and there's the European Short Course events before that."
In some of the Commonwealth Games events there can be a whiff of B or C standard competition about them. Not swimming. Not with Australians to beat. And not in Australia.
In the distance over which Scott has excelled he'll have two home-nation men to get past, who also happen to be Olympic medallists.
He said: "Yeah, sadly the Commonwealth Games is incredibly competitive in the 100 freestyle!
"Australia have such a great pedigree in that event. Four or five of them who could swim that and win it. Thankfully only three can enter. But they've got massive depth, then you have the Canadians and South Africans.
"It gets the juices flowing, the idea of competing against the Aussies on their home ground. That adds to it.
"We're not in Glasgow any more, we're on the other side of the world – and I've never swum in a major meet in an outdoor pool. They'll be more used to it than us. But I think we'll be fine."
The Melbourne Games in 2006 announced Scotland as a swimming nation on the rise and the medal-winning performances certainly left their mark on a young Duncan Scott.
He recalled: "It was incredible to watch the swimming from Melbourne, seeing Scotland do so well on Australian territory.
"I would have been nine, a swimmer already. My coach was probably watching it more intensely than I was.
"But I do remember watching it – and it was one of Scotland's greatest swimming achievements. Gregor Tait picked up all those medals. Caitlin McClatchey was brilliant as well.
"It's something that we'll try to replicate. But it will be very hard, because they set such high standards."
With less than 200 days to go to the Games, which will possibly be the defining week of Scott's career, he has been banned from playing another sport he loves, football.
The Alloa fan explained: "I actually bought a pair of boots the other day. I'm not allowed to use them, according to my coach. But I still bought a pair.
"I'll look at them, clean them, go out and practice free-kicks!
"When the season finishes, after the Worlds, there's myself and a few others who love our football, so we went for some kick-abouts.
"We do that, try to get in as many games as possible in the two weeks when we're allowed to play.
"I played tennis and football up until about 13, when I had to make a decision. Swimming is a sport you can only do on its own.
"I wasn't forced to make the decision. My parents allowed me to make it myself. It came down to what I enjoyed the most. And that was swimming.
"While you can't actually socialise while you're doing it, there are – believe it or not – a lot of social aspects to it. I also loved the competition and the coaching."
He added: "It's never easy being an Alloa fan. We managed to be 3-2 up the other day – and conceded in the 94th minute.
"I work with Brown Ferguson, the Stenhousemuir manager. He knows what it's like to have some tough times, as well.
"He's a lifestyle coach at Sport Scotland. I try to give him tactical advice and I keep waiting for my call-up to play!"
Scott, who heads off to Arizona on Saturday for altitude training, won't know until near to the Games or perhaps even during them, which races he will be swimming.
"Realistically, I will be looking at the 100 and 200 freestyle," he said. "They're the events where I feel at my best.
"Other than that, it will be what fits into the schedule, what the coaches are thinking about relay teams, who races in heats and finals, that kind of thing.
"I just have to wait and see."