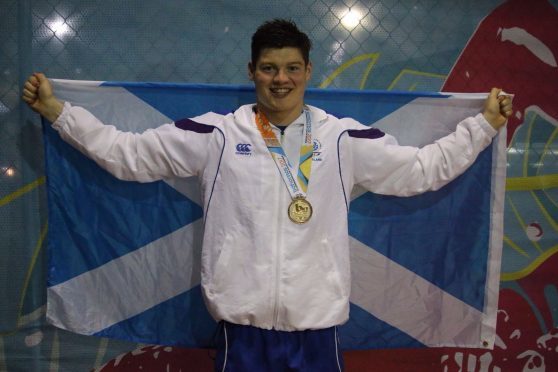 What he's good at on dry land remains to be seen but Scott McLay is certainly excelling in water and may end up making a living in the air.
The 18-year-old, who will be the baby of the Scottish Commonwealth Games swimming team in Australia next year, has got his future mapped out at a young age.
With a record-breaking performance at the recent Youth Commonwealth Games behind him, senior medals are a realistic goal in the next few years.
And the Perth City Swim Club member also has a plan for his life after the tumble-turns are over.
"I want to be a commercial pilot," he said. "My dad lives over in California, so when I go over there, him and I go flying. He flies for a hobby and I've always gone alongside him.  I go over twice a year as a holiday.
"He is in Orange County, which is 45 minutes away from LA and is a very nice place. The club we are part of is Orange County flight school, which is at John Wayne airport and we fly to San Diego, to Los Angeles, to Palm Springs and around that area.
"That is the job I want to do. I will concentrate on the swimming for as long as I can, and hopefully get to the Olympics in Tokyo 2020 and then after swimming I want to move on to being a pilot.
"I have flown a Cessna 172 and a 182, and a Cirrus SR 22G, which is a lovely new aircraft.
"To qualify you start at the bottom and have to get your PPL (private pilot's licence) then once you get that, it is about getting other types of ratings and working your way up to becoming a commercial pilot.
"Sixteen is when you can start to get your pilots licence and I am in the very early days of that.
"I was about five when I first went up with my dad but I loved it and I have been fascinated with it from them on. As I've got older it has just developed."
If getting in a plane with his dad inspired the young Scott in his career choice of the future, going to the Glasgow Commonwealth Games played an important part in shaping his sporting destiny.
"I was there in 2014," he recalled. "I watched Stephen Milne (his Perth City club-mate) and watched the 400m and 1500m and watched Ross Murdoch win the 200m.
"That is something that will stick with me for the rest of my life. That atmosphere and the idea of a home games, where everyone was shouting for Ross and Michael (Jamieson). I am just excited to go to the Gold Coast and experience the same thing.
"I remember sitting there and my mum was saying 'you could be there in four years' time' but I said 'no, I won't', because I just didn't think I would be able to get to the level I am at now. It's all thanks to the people at Perth city and Elaine Johnston (Strathallan coach) that I was able to do it.
"The spirit of 2014 in Glasgow was so awesome and it just brought it home what it would be like. You got a sense of what it must be like to part of one team – to be part of Team Scotland.
"I did want to do it but I didn't think I would be able to because I thought those guys were light years ahead and on a different level. But when I was training at Perth City I tried not to think about it too much.
"It was always in the back of my mind but I didn't want to focus on that too much and I just worked my way through the rankings and kept going, getting better and better."
McLay's three golds, a silver and a bronze in the Youth Games were an achievement that put his name in the record books but making the senior step-up in a sport in which Scotland currently has unprecedented strength in depth stretched his his short-term aspirations.
He said: "At the beginning of the season, I sat down with my coach Ann Dickson and we set out the goals for the season. I put Gold Coast down there as something to strive for but I didn't think I would be going. It was just there to give me a target.
"I had European juniors in Israel and that went quite well but it was a really hard competition and I came third in the relay. But then I went to the Youth Commonwealth Games in the Bahamas where I didn't expect to do as well as I did and I came away with five medals.
"I was just hoping I was getting quick enough to go to the Gold Coast."
Expecting McLay to contend for medals in Australia would be an unfair burden.
"This will be my first international senior meet so it is just something else to tackle," he said. "I moved to Stirling University to train with the likes of Ross Murdoch, Craig Benson and Duncan Scott.
"They have a great set up there and it is great to be working alongside them and making sure that my technique gets better, my tactics get better and if I keep putting that in place then I feel I will be able to compete against the men.
"I feel OK with the people I'm with at the uni. I have always been around the older, senior level of swimming with Scotland so I know some of the guys and I just need to make sure that this transition from juniors to seniors goes well."
McLay's preferred event, 100m freestyle, is the same as fellow Strathallan former pupil, Duncan Scott.
He said: "Yeah, of course, I would like to eventually beat Duncan because he is an incredible swimmer but he is also a great guy, and a great guy to work with in the pool."
For Perth City Swim Club to have two of its members in the team is an incredible achievement in itself. And there is also Camilla Hattersley, an Olympic level competitor, who was unlucky to miss out.
So, what is the secret?
"I think it is the close relationship with Ann," said McLay. "She is a lovely, lovely lady who only wants to do good for you.
"It is all down to her and the team at the Institute of Sport as well. They have kept faith and always helped.
"Perth is a normal 25m pool and the public are in sometimes as well so it is not like we always have the whole pool to ourselves but when you have dedicated swimmers like Stephen and Camilla, they are always going to go out and achieve it and Ann is the right person to bring on good swimmers."