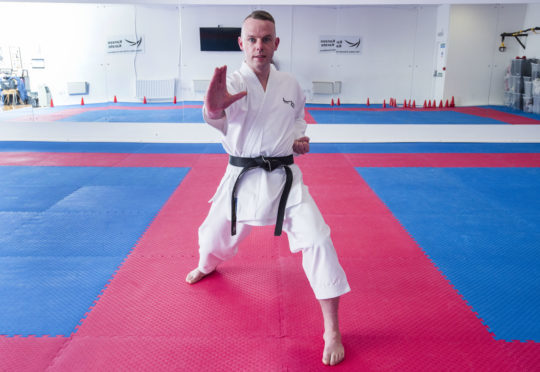 The world is coming to Dundee and it will pack a punch and a kick.
The sound of kiai will herald the arrival of karate's seventh WUKF World Championships as thousands of competitors from across the globe – white suits on and coloured belts tied – gather at Dundee Ice Arena from June 14 to 17.
For the uninitiated, kiai (pronounced kee-aye) is translated from the Japanese as the shout of fighting spirit or energy that accompanies each decisive move in this ancient and graceful martial art.
The noise certainly grabs your attention and Dundonians perhaps won't know what's hit them when this show comes to town.
This is, of course, a big year in these parts, what with the opening of a certain museum down by the Tay in September.
So it is perhaps fitting that an event on as grand a scale will come calling in the summer.
Over 2,500 athletes are taking apart and, when you add coaches, family, friends and spectators, the number of visitors is expected to exceed 4,500.
Maybe it will get us all used to being the centre of attention post V&A.
The event will be run by the WUKF, the World Union of Karate-do Federations, and the major coup of hosting it was achieved by Dundee's very own Kanzen Karate Scotland club, led by chief instructor Roy O'Kane.
It isn't as if Roy doesn't have a busy schedule as it is. When we chatted he had just left a lengthy meeting at work and was preparing to fly out to the sunshine to take part in the Malta Open, where Kanzen would go on to pick up their usual haul of prizes and titles.
The 32-year-old fourth dan black belt explained: "The WUKF is the body that represents millions of karateka (athletes) all over the world.
"There was an opening to host the 2018 World Championships and we felt, because we like a challenge, that we should see if we could do it.
"Some people maybe thought we were completely mad but we pushed on.
"We had to do a presentation and then win a bid to host it in Scotland first and then in Dundee.
"I think the bid was strong, in terms of the support from the local council and the can-do attitude of the club.
"To be honest, some people were hesitant because they saw the youthfulness of Kanzen as maybe naivety.
"However, we went with an energetic bid and we won it.
"It has been an experience for me ever since, going from being a karate instructor to an event organiser," he added.
"It has been a heavy stone push but we have had help and support from across the city.
"It is easier to host something like this in Edinburgh, Glasgow or Aberdeen because of the facilities, transport and number of hotels etc.
"What beats all that, though, is the impact the event will have on a city of Dundee's size, as well as the surrounding area.
"People will not be able to escape the fact it is happening here.
"We expect 2,500 athletes and, with officials, coaches and spectators on top of that, that will rise to around 4,500 people.
"In an exciting year for the city, to have so many people coming to Dundee from all over the world to celebrate a martial art that is around 400 years old is unique.
"People will come together in a spirit of respect for each other and for karate. There will be a wonderful blend of nationalities and cultures."
Kanzen Karate was founded by Roy in 2009 and the club has over 500 members spread across its Dundee HQ, Arbroath, Carnoustie and Forfar.
It will be right in the thick of the World Championships, with over 100 competitors preparing for action in kata (a series of movements and techniques) and kumite (freestyle fighting).
The reason Roy first became interested in the martial art is both harrowing and inspirational.
It is in his life narrative that you find the determination and strength of character required to bring such an epic event to the city he now calls home.
Hailing from near Elgin, a young Roy was travelling home from primary school when he was attacked.
He takes up the story.
"I was picked on at school by local bullies and got beaten up quite badly on the way home one day," he said.
"The police became involved and the local officer who came to interview me just happened to be a karate instructor.
"He said to me: 'Look, son, you should probably learn some karate.'
"The following week I went along and I have been doing karate ever since.
"My life journey saw me take two years off between secondary school and going to Aberdeen University.
"Those two gap years I spent doing retail jobs to fund karate so that I could compete full-time.
"Like most young people, you try to get a shelf-stacking job or the like to pay for what you want to do.
"I saved up my money and was able to go down to England for three to four weeks at a time to train under the best instructors.
"I then went to uni but left early because I wasn't really enjoying it. I then worked at RBS and was able to continue competing.
"It was then on to Manchester before work brought me to Dundee," he added.
"When I got here I fell in love with the city – as many people do – and thought: 'I am going to make this place my home.'
"I felt I had something to offer with my international competition experience and many years as a karateka.
"I had then – and still have – real passion for it and felt that I had something to offer the Dundee karate scene. It was 2009 and that's when I started Kanzen.
"In an urban area there is so much more for people to do so it didn't take off right away. Indeed, I remember teaching only the one kid for two weeks.
"That then grew to an intake of seven, two of whom are still with us today.
"It has been around a decade in the making and when we moved to our dojo (gym) here in Manhattan Works in March 2016 that made a real difference as it gave us a base.
"Karate doesn't have a divine right to exist. It has to evolve and stay relevant to the times and I think we at Kanzen have been able to do that quite successfully."
As well as Roy, the club has two other full-time senseis (teachers) – Dan Woods and Cyrielle Maroteau – and six volunteer instructors.
Taking pride of place on the dojo wall among the action pictures and letters of congratulations from local politicians, is a large photograph of Gichin Funakoshi, the Japanese founder of the Shotokan form of karate – the world's most popular and widely spread – as practised by Kanzen.
Funakoshi taught that: "The ultimate aim of karate lies not in victory or defeat but in the perfection of the character of its participants."
Chatting to Roy, you get the sense that he has taken that lesson on board.
For him, it is not about the trophies won or colour of belt, it is about becoming a better person.
He said: "Kanzen translates from the Japanese as 'the pursuit of perfection.'
"It is the idea that you will never get there but as long as you are striving for continual improvement then that is what is important.
"That is really the essence of karate and is a good fit for our club.
"Titles and medals are nice but that's not how we define ourselves.
"There is focus on competition but what are more important to me are the values.
"That is what we are about.
"Karate is not my life but it is how I choose to live my life, in the sense of community, culture and personal development. What excites me is being able to impart that to others.
"One of the things I am most proud of is being able to help people experience new things through karate," added Roy, who regularly takes Kanzen karateka abroad to compete.
"For example, I was at Lake Garda in Italy for the Europeans a couple of years ago and we had a squad of 12 young people from Dundee down by the water training.
"One of the parents came up to me and said: 'When I was my kid's age I was hanging about the streets of Kirkton and now my child is training on the shores of Lake Garda.'
"That was pretty special to hear that."
Roy is proud of how accessible karate is, with no costly kit to be bought other than the suit and belt.
He said: "I would say the greatest achievement of Kanzen's is that we have been able to create a community that is open to people from all backgrounds.
"It doesn't matter where you come from.
"If you are good enough, respect the dojo and put in the hours of training we will support you to be where you want to be.
"When you compare karate to a lot of other activities it is inexpensive and open to all.
"Many sports, at the elite level, are only maybe available to those who have the financial means.
"In the dojo, everyone is an equal."
The WUKF World Championships take place at the Dundee Ice Arena from June 14-17. Spectator tickets go on sale from Monday, April 2.