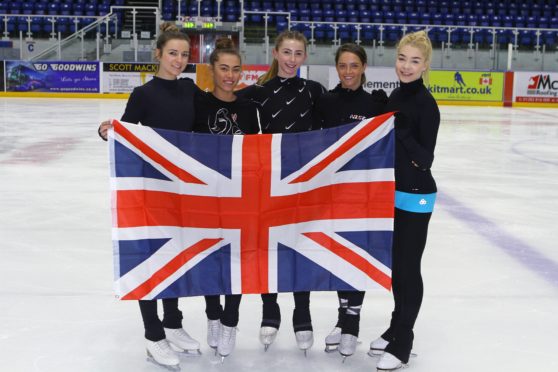 The annual Dundee invasion of Sheffield for the British Figure Skating Championships is underway, with hopes high that a number of medals will be returning home from Yorkshire.
Ten elite skaters will be taking part in this year's event and the two favourites for gold in the ladies senior section will once again be reigning champion Natasha McKay and former champion Karly Robertson.
Last year's winner, Natasha, is hoping to make it a hat-trick of national titles at a venue that has become like a second home to her.
"I've been going down to Sheffield for the nationals every year since I was eight," she said. "And I'm 23 now.
"My training has gone really well and I feel good going into the British.
"Because I was in the Europeans and Worlds last season, my year lasted longer so I've had a shorter gap between seasons.
"I've had four international competitions so far and this is the time of year when I usually peak."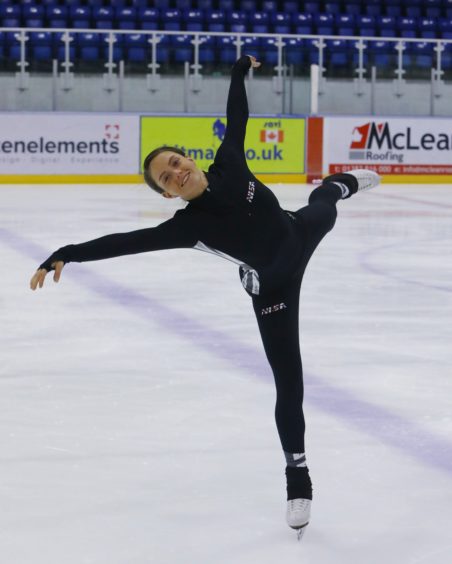 The fact that Natasha and Karly are podium rivals as well as training partners doesn't affect preparations.
"We're all friendly and get on but on the ice you know what you have to do," said Natasha.
---
>> Keep up to date with the latest news with The Courier newsletter
---
"You just focus on yourself and hopefully produce a performance that proves to be enough.
"It's not just girls from Dundee, there are others to watch out for. Like every year, it all comes down to how you do on the day.
"I've upped the difficulty (of her two programs) for the British.
"The big goals are to win the British and get to the Europeans and Worlds again – and if I get there, hopefully do even better to climb up the rankings."
Karly won't be short of confidence this week, as she finished ahead of Natasha in their most recent international competition.
"I'm happy with how the season has been going so far," she said. "I've progressed from competition to competition.
"Hopefully I'll keep that going.
"I've hit personal bests but there have still been errors. That means there is room for improvement.
"I don't think about finishing in front of anyone. I'm more motivated to improve my skills and routines throughout the season."
Karly certainly couldn't be accused of adopting a cautious approach to the competition as she is likely to be the only skater attempting a high-tariff 'triple-triple' jump.
"We were going to keep my routines from last year to this year but it was a last minute choice to change," she said. "So I've got one new routine. I just wanted something fresh.
"I've had the triple-triple for a couple of years but I haven't been pulling it off as much as I would have wanted in competition, which has obviously cost me marks.
"It's a big risk to take but this season, touch wood, it's working much better.
"I know I'm capable of doing it and I like to take risks. Nobody else at the British will be trying the triple-triple.
"I like to try and push myself to the maximum."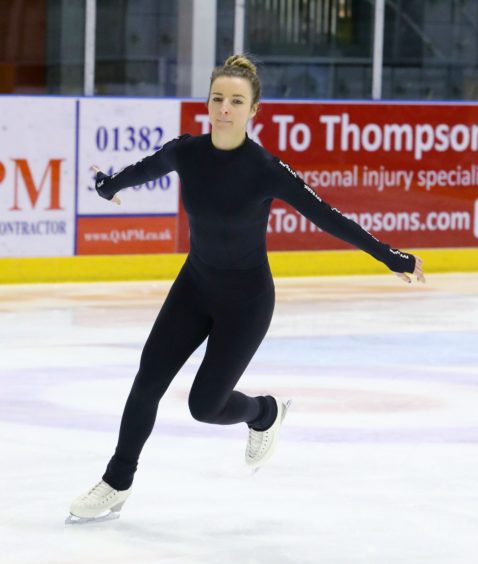 Natasha and Karly are Dundonians born and bred. With husband and wife coaches Simon and Debi Briggs, along with choreographer Andrew Smith, widely accepted as the best support team in the country, the elite group at the Dundee Ice Arena have been supplemented by young skaters choosing to base themselves in the city.
One of those is Danielle Harrison. Along with Katie Powell, who goes to Sheffield having secured two top 10 finishes in her recent international competitions, Danielle completes the quartet of athletes in the senior ladies competition.
"I moved up here when I was 14," said Danielle. "Now I've just turned 19.
"I'd been coming up at weekends before that – driving eight hours from Basingstoke. I was doing that every weekend from 11 but it was too much driving.
"My mum gave up a lot for me. She moved up for a couple of years while my dad and the rest of the family stayed home. When you're doing well it definitely feels worth it.
"The main reason was the coaching team – Debi, Simon and Andrew come as a three. It's also such a strong team here – we all bounce off each other.
"When I came up it was just Karly and Tash but more and more have relocated after they saw the success we were getting."
On her expectations next week, Danielle said: "I've medalled at all of my nationals apart from one, which was last year when I didn't have my best skate.
"My aim is literally to skate my best and get a good score.
"Last year is in the past. If all of us skate well there's definitely a chance of a Dundee one, two, three.
"Obviously, everybody's long term goal is to go to the Olympics but you just have to take it one year at a time."
The other Dundee skaters are Anastasia Vaipan Law (juniors); Jasmine Cressey (advanced novice ladies); Kyle McLeod (advanced novice men); Poppy Ashton and Emily Dale (intermediate novice) and Lucy Hay (basic novice).
* The championships are being streamed live until Thursday via the British Ice Skating Facebook page. Then on Friday and Saturday they will be streamed live on the BBC Sport website and digital platforms, with professional commentary.