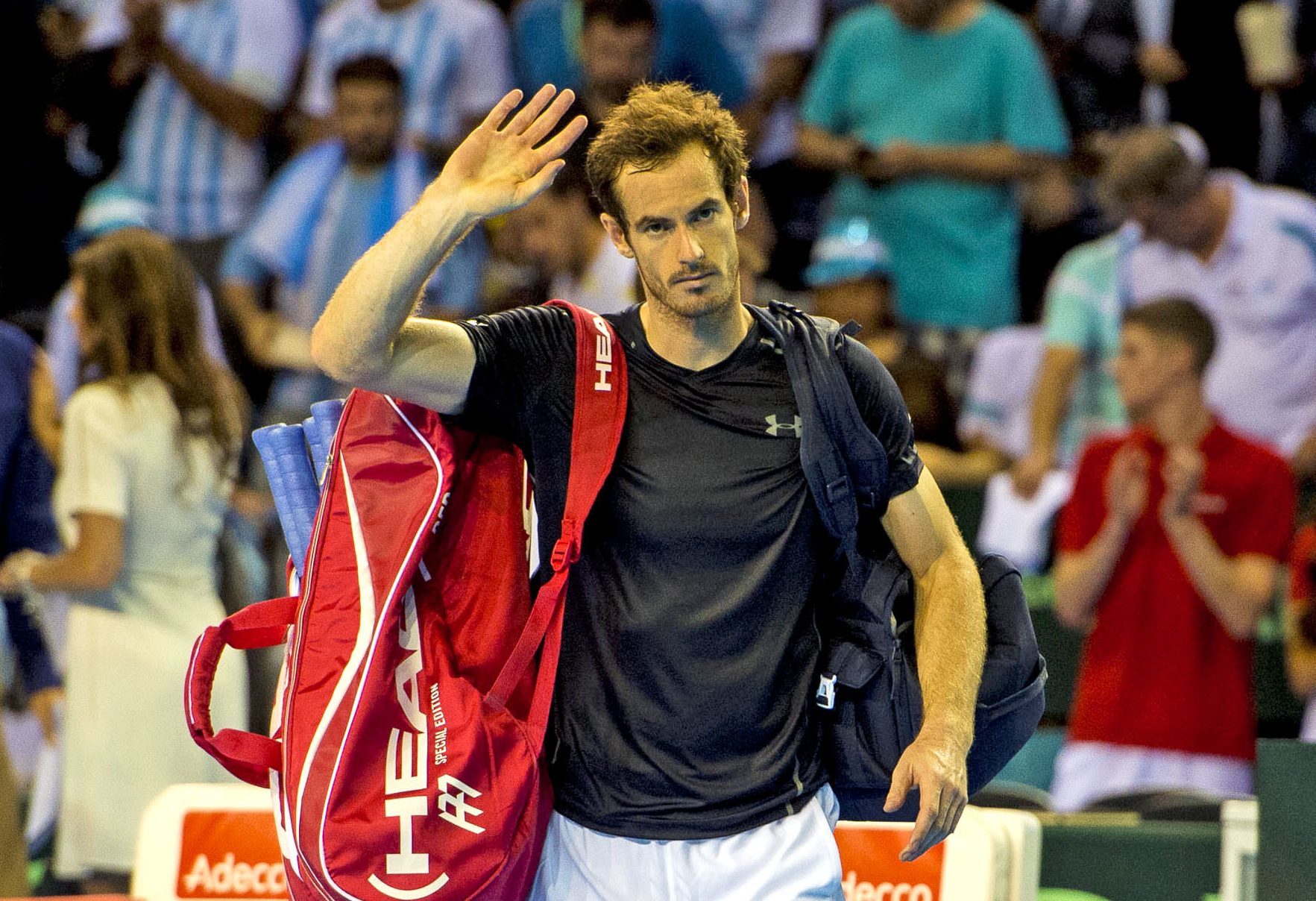 There was the customary Davis Cup guts from Andy Murray at the Emirates Arena, but on this occasion no Davis Cup glory.
The home hero overcame the inevitable fatigue of more than 10 hours of tennis, and the pain of a muscle injury that required treatment off court, to put away Guido Pella in his third match of the weekend.
After losing a five-set epic to Juan Martin del Potro on Friday all Murray could do was tie Great Britain and Argentina at two rubbers each, but securing a place in a second final in successive years was out of his hands, and eventually proved beyond Dan Evans.
The team was able to see off Serbia on their own clay to get through the quarter-finals minus their talisman, but they couldn't manage a point without a Murray in Glasgow.
It says everything about his levels of commitment and fitness that while del Potro wasn't able to put himself through a third match (understandably given his injury struggles), Murray could – and win three sets to love against a man who had never previously lost a Davis Cup singles.
Given the way Murray's body eventually betrayed him, hindsight tells you that if this had been anything other than straight sets he could well have been defeated.
It was all pretty much as it should be for a world number two against a world number 49 in the first set.
Murray broke early to take a 3-1 lead and the only worries were 15-30 and deuce when he was serving for the set. They proved to be minor inconveniences though and serve it out he did.
Pella lost his serve in the first game of the second set and it would have been a double-break had Murray been able to convert one of his six advantages.
The killer instinct had temporarily deserted the Scot but it was swiftly rediscovered and Murray bagged his second break to cruise to a two set lead.
It didn't take the expertise of a physiotherapist to appreciate that a match-weary Murray would be digging deep by this stage, and at the start of the third set it became apparent that he was reaching his limits.
At 2-1 down Murray called a medical time-out, which lasted eight minutes. It did the trick (positively for him and perhaps negatively for his opponent) and he broke in the second game after his return to court.
Pella's level had dropped significantly enough to make the last few games as comfortable for a man playing with one good leg as it could be and the victory was clinched on the first match point.
The pain in his right quad will be fully assessed over the next couple of days but this is new terrain for Murray.
"I've never really had any muscle injuries before," he said. "The two matches I've had to withdraw from before, one of them was my wrist and the other was my back, which was the joint.
"I've never had sharp pain in a muscle. That was worrying. Thankfully I managed to get it done in straight sets.
"I was still moving OK. It was just the pain. When you start getting pain in your body it distracts you from hitting the ball and the tactics. I wasn't thinking about withdrawing but I was concerned about how my leg was."
The general tiredness of three games in three days on the back of a gruelling summer came as no surprise to Murray. And dealing with it was actually easier because of that.
"This weekend I kind of just accepted it better than in the past," said the 29-year-old.
"I expected to feel tired and not great. I knew I'd be in some pain and it would be really hard. Sometimes I've come into weekends thinking this is going to be alright then by the end of it felt horrendous.
"After the tie with Japan when I hadn't played a match for a while I felt physically shattered. I think because I accepted it I actually handled it OK."
Medical breaks in play, and the timings of them, have become a contentious issue in tennis, but there was a pretty basic necessity for Murray to get his treatment away from public viewing.
"The reason I had to go off is because I can't get my nuts out on the court," he said. "I mean, I can't do that.
"So that's why I had to go off the court, because the strapping had to be done very high up on my right leg and I needed to take my clothes off."