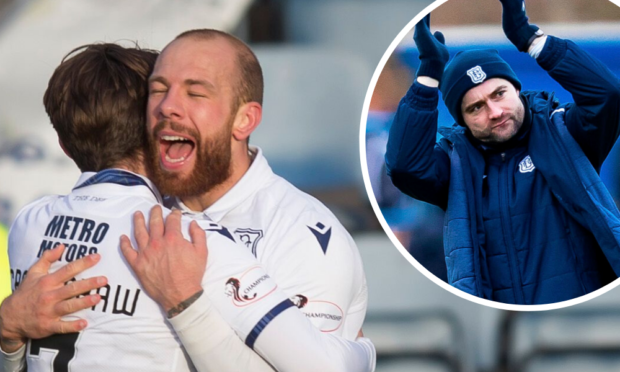 Dundee match-winner Jordon Forster insists he takes more satisfaction in securing a clean sheet than notching his first goal for the club.
Like most defenders, Forster takes pride in shutting out opponents and claims that means more to him than scoring.
He helped Dundee keep Queen of the South at bay with a rock-solid defensive display and also got the game's only goal in a special 90 minutes for him.
The hard-fought but crucial three-points lifted the Dark Blues back into the play-off positions as they jumped up to third place, level on points with Inverness.
Forster went close to opening the scoring at the start of the second half when his powerful header was tipped over by Queens goalkeeper Ross Stewart but he wasn't to be denied.
In the 72nd minute when Stewart pulled off another save to claw out Christophe Berra's header, Forster was in the right place at the right time to slam home the rebound.
Although he'd have preferred it if his header had broken the deadlock.
Forster said: "To be fair I would have liked that one more, it would have looked better. The goal was a bit scruffy.
"Listen it's nice to score but I'd trade a goal for a win and a clean sheet every day of the week but to get all three points is a good day.
"To win 1-0 and seal the three points was a really nice feeling but I'm probably happier with the clean sheet again this week.
"That's two clean sheets in two games and a goal and an assist. So it's been quite eventful for a centre-half.
"I'm definitely happier with the clean sheet. To be honest a goal's a goal but a clean sheet is what most defenders base their game on. We got a lot of clean sheets at the start of the season, then we came away from that so it's nice in the last couple of games to have clean sheets."
There would be no wild celebrations from Forster following the win, as he knows Dundee still have their work cut out to secure the runners-up spot in the Championship behind champions-elect Dundee United and have two less games in the play-offs.
He said: "Everyone is different and some boys might like to go out and celebrate but for me it'll just be home and a pizza.
"We've come down and got the three points. It's put to bed as soon as you're back on the bus and onto the next game.
"With Inverness getting beat on Friday night you do the maths and we knew how big a game this one was.
"Listen it's massive to finish second, it's huge.
"At the start of the season that wasn't the goal but it's changed now. That is the goal now to finish as high up as we can.
"In the last couple of weeks we've made good steps to make that happen and it's down to us as professionals to keep working hard and make sure that keeps going for the remaining weeks.
"There's been a real emphasis in the last few weeks to work smarter and work harder for each other as teammates.
"Be a bit grittier and nastier and that's showed on the pitch. I think we're more difficult to beat and then played from there and that's worked. Hopefully we keep doing the same thing."
Meanwhile, Dundee manager James McPake hailed his side's character as they ground out this gritty win.
And McPake knows they need to keep their run going after they made it three unbeaten.
He said: "It's not happened enough as a football club, winning these types of games.
"At half-time we said it was a test of character and it was to get them in the mindset that no matter what happened we were going to get the victory.
"We were very professional in what we did. Now we move onto another massive home game.
"It's a game, and I heard it in the dressing room, that earlier in the season we'd have lost or wouldn't have won.
"Defensively we were very solid and that's not just the three centre-backs and goalkeeper, that's as a team.
"It's two wins, it's two clean sheets but it's been three decent performances now. I'm cautious to say its momentum just yet because we've been here before when we've won three in a row and think we've turned the corner.
"But I think we've now got characters now in the team that won't allow that.
"We're getting stronger in that sense but we need to kick on as we've got a massive period coming up."