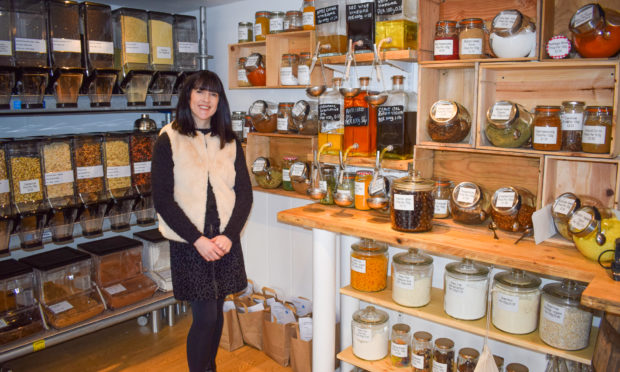 Debbie Gallacher outlines her move into eco-friendly commerce with her shop Love Your Planet.
How and why did you start in business?
I used to be a chartered accountant with MHA Henderson Loggie and enjoyed working with local businesses for several years, providing both compliance and advisory accounting services.
Visiting these businesses and seeing the enthusiasm of the people running them, I always felt like it was something I could see myself doing.
I also had a passion for sustainability and had the idea of opening a zero-waste store in the local area so I decided to go for it and opened Love Your Planet.
How did you get where you are today?
Coming from a business background has certainly helped me.
Being a chartered accountant, I had a wide range of business skills and knowledge after more than 15 years working with local businesses.
My clients included established and start-up businesses so I got a great insight into some of the obstacles they face.
This helped with forming my idea into a business plan, preparing cash flow projections and liaising with other professionals such as lawyers, bankers and surveyors.
Although I had business skills, I wasn't scared in asking others for help where I needed it.
Who has helped you along the way?
I have had support from a lot of people along the way – far too many to mention individually.
My family, friends, work colleagues and former clients have all been brilliant.
I also knew Ann Kerr at Business Gateway Tayside from my time at MHA Henderson Loggie so I met with her very early on in the planning process for HR advice and support.
Now that I have opened the shop, they continue to be a great source of support.
What was your biggest mistake?
Buying too much stock of polenta.
Luckily a local café used the excess so nothing was wasted.
Stock control was difficult to begin with but I'm getting better at estimating what we'll need with every order.
It certainly helps using local suppliers where I can, such as The Black Cat Soap Company in Kirriemuir and Sacred Grounds Coffee in Arbroath.
They are more than happy to pop down with some stock if I run out.
What is your greatest achievement to date?
Opening the shop was a massive achievement.
It was a lot of hard work from January 2019, when I started the project, to opening the premises at the end of September that year.
All the hard work was worth it in the end and I still get a real buzz when people compliment the shop and our products.
Hopes for the future?
I'm just going to focus on growing the business and getting the right mix of products in the shop.
What is the hardest thing about running your own business?
The hardest thing is also the most enjoyable – being responsible for everything.
Any advice to wannabe entrepreneurs?
I would say take your time and think things through. Get as much advice as you can from people with different skills and expertise.