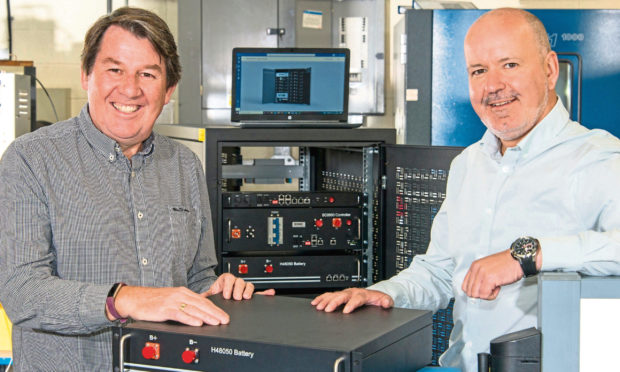 Dundee engineering firm Albacom's diversification strategy continues as it merges with battery storage specialist Genista Energy.
The six-figure deal is set to create 20 skilled jobs in the next two years and will see the engineering and design manufacturing firm expand into renewables optimisation technology for a range of industry sectors including renewable energy, agriculture, oil and gas and marine industries.
Kirriemuir-based Genista Energy designs custom configurable lithium-ion battery storage products which store energy when it is available from renewable sources and release it on demand for use across a wide range of commercial and industrial applications.
Genista Energy will be the trading company in the new joint venture, with founder Graham Hall as managing director, while Albacom chief executive Jim Davidson will join the board of Genista as non-executive director.
Albacom, which grew from the 1990 buy-out of the Dundee division of Ferranti, specialises in electrical components for the global defence and aviation industry and will manufacture Genista systems for UK and international customers.
Albacom's facilities include a 14,000sq ft purpose-built office and factory space in George Buckman Drive, where it currently delivers bespoke products and services including electronic design and manufacture.
Genista managing director Graham Hall said: "With our technology and Albacom's engineering design and manufacturing expertise, we will unlock the full potential of local renewable energy generation.
"The merger accelerates our aim to create value in a rapidly changing market and to enable our customers' transition to smart and renewable energy systems that will benefit the environment and have benefits in the green circular economy.
"We anticipate demand for our battery storage for electric vehicle charging where it will be possible to store energy generated during daylight hours from PV on car ports to charge fleet vehicles overnight, cutting costs and carbon.
"Retail parks are using similar technology to provide power for charging EV while their customers shop."
Genista's battery systems can provide power in remote locations where grid connections can be difficult
Albacom chief executive, Jim Davidson said the move will unlock the full potential of local renewable energy generation.
He said: "The merger accelerates our aim to create value in a rapidly changing market and to enable our customers' transition to smart and renewable energy systems that will benefit the environment and have benefits in the green circular economy."