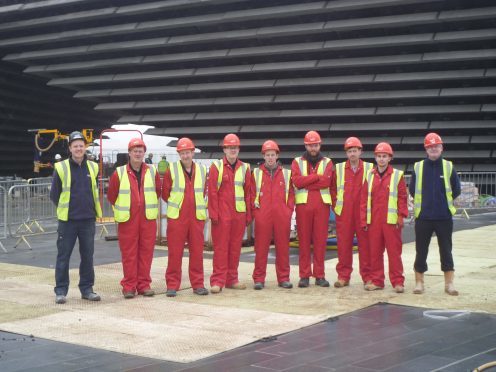 The future's looking brighter for eight Dundee electricians who have secured new jobs thanks to ongoing work at V&A Museum of Design Dundee.
The three qualified electricians and five apprentices, including an adult trainee, had been made redundant from local mechanical and electrical company, Scottish Electrical Group, when it ceased trading in August.
BAM Construction, which is building the prestigious V&A Dundee, were alerted to the situation by the Partnership Action for Continued Employment Partnership (PACE) who contacted their supply network to try and help the tradesmen.
The group has recently started working on site having secured permanent contracts with BAM's sub-contractor, FES, one of Scotland's leading mechanical and electrical installation companies.
Construction manager Malcolm Boyd said: "It's a great feeling when you are able to pull together and help in this way and I'm really delighted for the team who will not only be a strong addition to the project but will also have the opportunity to work on one of the best building projects in the UK."
Dundee City Council leader Councillor John Alexander said: "I am glad that the ongoing construction programme at V&A Museum of Design Dundee has enabled these people to find work and put their skills to use on this exciting project.
"The ambition of V&A Dundee will bring about substantial long term benefits for our city's economy and the construction of the building has given a huge boost to those firms involved.
"I am encouraged to see how the project has helped workers who found themselves in very difficult circumstances."
The £80m project to create the V&A's first museum outside London is at the heart of Dundee's ambitious £1bn waterfront regeneration. It is due to open next year.
Philip Long, director of V&A Dundee, also welcomed the news. He said: "We are delighted to see more local people gain employment on the construction of our new museum, particularly after facing unemployment."
rmclaren@thecourier.co.uk