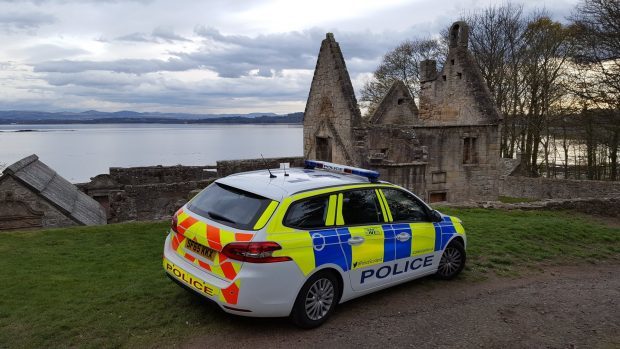 Security staff have been employed to protect a 12th Century Fife church from vandals.
St Bridget's Kirk in Dalgety Bay has been hit by a string of anti-social behaviour in recent months.
The attacks have prompted Historic Environment Scotland, which manages the site for the nation, to pay for heightened security to prevent youths from gathering at the ruins.
The most costly vandalism happened in April 2016 when the kirke was sprayed with graffiti.
The damage on that occasion cost more than £5,000 to repair as specialist chemicals were needed to preserve the building.
Now the threat of further incidents has prompted a decision to fork out more cash for additional protection.
A spokesperson for Historic Environment Scotland said: "St Bridget's Kirk is a fascinating site, dating back to the 1100s.
"As with any site of this age, any damage to it can be impossible to repair and result in severe loss to the historic environment.
"We are currently employing a security company to monitor the kirk, supplementing the routine site visits by our monument conservation team.
"Damaging a designated monument is a criminal offence, which Historic Environment Scotland takes extremely seriously."
The cost of the security patrols has not been revealed.
It is understood the measures are not in response to any one specific incident, but rather to act as a general deterrent.
St Bridget's Kirk was originally built to serve as the parish church of Dalgety.
Worship was arranged by the Augustinian Canons of Inchcolm Abbey and the church remained in use after the Protestant Reformation in 1560 – albeit significantly altered for Protestant worship.
By the early 19th Century the church had become unsafe and it is now in ruins, although visitors can still see the rectangular outline of the original medieval bilding among the later additions today.
News that security staff have been brought in to help protect the landmark was described as "surprising" yesterday by local Conservative councillor Dave Dempsey.
"There was certainly a burst of anti-social activity some months ago at the church but I thought it had gone quiet," he said.
"It hasn't really figured on the radar for a wee while so I'm quite surprised."
Inverkeithing and Dalgety Bay SNP councillor Alice McGarry also spoke of her "sadness" that such a move was needed.
She concluded: "It's a sacred site and for people to abuse it in the way they do is quite reprehensible."