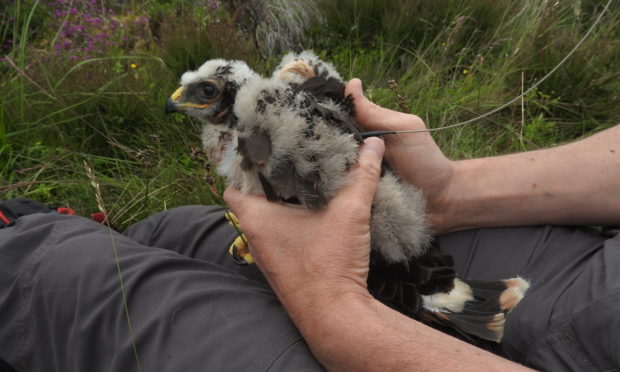 A hen harrier that was being tracked by a leading bird welfare charity has been found dead in an illegal trap on a Perthshire moor.
The young female, named Rannoch, was said to have suffered "significantly" before she died in the open spring snare.
Rannoch had been fitted with a satellite tag by RSPB Scotland, as part of the organisation's Hen Harrier LIFE conservation programme.
Her movements had been closely followed by the charity until November when she stopped moving in an area of moorland between Crieff and Aberfeldy.
The solar-powered tag battery had drained before accurate information could be gathered to find her. When the tag came back online in May, RSPB Scotland was able to get enough data to track down her remains.
A post mortem report from the SRUC (Scotland's Rural College) veterinary laboratory states: "The bird was trapped by the left leg in a spring trap at time of death.
"Death will have been due to a combination of shock and blood loss, if it died quickly or to exposure and dehydration/starvation if it died slowly.
"Either way the bird will have experienced significant unnecessary suffering."
Dr Cathleen Thomas, project manager for Hen Harrier LIFE said: "We are absolutely devastated that Rannoch has been a victim of crime. The life of this beautiful bird was cut short in the most horrific way due to human actions.
"Satellite tagging has revealed the amazing journeys made by hen harriers, but also uncovers who their journeys end."
She said: "Often the birds disappear with their tags suddenly ceasing to function as perpetrators go to great lengths to hide the evidence of their crimes.
"Rannoch's death in a spring trap is evidence of one way in which these birds are being killed."
She said, in terms of population size, hen harriers are now the most persecuted bird of prey in the UK and numbers are now "perilously" low.
"Every loss we suffer impacts the continued survival of the species."
Ian Thomson, head of investigations at RSPB Scotland, said the death was "truly appalling".
"The actions of the individual who set this trap were both reckless and indiscriminate, and showed a complete disregard for both the law and the welfare of local wildlife," he said. "Sadly, the catalogue of criminal killing of tagged hen harriers and other birds of prey continues unabated.
"We know many others are illegally killed and going undetected, so her death is part of the tip of the iceberg of the true level of criminality."
Rannoch was one of two chicks who fledged from a nest in Perthshire in July 2017. Her tag was fitted by members of the Tayside Raptor Study Group and Forestry and Land Scotland, who monitored the nest together.
A spokesman from The Scottish Gamekeepers Association said on Thursday: "As an organisation, where there is proven criminality, we share the abhorrence felt when a bird of prey is illegally killed.
"If such a case involves an SGA member, we take firm and appropriate action by revoking membership, as we have done on seven occasions in the past seven years. In this case, we understand that the estates co-operated fully with police, and police did not treat anyone as a suspect."
He said: "The estates have made it clear they were not responsible for the setting of the trap.
"A number of things may have happened to the bird in the lengthy intervening period between the tag signalling in November then again in May.
"We are aware that grouse moors are currently the subject of governmental review, with some organisations actively seeking legislation of the sector. However, we consider it irresponsible for assertions of guilt to be levelled with no supporting evidence during a live investigation and at a time when Police do not consider staff at the estates to be suspects.
"All evidence from the tag should be made available for independent scrutiny; something which does not happen currently. It appears this tag was going on and off over long periods which begs questions as to what can actually be known. Perhaps with greater transparency surrounding the tag data, those responsible can be caught and brought to justice."