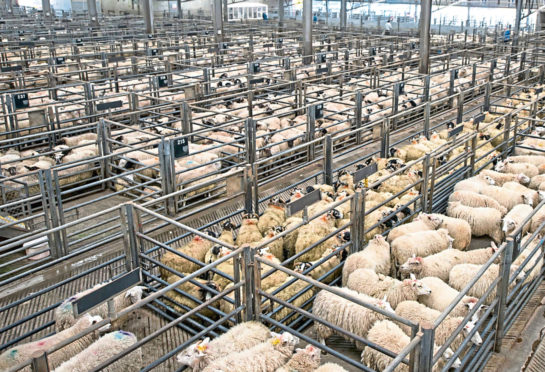 Scotland's livestock auctioneers are engaged in continuous dialogue with government in a desperate effort to keep marts trading through the coronavirus crisis.
Auction companies say they are "caught in the middle" as they haven't been instructed either to close or stay open, but they have introduced new biosecurity rules to ensure livestock can continue to be traded and the meat supply chain maintained.
The uncertainty is already taking its toll on trade, with prices back around 30% on the week at yesterday's Caledonian Marts prime sheep sale at Stirling, and earlier in the week farmers were instructed not to send lambs to marts at Lanark, Ayr and St Boswells as there were no buyers for their stock.
It is understood a lack of confidence that export markets will be able to stay open is influencing trade, but a spokesman said abattoirs were full as traders "panic bought" stock the previous week.
Markets are now operating with skeleton staff and strict new rules to ensure the safety of farmers, hauliers and buyers.
United Auctions' store cattle and cow sale is going ahead in Stirling today and sheep will be sold tomorrow.
Caledonian Marts Ltd are also continuing with scheduled sales and ANM Group auctions will go ahead at Thainstone tomorrow and Friday.
Forfar Mart has cancelled today's sheep sale, but the prime cattle auction will go ahead.
Further south, Harrison and Hetherington have cancelled their regular sales.
Detailed guidance has been issued by the Institute of Auctioneers and Appraisers in Scotland which require farmers and hauliers to unload livestock into pens beside loading bays and mart staff to take over responsibility for the animals after collecting paperwork by email or across a biosecurity line.
Buyers will be required to pre-register their attendance and declare they have not been in contact with a positive Covid-19 case in the previous 14 days.
They will have to keep a distance of two metres from each other, and extra handwashing facilities will be available.
Once sold, the stock will be delivered to pens beside loading bays and hauliers or farmers will load lorries or trailers.
nnicolson@thecourier.co.uk