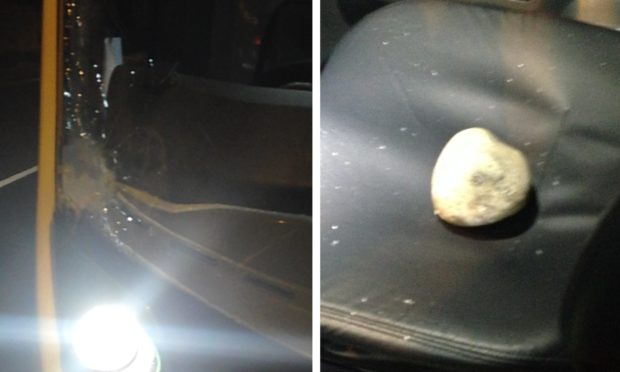 Passengers travelling from Dundee to Monifieth were left shaken on Thursday evening when a large rock was hurled at a bus – smashing the driver's side of the front windscreen.
The latest incident happened near Orchar Park in Broughty Ferry aboard the 73 to Arbroath just before 10pm.
It comes just days after a Stagecoach driver was left injured when a rock was thrown through the windscreen of a 73 bus in the same part of Broughty Ferry on Monday at 10pm.
A Monifieth-bound passenger got in touch with The Courier to express shock at the latest incident, which he described as "pretty scary".
The father-of-two said: "The bus was travelling up the hill past Orchar Park when there was a huge thud and the bus pulled in opposite Yewbank Avenue.
"The driver climbed out of his cab and looked really shaken – he said he was showered with glass.
"It was a pretty large rock which smashed a hole in the driver's side of the windscreen and it could have seriously injured him if he'd taken a direct hit.
"He phoned for help and the passengers, about 20 I think, were left waiting for a replacement.
"It's shocking that this can happen twice in a week and must be pretty scary for drivers who cover this route.
Driver injured after 'large rock' smashes windscreen of moving bus in Broughty Ferry
"Police need to step up their patrols as these thugs clearly see it as an easy place for an ambush."
The driver, 29, was not injured during the incident.
Police are treating the two incidents this week as connected.
Sergeant Chris Grieve of Dundee's Longhaugh Police Station said: "Thankfully on this occasion neither the bus driver nor their passengers were seriously injured, however, these attacks are not without consequence.
"Imagine what could have happened if the bus had veered off the road and struck pedestrians or other drivers. This is a residential area and even at this time of night there are a lot of people about.
"Whoever is responsible for these attacks had no thoughts for the safety of others or the impact of their actions.
"Officers are checking CCTV and making inquiries and would appeal to anyone who may have seen people congregating around the park nearby or who may have any information that will assist our enquiries to come forward.
"Information can be passed to officers at Longhaugh Police Station, Dundee, via 101.  Please quote reference numbers 4088 of February 17 and 3991 of February 20, 2020, when calling.
"Alternatively, Crimestoppers can be called anonymously on 0800 555 111."
A spokeswoman for Stagecoach East Scotland said it was the third incident of a rock hitting a bus this week.
The other incident occurred on Tuesday, but it is understood police are not treating that one as connected as it did not take place at the same location and have not ruled out it being an accident.
The Stagecoach spokeswoman added: "We have had three incidents this week involving an object being thrown from a moving car at the windscreen of our vehicles.
"Fortunately, our drivers have only sustained minor injures and we are working with the police on their investigation. Safety is our upmost importance and we take acts of vandalism like these very seriously."