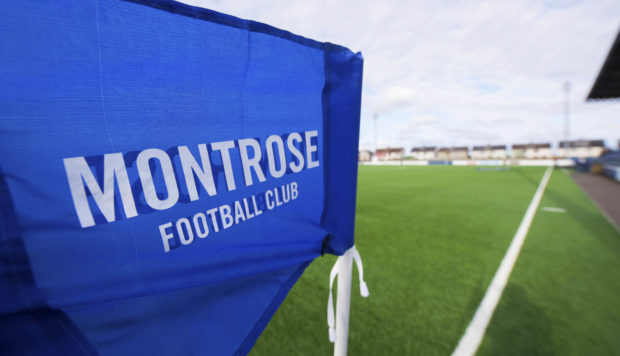 Not many of us would even have heard of the word 'furlough' a couple of weeks ago but it's in all our vocabularies now, alright.
Clubs are starting to tap in to the government scheme that allows them to temporarily stand down players and staff.
From the moment I heard that a well-run club like Montrose was going down that road it became clear that they wouldn't be the last.
Thankfully it doesn't mean that players or staff are getting laid off or having to take hefty pay cuts.
There aren't many people who rely on what they make from football in the part-time game but it can still make a big difference in households.
We all hope that football will be getting played within a couple of months and clubs will be able to recover.
Dundee United came as a bit of a surprise, I must admit.
Money didn't seem to be an issue at Tannadice since the American takeover.
But you can see the common sense of it at all levels in the Scottish game.
What doesn't sit at all well is what the likes of Tottenham have done.
Spurs announced that 550 non-playing staff will take a 20% pay cut for the next two months and will use the furlough scheme.
This is at a club where the net worth of the owner Joe Lewis is said to be £4.3 billion, the chairman Daniel Levy's salary has been put at £7 million and the average players' pay is nearly £80,000 a week!
The word 'furlough' may be a common denominator between Montrose and Tottenham but these really are two different worlds we're talking about.
There is nothing morally wrong about clubs north of the border tapping into a fund that is there to save businesses but the same can't be said when the giants of the English Premier League are going to the same well.
* Good on the BBC for putting the 1991 Scottish Cup final on the TV on Saturday night. I certainly enjoyed my viewing!
It's been a long, long time since I've watched from start to finish, that's for sure.
I was a big Motherwell fan when I was younger and I was 18 back in '91.
I was still playing amateur football so I was able to go to Hampden with my brother and a group of boys.
One of them didn't show up so I must be one of the few folk who has got a whole ticket left rather than just a stub!
Everybody knows that the game itself was a classic.
Too often cup finals turn into cagey affairs but not this one. Motherwell and United both just went for it.
Davie Cooper was a brilliant player. Stevie Kirk was a fans' favourite and Phil O'Donnell was a rising star.
As a young keeper, obviously I paid a lot of attention to Ally Maxwell who was a hero that afternoon.
Now, watching it as an ex-Dundee player, seeing the faces of Dave Bowman and Jimmy McInally after the match made it even better. Especially Bow!