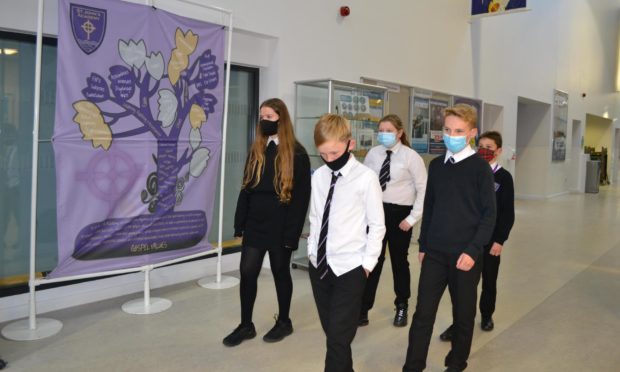 Few environments have changed as much as schools since the pandemic struck.
St John's RC Academy headteacher Seán Hagney has given The Courier a flavour of the frequently fluctuating daily life the Perth school, like every other in Scotland, is experiencing.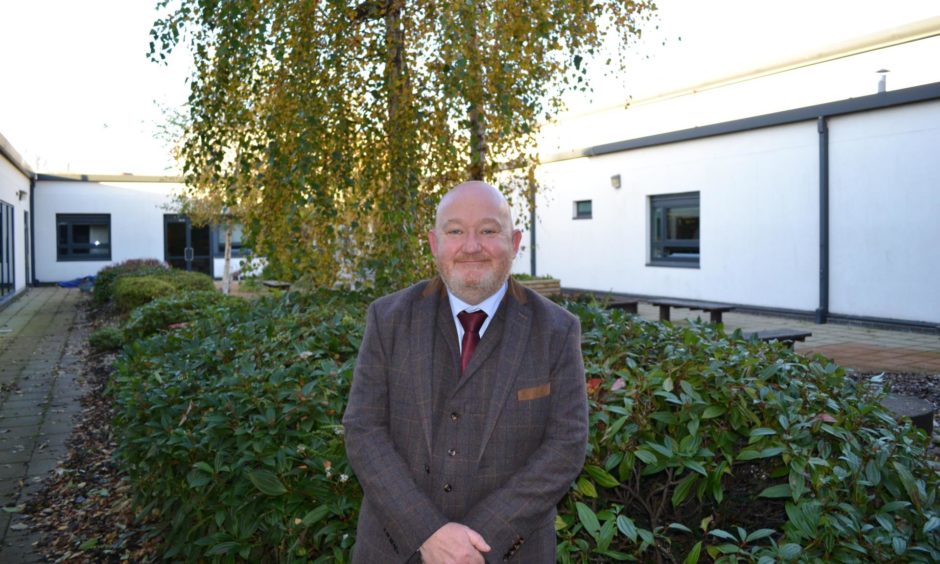 The school day looks vastly different, even to last term, but staff and pupils are adapting well, keen to contribute to the fight against coronavirus while maintaining positivity about the future.
The decade-old campus has design features better suited to coping with the pandemic than some older, more cramped, buildings.
The end of the school day is staggered for all pupils, and ample exits mean year-group bubbles within the school can safely decant in just three minutes. This also reduces congestion of parents at the school gate, who also need facemasks.
Class war: The battle to save young learners from a 'catastrophic' post-Covid legacy
Seniors in the secondary are kept separate from the younger classes, with altered breaks and lunchtimes.
Pupils wipe down their desks and keyboards before and after every class and Mr Hagney says that while facemasks are mandatory in hallways and on schoolbuses, youngsters are keen to wear coverings during lessons too.
Tape on the floor marks two metres from teachers' desks and the cleaning products used in the likes of home economics were changed.
While PE is now able to be indoors, there are still restrictions in music classes.
The techniques have proved successful for the school at limiting the number of pupils forced into self-isolation and has been implemented in the adjoined primary school and nursery, where there have been no cases.
Mr Hagney said: "Everywhere, everyone comes in and sanitises.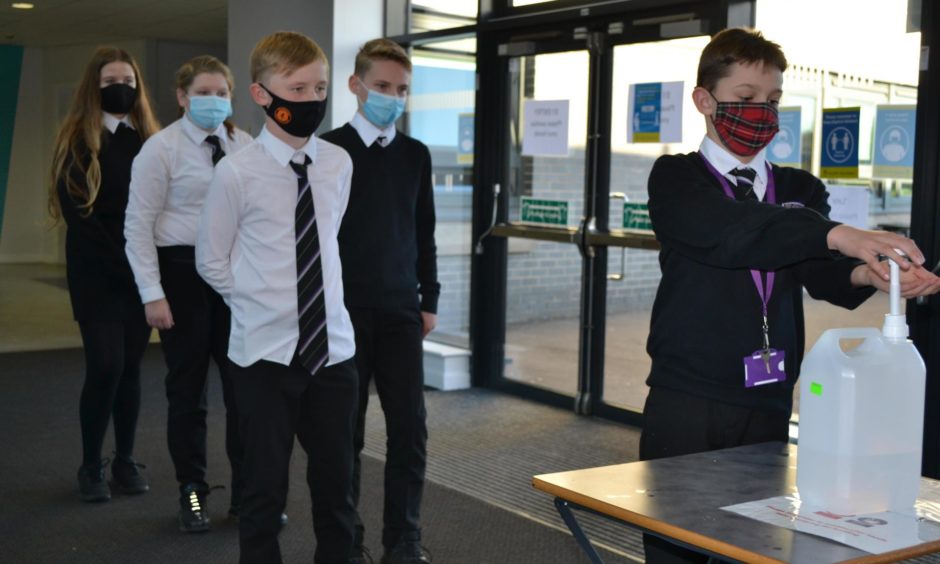 "We ensure there're at least four occasions of sanitising each day, above going to the loo.
"One of the big changes since we've came back is face coverings. People were always allowed to wear face coverings [in August] but very few chose to. What we're seeing now is that's increasing, even within the classroom.
"Everyone is becoming more aware as cases rise in the community that these changes make a difference.
"The congestion in the carpark is something we've tried to make more orderly. It's a lot of that sort of stuff. We can't remove the risk, but we can reduce and mitigate it.
"The level of co-operation has been terrific. Life is quite difficult in this new normal, but their co-operation is appreciated."
As an all-through school, the North Inch Community Campus at it's base has members of the public using the library and LiveActive sports facilities.
Earlier this week, council officers revealed hundreds of pupils and more than 50 members of staff from across 18 schools were self-isolating after testing positive or coming into contact with someone who had.
However, out of the roughly 21,000 youngsters in Perth and Kinross Council schools, only around 30 had tested positive themselves at the beginning of the week.
"The reality is that there are cases in this school. Not every school has had cases but I think it's the nature of our school community and there is no evidence that it's transmitting in school.
"We've been managing that by communicating transparently. If we had a positive case, we would be checking how they get to school and who they'd be sitting beside.
"[This week] we contacted [the child] and took them out of class and arranged for them to go home. If it's after the school day, we'd contact them by text and letter and follow that up.
"Normally there's a window that Public Health Scotland (PHS) would tell us they were infectious, usually two days.
"We'd be looking at their movements for the two days and speaking to them as well, identifying who they sat beside on the bus, at lunch and at break. Then we'd look at class plans to identify who has been within 2m. It's a good system.
"There's more cleaning during the day as well as before and after. If there's been a case, then we deep clean those areas the person has been to."
More than 30 children have tested positive for Covid-19 at 18 schools in Perth and Kinross
As well as being alert to live cases, staff have spent this year tackling "digital poverty" to ensure pupils can work from home, salving unseen levels of anxiety amongst children.
Teachers had dabbled in online learning but their progress has been rapidly accelerated for pupils working from home.
So far, through Perth and Kinross Council, St John's has distributed about 40 laptops to families without access to a device, and hope to give another 40.
Perth family-of-six sharing just one mobile phone to access all of their online schoolwork
SJA's holistic approach to education is showing more than ever that the classroom is no longer just about reading textbooks, but can be an environment to help to nurse lingering stresses, such as those of youngsters returning from unhappy lockdowns.
"I see in this school and I've spoken to colleagues across Scotland that they share the concern that some young people didn't have a good experience during lockdown.
"We're still focusing on helping them heal and reintegrate and it isn't without its challenges.
"We've been checking in on a lot of young people. There are levels of anxiety that I've not really seen before. It's clear that some young people are struggling and we're making sure people are talking about how they're feeling. That's part of the recovery and healing."
School highlights like charity events and trips have ended but the fun has not stopped, with some events transition day tours and prizegiving ceremonies carried out on camera instead.
Mr Hagney says the school will continue to adapt and adhere and has heaped praise on everyone who works and learns at the campus.
"I think we just have to be as adaptive and flexible as we can be. The staff have been great.
"We'll be guided by the science and Scottish Government advice and we'll do whatever we're asked to do."
"I would obviously be concerned about another national lockdown.
"One thing that lockdown has taught us is how important education is, not just as a means of childminding, but for their health, wellbeing, socialising, friendships as well as learning.
"We know it will pass and we will get back to normal."