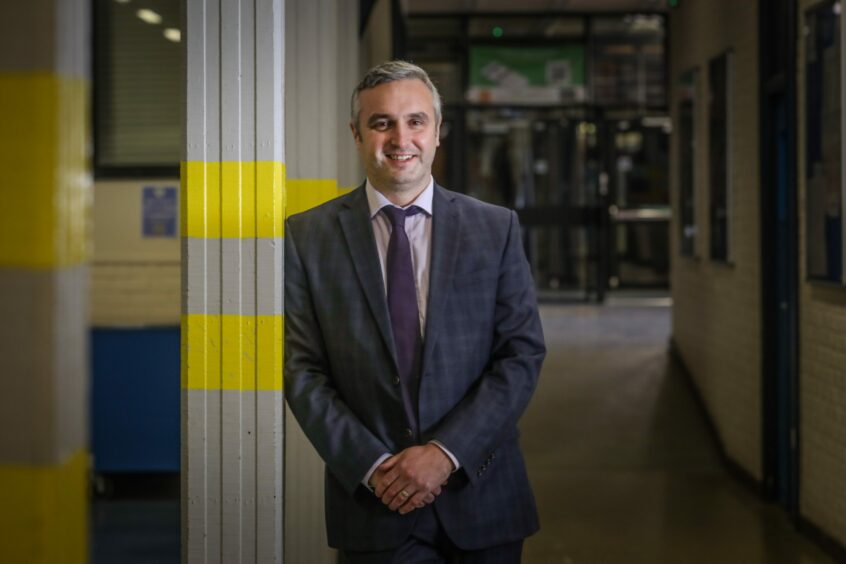 New head teacher at Monifieth High School, Andy Dingwall, says he is "aiming high" to take the school to "outstanding" levels.
Having taken up the leadership role last month, Andy says the school is already great – a huge part of the job's appeal for him.
But he believes shared visions for the future, along with opportunities presented by the pandemic and the highly anticipated new school building, can push it to "outstanding" levels.
He said: "This is a great school, but every school can improve, so how can we become outstanding? By aiming high, we can aim to be the very best we can."
Aiming high and developing vision are two of Andy's top priorities for the school, but first he wants to take his time to get to know its young people, staff and the wider community.
'A great school'
Prior to his appointment as head teacher of Monifieth High School, Andy served as depute head teacher at Montrose Academy, in Angus, and subsequently Blairgowrie High School, in Perthshire.
He also worked as an RME (religious and moral education) teacher in Aberdeen, before becoming principal teacher at Grove Academy, Broughty Ferry.
Andy said: "Monifieth is a great school. I'd heard a lot about it from working in Angus previously and I knew the context of the area.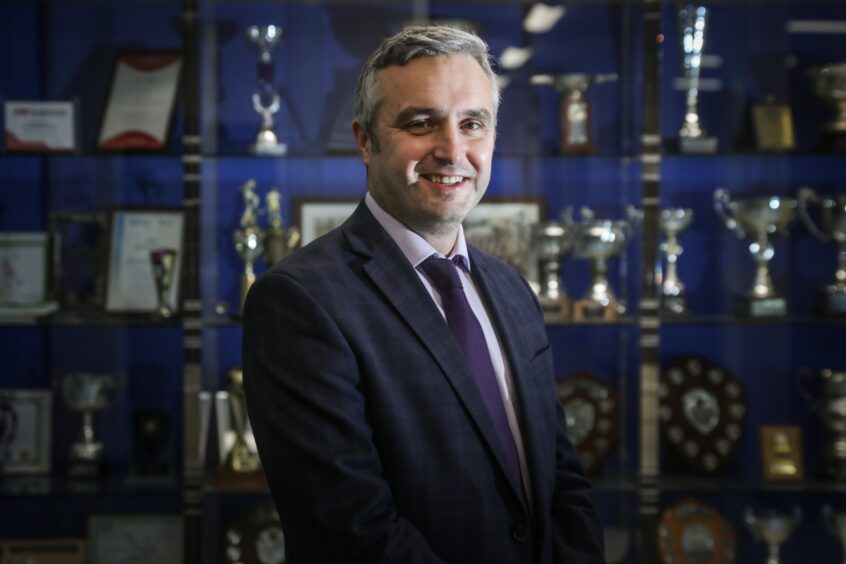 "But the main pull for me was that the more I looked into the school, and the more I found out about it, the more I discovered it would be suited to me.
"Head teacher is a big job – well, it's more than a job – you have to be able to bring something to it and have something to add to the school."
He says it was the four core values of Monifieth High School which appealed to him about the role of head teacher there. Those are:
Compassion
Integrity
Wisdom
Justice
Andy says that knowing these values, he felt his own personal values would complement those of the school and form a solid foundation for moving forward.
He said: "My own values are empathy, fairness, respect and kindness. These are the things which underpin everything I do and I hope that people would see that in my actions.
"I felt my values would fit well with the school's values and when I spoke to people here, and witnessed interactions between pupils and staff, I could see that these values are evident.
"The way people treat each other, the encouragement, it's very positive. There is a shared commitment to success, attainment and helping pupils to succeed."
Moving forward
Impressed with the school's current position, Andy's attention turned to how he will take the school forward.
Head teacher is a big job … you have to be able to bring something to it"
First things first, he wants to build relationships and get to know his staff, pupils, parents, carers, and the wider community.
Then, he says, together they will "take stock" of the current situation before looking towards the future.
"We've had a difficult year and many things have been challenging, but some things have been positive, for example the evolvement of digital learning," he said.
"With that in mind, I want to set visions for moving forward, think about what we want and how we're going to get there."
Andy says that by developing visions together and "aiming high" he believes the school can move from great, to "outstanding" levels.
In order to do this, he wants to focus on attendance and attainment, sustainability – which he says will be a big factor in the new school building – and creating a dynamic curriculum.
New school building
A £50million new Monifieth High School is hoped to be built by summer 2025.
Construction of the two-year build on the existing school site is earmarked to begin in June 2023.
Andy says the move provides a great opportunity to build on the current success of the school and "break barriers".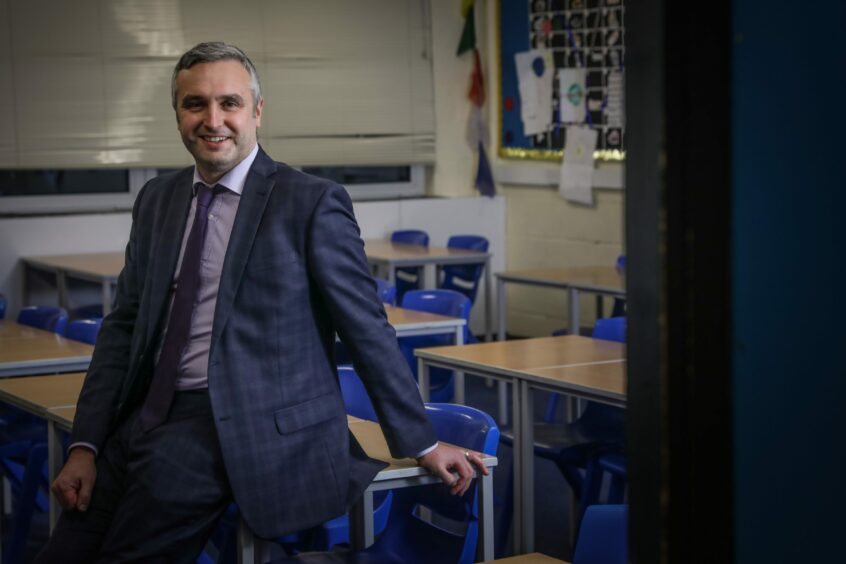 He said: "There will be physical changes which go along with the new building and that will bring some challenges.
"But it also presents an opportunity for young people to have a creative investment into how it looks and to develop a dynamic and future based curriculum.
"Currently we're still in the recovery phase of the pandemic and we're still learning how to support each other through that.
"That has led to uncertainty in same ways and opportunities to change things up, break barriers and improve things for youngsters."
Andy succeeds M-C McInally who retired from the school at the start of October, after 37 years of working in education.