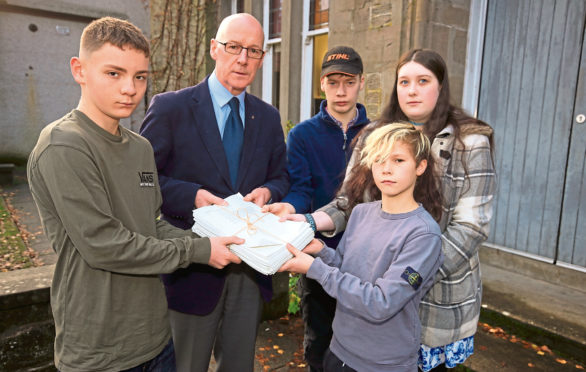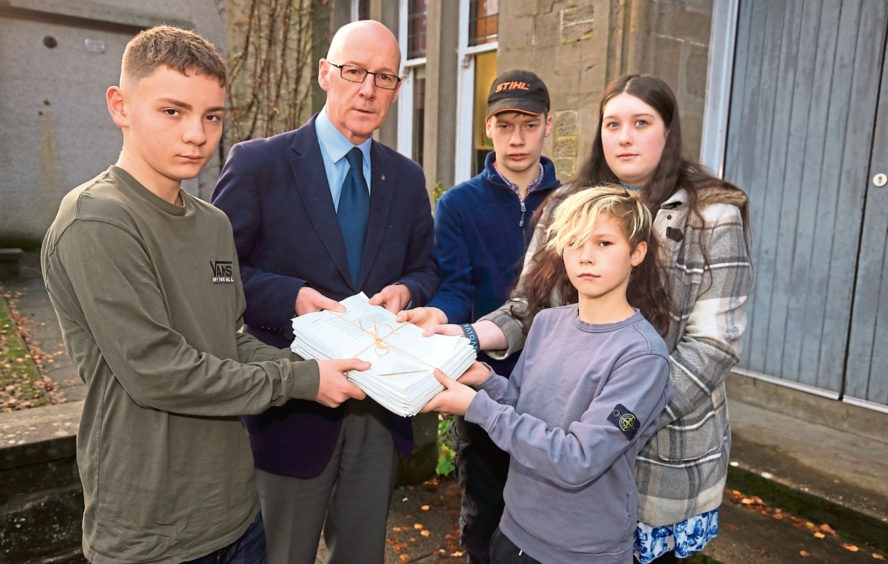 The fight to reopen the New School at Butterstone intensified as parents and pupils handed a petition with more 8500 signatures to the education secretary.
A group of around twenty parents and pupils met with John Swinney in Birnam yesterday to deliver the petition and put a list of questions to him concerning official investigations prior to the school's closure in November.
Most of the parents at the meeting are yet to find suitable arrangements for their children after the school's board of governors announced it was to close with only four day's notice last month.
They met for more than 90 minutes.
They called on the Scottish Government to reinstate the school and called for a public enquiry into the role statutory bodies had played in investigating complaints there.
The group also raised concerns about the way the closure itself was carried out, with pupils prevented from saying goodbye to their friends and escorted from the school by strangers rather than trained school staff.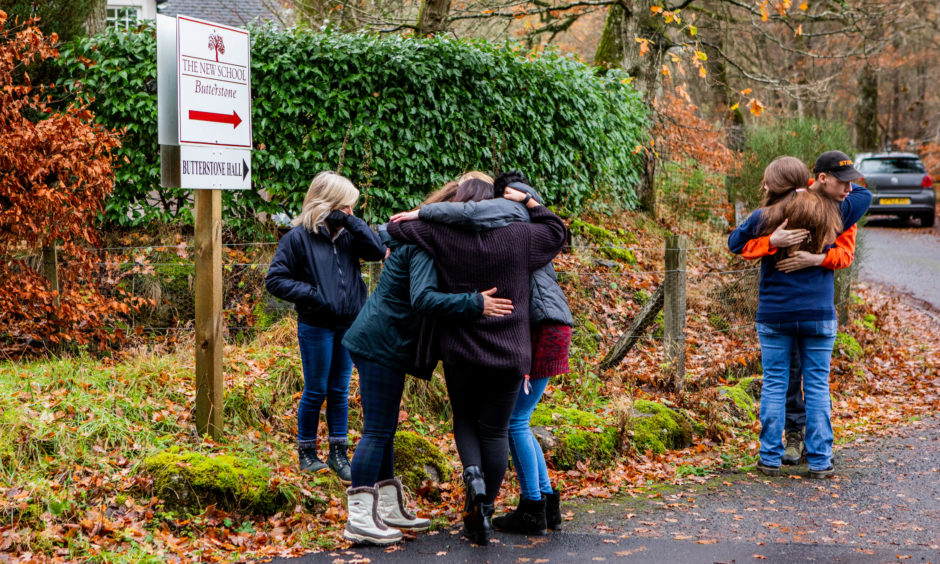 Speaking directly after the meeting, parent Lee Archibald, 37, from Dundee, said: "He's listened to the points concerned. For me, he now needs to go away and think about the information we have given him. What we need is an independent inquiry and I hope that is going to happen.
"But even that is not going to help the kids in the short term. They still don't have a school to go to on Monday."
Kevin Briggs, 46, from Stanley, whose son attended the school, said he felt that Mr Swinney was going to do all that he could "to get the school back up and running."
"They cannot meet the needs of our pupils any other way. So we really need to sit and wait.
Shock as parents told specialist school in Perthshire will close days after damning Care Inspectorate report
"But we need to bear in mind that every day our kids are sat at home their mental health is suffering. They are regressing.
"Already there are some children that won't make it back to the school. So all that good work – all the tax payers' money – has all been wasted because of the way the school shut."
Jacqueline McCallum, 50, from Perth, said she was "terribly frustrated" the school closed before these issues were given proper scrutiny.
She said: "These kids have got things wrong with them and they need help. That school was giving them the help. It's all gone now. There's nothing left for them. There are no provisions for these kids. They're allowed to break the law. Why is this allowed to happen?"
Suspended headteacher at crisis-hit New School at Butterstone returns to work
A spokesperson from the school's board of directors said: "The decision to bring an end to the school's existence, and the experience it brought to caring for and educating the fragile children who came through its doors, was not an easy one.
"Against a precarious financial backdrop, the judgement was made by governors that, without significant additional investment, the school could not provide the level of resource required to guarantee the safety of the children in its care and that, based on the advice they had received, immediate closure was the only option."
'Abrupt' closure may merit public enquiry
Events surrounding the closure of the New School at Butterstone may merit a public enquiry, the education secretary has said.
Speaking after meeting with parents and pupils from the school in Birnam on Friday, John Swinney also said the Scottish Government could play a role in reinstating the institution.
He said: "The parents have asked me to consider the issue of an independent inquiry into this issue and I have undertaken to consider that.
New School at Butterstone: Parents demand investigation into closure
"The parents have also asked me to look at some continuation of the New School at Butterstone and I will of course look at that, but the school was operated independently by a board, so that will require very careful consideration."
Some parents and staff believe the statutory bodies and local authorities have deliberately tried to shut the school to save money.
The school had received positive inspections prior to 2016 but the institution had subsequently been subject to a number of improvement orders from the Care Inspectorate and Education Scotland.
Both bodies have said they were responding to significant concerns about how children were protected from harm at the school.
But the most recent investigation – which resulted in the suspension of three members of staff including head teacher Bill Colley – is believed to be over a relatively minor incident.
All three members of staff in this case have been cleared of any wrong doing and have returned to work supporting the school's former pupils in finding new arrangements.
Mr Swinney said he was concerned to hear that many young people who attended the school had not yet secured alternative arrangements.
He said: "The focus of my attention since the closure was announced is make sure that young people had in place appropriate educational support that meets their requirements as appropriately as the New School at Butterstone.
"I have heard directly from a number of parents today that [this process] has not yet provided solutions for them, so one of the key points I will take away from today's discussions is to focus ever more on what local authorities are putting in place in dialogue with parents.
"It's obviously been a very abrupt closure and it is challenging to put that provision in place immediately."