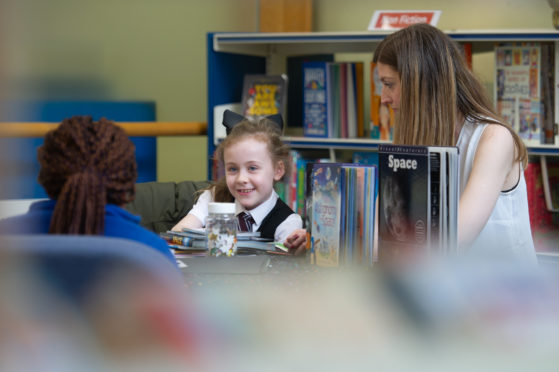 School pupils in Scotland have among the highest level of reading comprehension in the UK, according to a new literacy study co-authored by a Dundee professor.
The annual What Kids Are Reading report found while Scottish children had the highest comprehension, they read the least difficult books.
Data was compiled by the assessment provider Renaissance UK and was analysed by Professor of Educational and Social Research Keith Topping.
He said: "This report gets under the skin of children's reading habits in the UK, and the results are eye-opening.
"It's great to see that Scottish pupils are at the top of the table in reading comprehension.
"We can now see that balancing the three factors of appropriate reading challenge, reading practice, and reading motivation is fundamental for children's reading progress.
"Although important, instilling reading culture in schools isn't just about dedicated reading time.
"Teachers and librarians should also encourage lively classroom discussion about fiction, with children sharing favourite authors and titles.
"They should also be on hand to advise on books with appropriate challenge bespoke to the child's interests.
"And of course, it is important to encourage children to read outside of school, so letting them take books home is crucial."
The study analysed the reading habits of 29,524 Scottish pupils and 1 million pupils (1,057,720) across the UK.
The comprehensive report found estimated engaged reading time has a direct bearing on attainment of students across the board.
The more time spent on reading practice, the better the student performed, regardless of ability or year group.
In addition, the report underlined the importance of reading motivation and reading for pleasure.
Pupils' favourite books were read with a better comprehension, often in spite of the text being of greater difficulty.
In addition, less difficult texts, which were not as favoured, sometimes had poorer comprehension by children.
Judy Dobbie, head of libraries at Leisure and Culture Dundee said: "This is encouraging news and we know libraries are incredibly well placed to help improve reading comprehension.
"The children who visit our libraries are very enthusiastic about reading and the quality of children's and young adult books is fantastic at the moment.
"We have a lot of support in place for young reader development including Bookbug sessions for little ones and reading groups for children and young adults.
"Reading for pleasure from an early age has huge benefits and that can even include improving future wellbeing.
"We are here for everyone and it's never too early or too late to get along to your local library to see what we have on offer."
The report found children should read books with an appropriate challenge where possible.
If reading is done at a level below the threshold of difficulty which promotes reading growth, referred to in the report as 'zone of proximal development', little or no growth in attainment is likely to occur.
However,  if reading is done at a level significantly above this threshold, the text will be too hard, and no or little growth in reading attainment occurs.
Renaissance Director of Professional Services James Bell said: "It's great to see that Scottish pupils are reading books with greater understanding. However, they still have some way to go if they're going to climb up the international rankings.
"We have to make sure that children are both challenged and charmed by the books they read."
The study for the 2019 What Kids Are Reading Report also found that J.K Rowling dominates the favourite books within primary schools with her Harry Potter titles.
Harry Potter and the Philosopher's Stone comes out on top, with Harry Potter and the Chamber of Secrets second, and Harry Potter and  the Prisoner of Azkaban third.In secondary schools, J.K Rowling again comes out on top with Harry Potter and the Deathly Hallows.
Frozen Charlotte by Alex Bell takes second spot, with Ready Player One by Ernest Cline taking third.
In addition to measuring the books that young people most enjoyed, the study examines their most read books over the last academic year.
It found that Jeff Kinney remains the most widely-chosen and read author overall for the sixth year running, followed by David Walliams and then Roald Dahl.
Most popular authors read by children in 2019:
1.Jeff Kinney
2.David Walliams
3.Roderick Hunt
4.Roald Dahl
5.Julia Donaldson