Oor Wullie on Ben Nevis: How a 'superstar' team united two Scottish icons for charity
By
Richard Rooney
May 14 2019, 7.30pm
Updated: June 13 2019, 10.50pm
A Dundee artist has paid tribute to the "superstars" who helped him lift a 5ft sculpture of Oor Wullie to the top of Ben Nevis in his latest charity fundraising stunt.
Landscape artist Douglas Roulston, 35, recruited a team of 12 volunteers to battle their way to the summit of the UK's highest mountain carrying the heavy load on a special stretcher.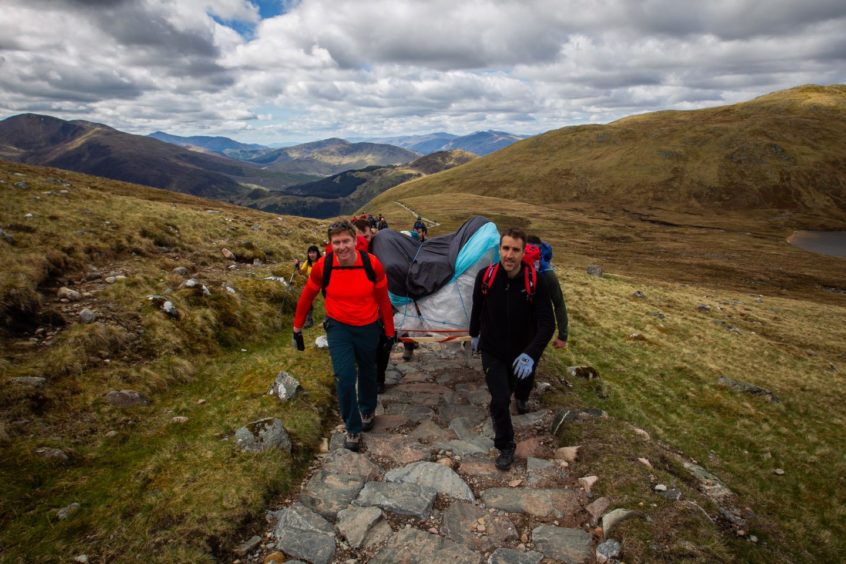 The model will be one of those going on display across Scotland this summer as part of the Oor Wullie's BIG Bucket Trail before being auctioned to raise hundreds of thousands of pounds for the ARCHIE Foundation and its work to improve children's hospitals and wards.
Douglas hopes the team's "incredible" efforts in carrying the Scottish icon to the top of the nation's most famous mountain will help to raise a sky-high amount for charity.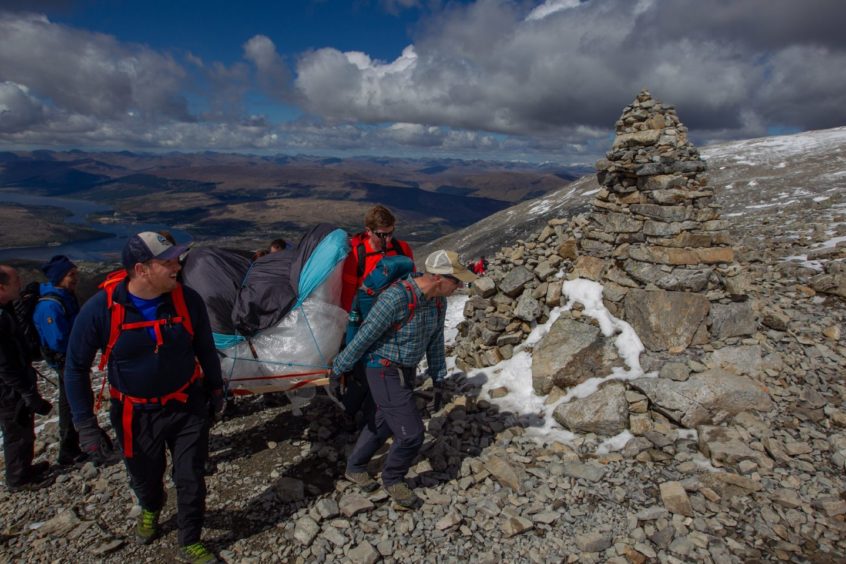 He said: "I just love challenges and, when it comes to helping charities, raising awareness with a good story is everything.
"So I'm really hoping the fact Oor Nevis has been to the highest point will mean people will be willing to bid more to buy him at the auction."
Saturday's feat was a follow-up to Douglas' efforts for the Maggie's Penguin Parade in 2018 when, helped by friend Richard Main, he carried his creation to the top of Balkello Hill in the Sidlaws near his home city.
But Douglas, who teaches art at Forfar Academy, says nothing could have prepared him for the physical test of the 10-hour traipse up snow-capped Nevis and back.
"Oor Nevis Wullie weighs a good few stone, so we had to really make sure we could do this. We even had a hammock in case the stretchers broke," he said.
---
The team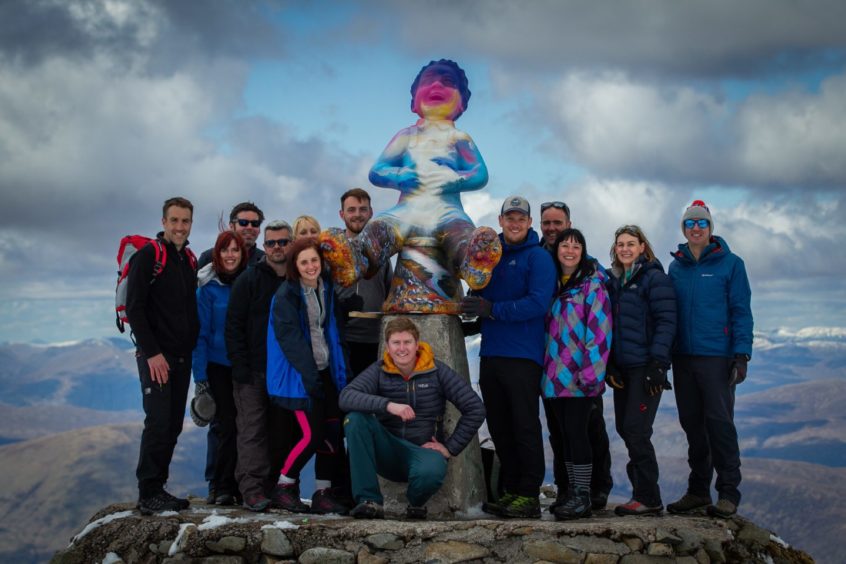 The Ben Nevis team were: Douglas Roulston, Neil McArthur, Graeme Wallace, Katie Hughs, Jenna Cleary, Catherine Watson, Martin Henderson, Stewart King, Richard Main, Hugh Davidson; Laura Brown and Chris Taylor of VisitScotland and trail art director Suzanne Scott
---
"It was unbelievably tough. I really was panicking that I'd bitten off more than I could chew but the team were just superstars and just refused to give up.
"As soon as we set off I thought I'd made a big mistake. But the team just kept going and were determined that we'd achieve something that will be remembered.
"By the time we made it to the top there was a crowd of about 100 people who had passed us on the way and were waiting to see Oor Nevis revealed.
"It was a very special moment."
Douglas' support team included friends, colleagues from his school, Oor Wullie's BIG Bucket Trail art director Suzanne Scott and representatives from Oor Nevis sponsor VisitScotland.
With another spectacular effort now under his belt, Douglas is focusing his attention on adding the final touches to painting Oor Nevis before submitting him for display on this summer's nationwide trail.
The father of two, who lives in Broughty Ferry with wife Jenny, says he is now thinking about how he can raise the bar even higher with his next far-fetched adventure.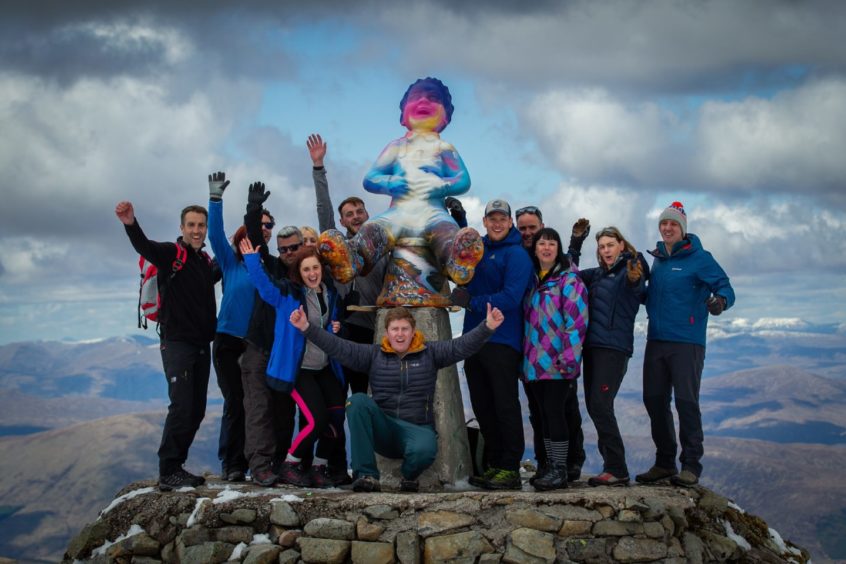 He said: "I have some ideas and I'm hoping this is not the end of the story for Oor Nevis. Watch this space!"
Oor Wullie's BIG Bucket Trail
Oor Wullie's BIG Bucket Trail runs from June 17 until August 30 when Wullie statues will be placed in five host cities – Glasgow, Edinburgh, Dundee, Aberdeen and Inverness – before being auctioned off to raise millions of pounds for Glasgow Children's Hospital Charity, Edinburgh Children's Hospital Charity and the ARCHIE Foundation, which help almost half a million sick children every year.
Chris Taylor, VisitScotland's regional leadership director, took part in Saturday's gruelling walk and said: "We are thrilled to work with Douglas Roulston to create an Oor Nevis Wullie.
"Capturing the rugged beauty of Ben Nevis, this wonderfully painted sculpture celebrates Scotland's stunning scenery and landscapes, which we know to be a major draw for visitors."
He added: "Our favourite childhood character Oor Wullie hits the streets once again – this time across the country as part of the Oor Wullie BIG Bucket Trail.
"At VisitScotland we want to champion collaboration and spearhead innovation, and this nationwide trail is an excellent new way to get visitors travelling across Scotland."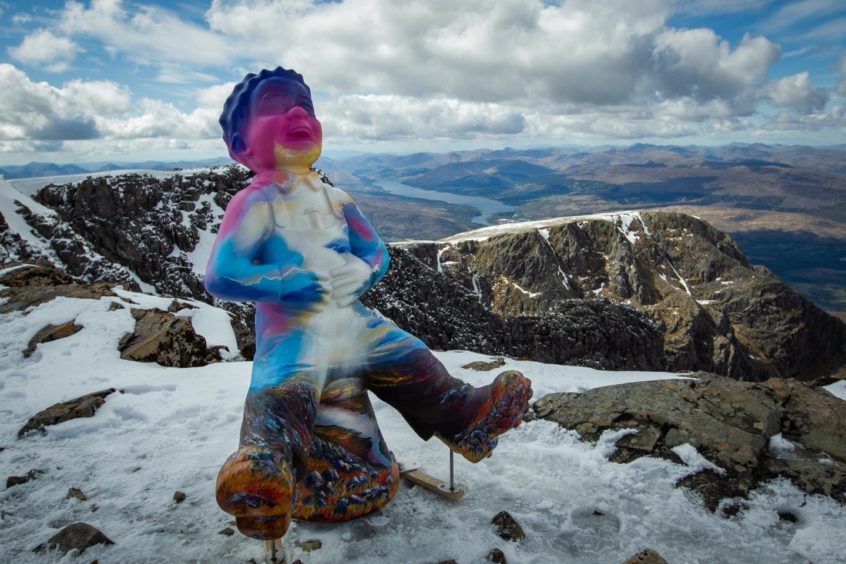 To find out more about this summer's Oor Wullie's Big Bucket Trail, visit www.oorwullie.com.
Art with a twist
Douglas Roulston's appetite for the unusual first came to the public's attention in March 2018 when he took advantage of the Beast from the East wintry weather to carve out a 10ft snowman of Darth Vader.
As word spread, a steady stream of visitors started to arrive outside the family home in Broughty Ferry and Douglas began to ask for donations, raising hundreds of pounds for the Maggie's cancer care centres.
His efforts for the penguin parade also captured the public's attention, and his work, Sid, sold for £9,000 — one of the highest lots on a night that raised £540,000 for Maggie's.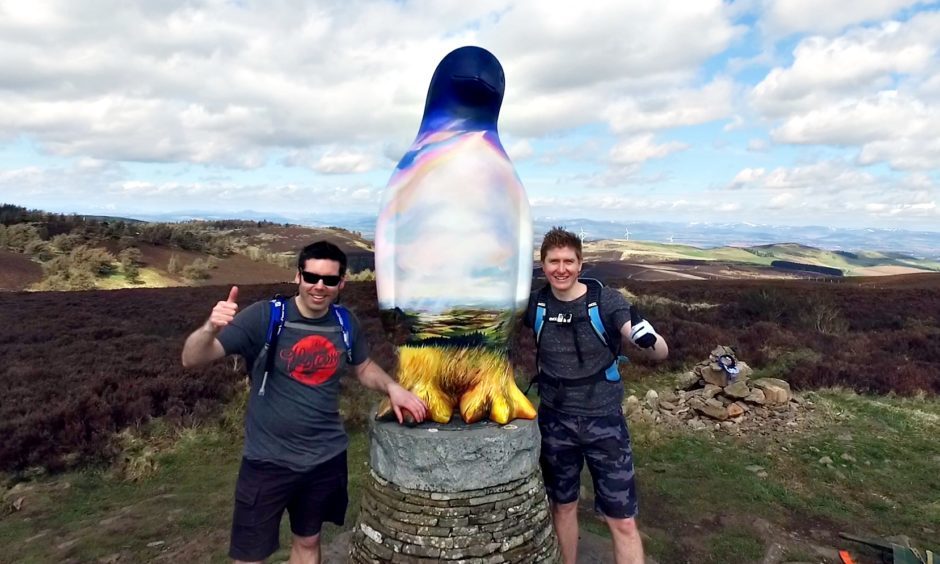 Douglas landscape work has also won many admirers and he recently staged a sold-out exhibition in Pittenweem.
You can view more of his work at www.douglasroulston.com.