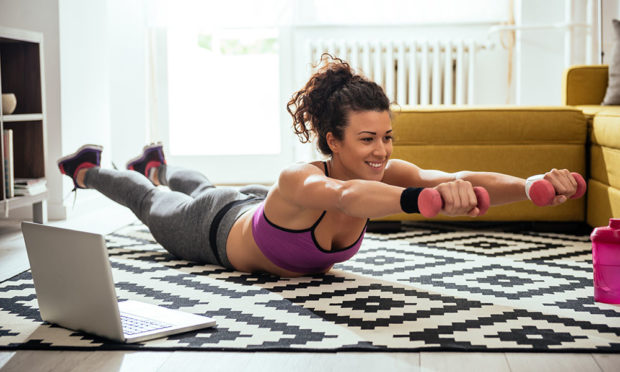 It's so easy to get stuck in a lockdown rut, as our gyms have closed and our healthy eating habits seem to have gone out the window. But don't worry, you still have time to get back on track and you don't need to do it on your own. Here, we bring you a selection of fitness experts that will inspire, motivate and work with you to get you off the couch and back to full fitness.
Looking for an exercise regime that works to help you have a stronger, fitter body? Hoping for added benefits like improved posture, increased flexibility, glowing skin and better sleep? Yoga and Pilates can help your wellbeing, mentally and physically. Confirm your booking with experienced instructor Ali Henderson and join warm, friendly classes that offer lots of fun as well as a total workout!
What the clients say:
"These classes are a lifesaver in this lockdown. I am absolutely loving them!"
"I can now bend down to paint my toenails for the first time in years. Yoga is magic!"
"The classes are fab! I am new to Pilates but really enjoying it!"
"I love yoga because it's such a good way to have me time and de-stress from the other things going on in the world. I'm bothered with a sore lower back and the exercises are always adaptable."
*To get involved, and try one free class, visit Ali Henderson's website All the Yoga Stuff, click here.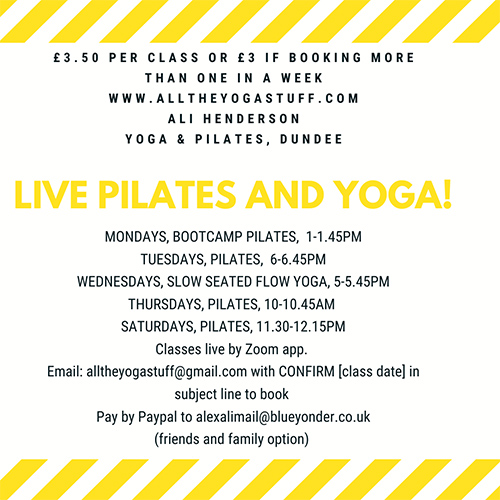 Are you still interested in increasing your activity at home? Has isolation left with you extra time?
"I know it certainly has for me," says Phil at DP Wellbeing.
"And I know for myself, and for most of my clients, if we don't continue exercising, we get grumpy.
"So I started online training, where I train my clients regularly, plus it keeps me active. I want to help as many people as I can keep active during this time and I would love you to join us with a 2 week free trial of our brand new online training. Then it's half price for 2 months, and you can leave anytime."
There are limited places available and they are already filling fast, so get in touch today to guarantee your spot.
*To book, email: phil@dpwellbeing.com or call 07384 340926 to guarantee your spot. DP Wellbeing's studio is at 33 Lawrence Street, Broughty Ferry. Click here to visit the Facebook page.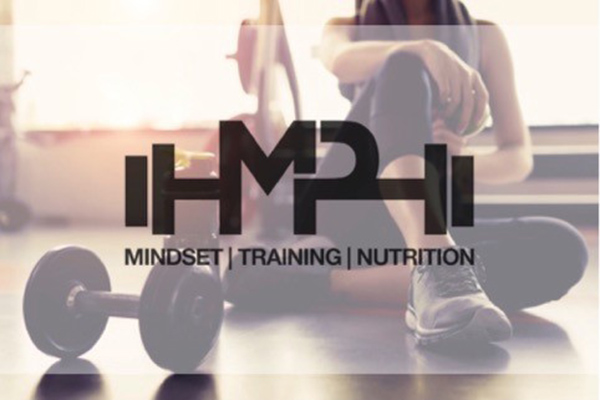 Personal trainer Duncan Keith can help you to reach your fitness goals, whatever stage you are at.
He can help you build muscle, lose fat, strengthen and tone, or build you a dedicate nutrition plan. He offers one-to-one sessions and group training.
Perhaps you are looking to return to fitness after an injury? Duncan is experience in injury rehab and can help you get back on track. He can also put you through a fitness test before working with you towards achieving you goal.
*For more information, call Duncan on 07527 825478  or visit his PT Facebook page by clicking here.
Endurance Capacity provides coaching to build your engine. Its bespoke training plans are aimed at athletes of all levels.
So, whether you are training for Ironman, Spartan, Couch to 5K or Crossfit, Endurance Capacity has a plan for you.
It does not matter what sporting experience you have had in the past, as everyone will benefit from its programmes. From experienced athlete to novice, they can help you achieve your goals.
They offer you the first week free to see if you enjoy it.
*If you are interested, email: kenneth@westburnservices.co.uk or call him on 07515 577404.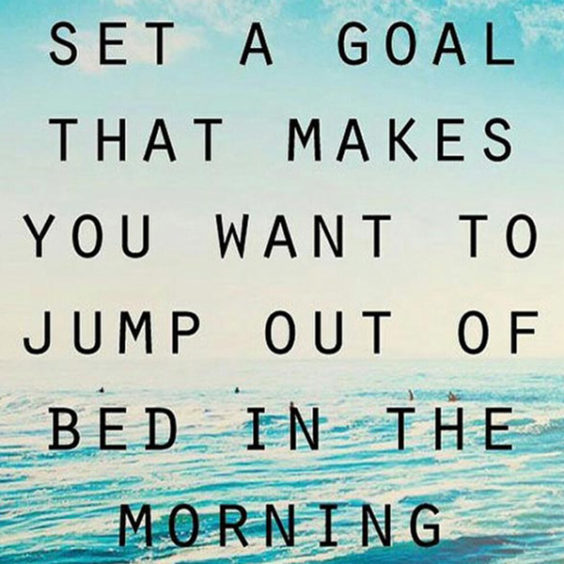 At KK Health & Fitness you are guaranteed support and friendship with discussions on wellbeing, exercise and food.
They also promise to teach you about self love and happiness as well as showing you how to get fit in a fun way.
They say: "We are all different but we all come together to work towards the same goal."
KK Health & Fitness:
welcomes all ages and level of fitness
turn no one away as we encourage all to get involved
encourages you to work out with your family
makse it affordable and accessible
From PT sessions to online groups, from a running club to Klub classes, KK Health & Fitness has it all covered.
*To start your journey with KK Health & Fitness, call Kelly Kyle on 07542 879721 or click here to visit the Facebook page.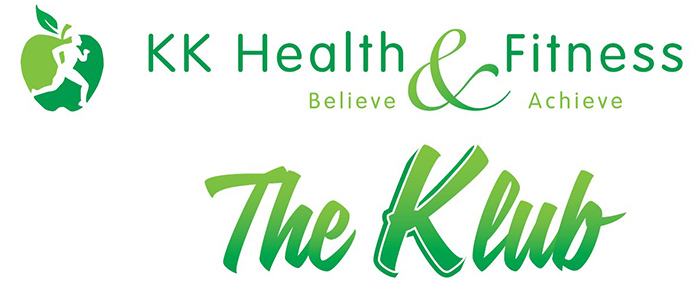 Unfortunately, we are living in difficult times due to Covid 19 and many people are feeling anxious and worried.
MM Fitness would urge everyone, no matter what age, to try a little exercise each day as advised by government guidelines.
Exercise is beneficial at all times, but during the current lockdown it can particularly benefit you by:
Boosting your mood and mental health
Reducing anxiety and depression
Help you sleep better at night
Ease boredom
Can help reduce aches, pains, stiffness and swollen joints
Help with weight management
*For some ideas on what you can do at home, check MM Fitness on Facebook or Instagram where you will find videos suitable for all ages and abilities. MM Fitness looks forward to welcoming all its members, guests and friends back as soon as they can.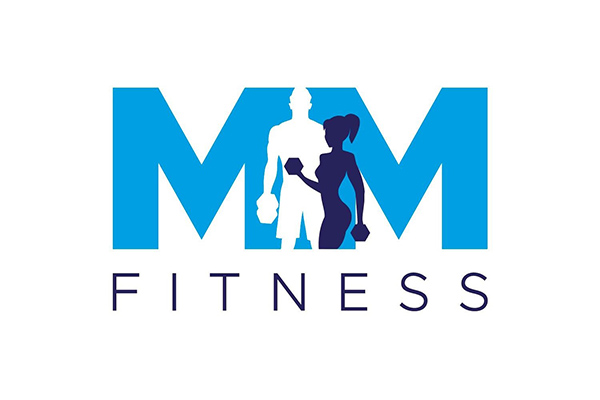 Nicholson's Cycles is an independent, family-owned retail cycle shop located in Dundee, Scotland.
Electric bikes (e-Bikes) have become one of its specialties. With so many people getting into cycling and choosing to commute via cycling, the popularity of the electric bike is snowballing. E-bikes are ideal for those who want to cycle but are not as fit as they used to be. E-bikes also mean that the whole family can cycle together regardless of their individual fitness levels.
The shop also stocks an excellent range of quality cycling products.
When you buy a bike at Nicholson's, you're not just buying a bike. You're buying peace of mind from a business that's truly passionate about cycling. No one in Dundee knows more or cares more about bikes. Your bike will be appropriately set up and tested before you take it away to ensure you get maximum enjoyment and many miles on your bike.
Oh, and if your bike needs a service, then they're on hand to cover that as well.
*For more information, visit Nicholson's Cycle website by clicking here.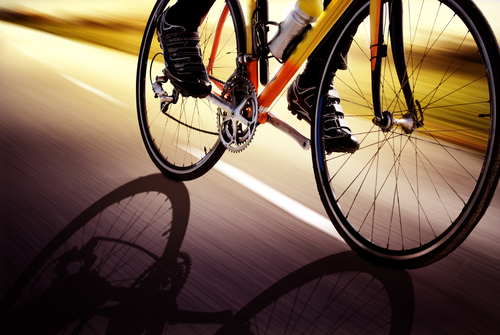 At Run4It the aim is simple – to help runners of all levels and interests to improve their fitness, health and wellbeing through running. They do this by coupling the best possible range of products, with great customer service and knowledgeable advice.
Whilst shops are shut during this time, they remain open for online shopping and delivery and have more team members available to answer running related questions via the 'Help' link on run4it.com, Facebook Messenger, email and phone. If you have a question relating to running then we are happy to hear from you and we will give you the best advice we can.
Run4It also publishes fresh content to The Run4It Journal regularly, offering advice for dealing with the disappointment of cancelled events and finding new focus, as well as tips for staying motivated to keep fit and active.
*To read The Run4It Journal, place an online order, browse its online shop or tovisit the website by clicking here.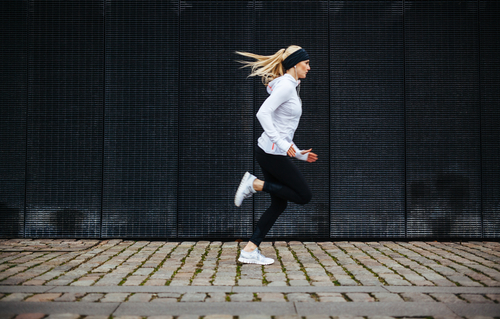 Having built a reputation based on results, the main priority of Kameni Fitness Health and Wellbeing has always been based around promoting health, nutrition, fitness and exercise as well as helping change the lives and physique of the general public.
At Kameni, they love, live and breathe fitness. They are an inspired group of coaches who thrive when helping others achieve their goals. Moreover, they want to inspire and empower clients to take control of their lives. The incredible results their clients have achieved thus so far is a reflection of their ability to inspire individuals to achieve their own personal best.
Kameni says it offers client the most comprehensive and cutting edge one-to-one personal training and group training imaginable. Here what is available:
Fitness Classes (Circuit, Boxing, Functional Strength)
1-2-1 Personal Training
Group Personal Training
10-Week Transformation Challenge
Tailored Training Programs
Tailored Nutrition Plan and Guidance on nutrition
*To find out more, contact Kameni Fitness Health and Wellbeing on 07917345720 or click here to visit the website.