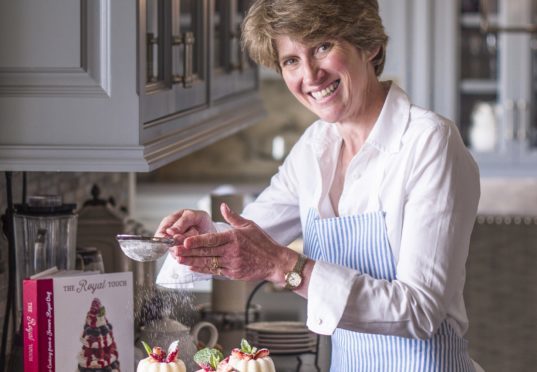 As the royal wedding approaches, former royal chef Carolyn Robb reveals culinary secrets from Kensington Palace and ponders the happy couple's wedding menu
Once upon a time a little girl stood outside Buckingham Palace and whispered to her father that one day she would like to be a chef for the Queen. And like all the best fairy stories, her wish was granted. Carolyn Robb grew up to become the youngest and first female personal chef to Prince Charles and Princess Diana, living at Kensington Palace and travelling the world with the royals for more than a decade.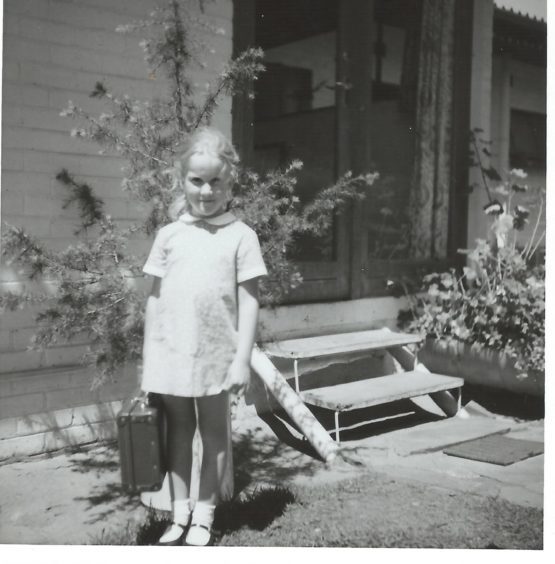 The South African-born chef has loved cooking since she was knee-high to a grasshopper.
"I absolutely adored being at my mother's side in the kitchen, it's one of my earliest memories," she smiles.
"My mother was a fantastic cook and my father an incredible gardener so we grew up eating wonderful home-cooked family meals from gorgeous home-grown produce.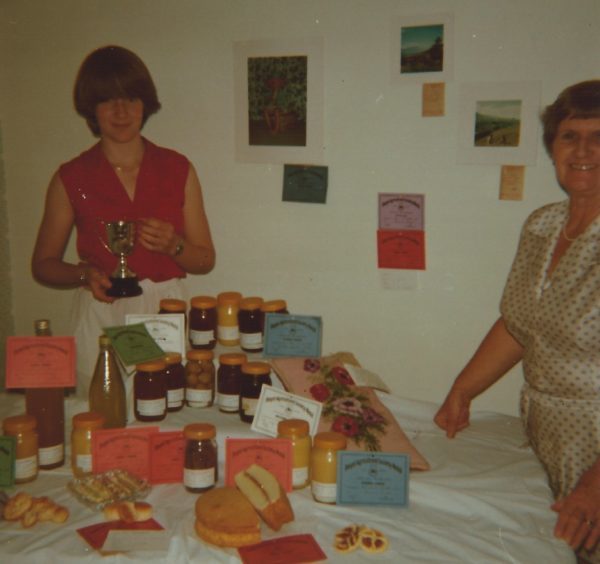 "She taught me so much that I still carry with me every day, but particularly the importance of being neat, tidy and organised in the way that you work in the kitchen.
"Also 'waste not, want not' – creating something delicious from simple ingredients is such a wonderful skill to have," she continues.
After studying languages at university, Carolyn travelled to Switzerland to spend a winter season working in a ski resort hotel. The experience of Swiss hospitality inspired her to seriously pursue a career in food and it was while she was studying for her Cordon Bleu diploma at the Tante Marie Culinary Academy (the UK's oldest independent cookery school), that she was selected to go for a job interview at Kensington Palace.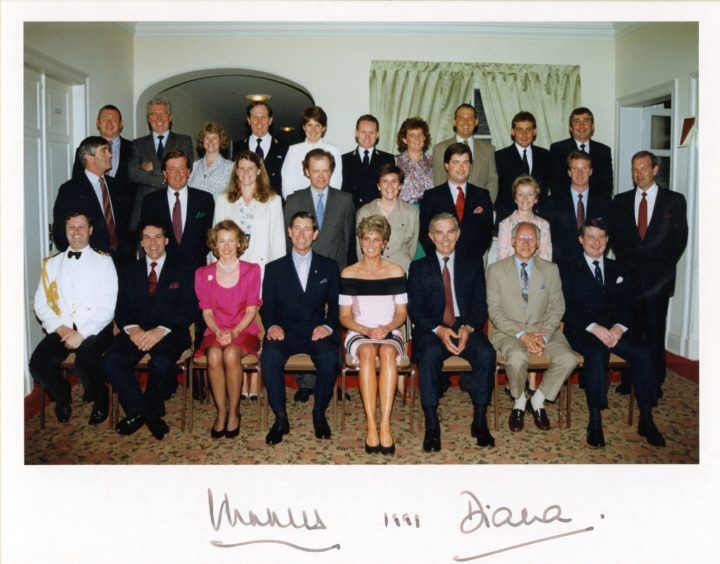 "I got the job as chef to TRH The Duke and Duchess of Gloucester, the most wonderful family," she says. "After two years I was offered a position with TRH The Prince and Princess of Wales, Prince William and Prince Harry."
As well as cooking everyday meals for the family, catering for entertaining and large events and feeding a large team of staff, Carolyn also travelled a lot, both within the UK – from Kensington Palace to Highgrove, Sandringham, Balmoral and Wales – and state visits abroad.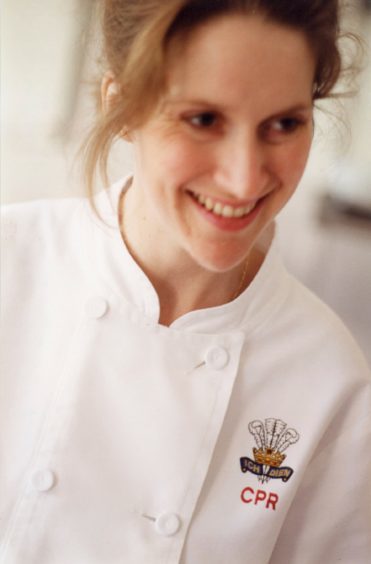 "It was a big commitment doing the job, with long days and not always regular time off but you could not ask for more amazing employers and it was a really good team of people to work with," she enthuses.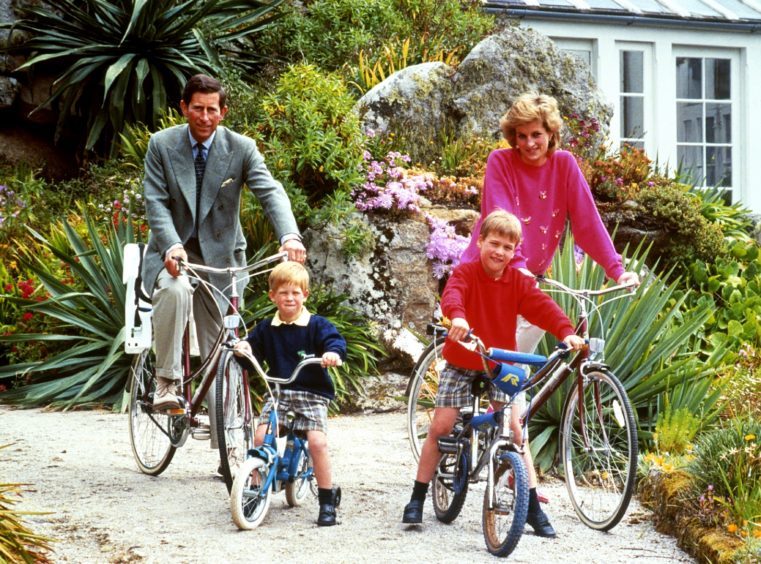 "I am so incredibly fortunate to have had such a happy and privileged career as a chef and I loved every minute of it – even the long, unsociable hours never dented my enthusiasm and passion for cooking."
Today Carolyn is a highly-respected food writer, food consultant and a busy mum to two little girls. With clients on both sides of the Atlantic, she's also working on several exciting book and product development projects.
Her most recent book The Royal Touch: Simply Stunning Home Cooking from a Former Royal Chef is packed with her favourite recipes of her happiest memories from her culinary journey – one that has covered three continents. The book includes her royal chocolate biscuit cake which Prince William loved so much that he selected it as his groom's cake for his wedding.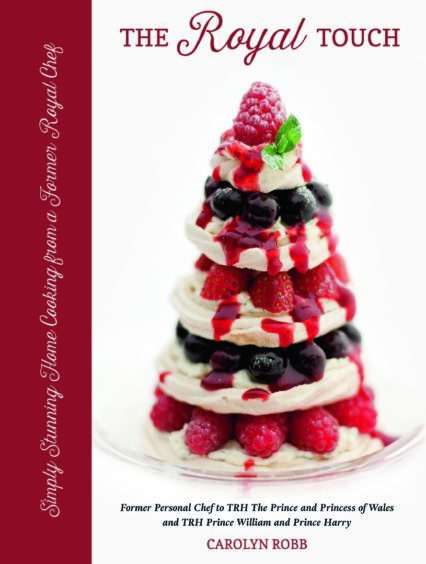 "My mother used to make this when I was a child, and it was a great favourite of mine," Carolyn explains. "When Prince William and Prince Harry were very young, I made it for them using the same recipe. It was a firm favourite in the royal nursery; so much so that, many years later, Prince William chose to have chocolate biscuit cake at his wedding. It was designed, made and gifted to Prince William by McVitie's and is said to have been made from 1700 biscuits and 17kg of chocolate!"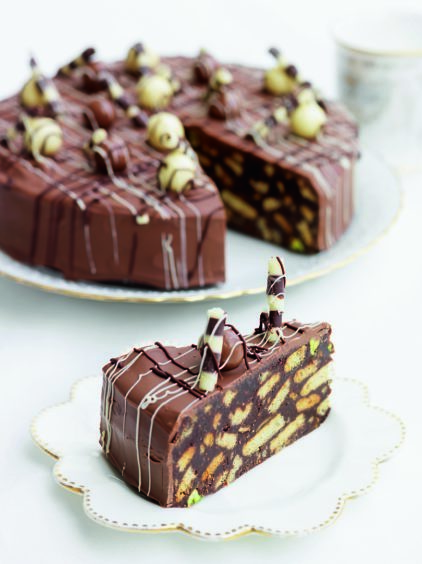 With all eyes on Prince Harry and Meghan Markle on May 18, Carolyn hopes their wedding feast will be based around simple, seasonal food from locally grown produce: "A very British meal, perhaps with a touch of Californian influence for Meghan," she speculates.
Naturally, the couple's wedding cake is being kept a secret until the big day but Carolyn reckons it will be very different to traditional royal wedding cakes through the ages.
"I think it will probably be made with organic ingredients and will be simple, spring-like and incorporate fresh fruit, edible flowers and possibly even fresh herbs like mint, thyme or borage," she muses.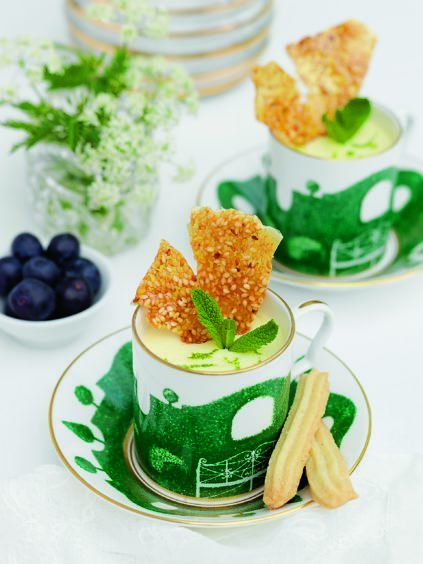 "I have heard rumours of a lemon and elderflower cake and I can see it incorporating elements from both sides of the Atlantic: Meyer lemons from California and elderflowers, which are definitely very British.
"I'm so excited about the royal wedding and this one will be very special," she says. "I won't be going to Windsor as I will only be getting back from a business trip to the States late on Friday, but I'll be glued to the television with my two girls.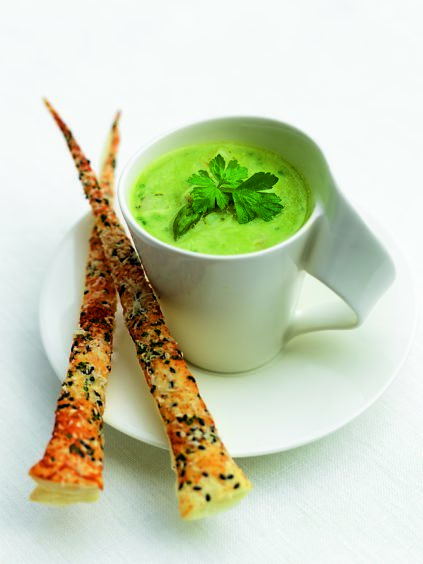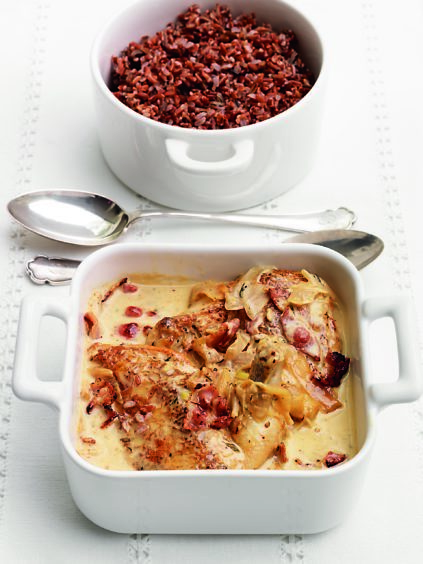 "I have endless admiration for Harry. I have wanted to see him with someone special at his side for a long time, to support him in all the incredible work that he does and to bring him all the happiness that he so richly deserves. I wish them a very long, happy, healthy and fun-filled future together – I have no doubt they will be incredibly hard-working and will achieve great things together."
When Carolyn tunes into the wedding on Saturday, she will doubtless recall umpteen happy memories from William's and Harry's childhood, including regular trips to Balmoral.
"We stayed in several different houses on the estate, not in the castle, and any spare minutes that I had I pulled on my wellies and was out walking," she recalls.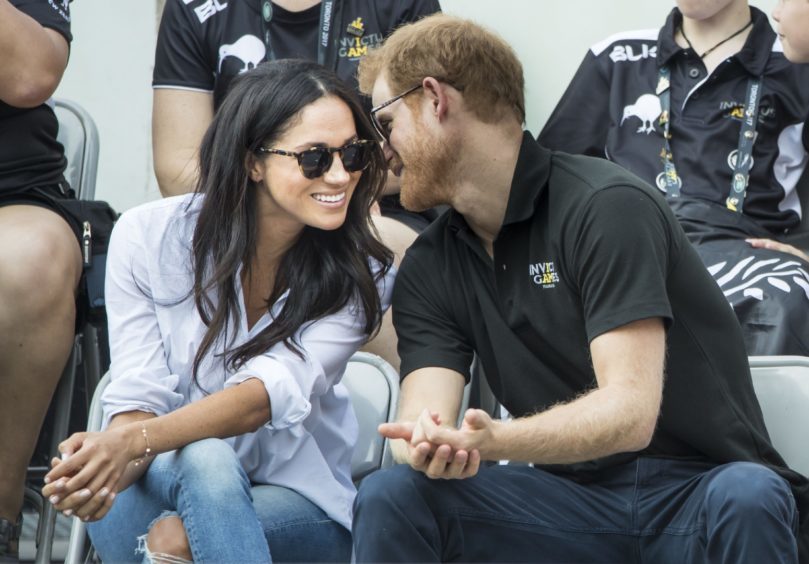 "I have very fond memories of foraging for wild mushrooms on and around the estate, quite often with Prince Charles."
Cooking with the two young princes was always very special too. "Time spent with Princess Diana, William and Harry was always happy, filled with laughter and mischief," she reminisces. "Some of the most special memories for me are just cooking for the family at home."
While the royals often had ideas of what they'd like to eat they left the finished recipes to Carolyn and frequently expressed their appreciation. A letter from Prince Charles, sent after he'd enjoyed pea and ham risotto, reads: "Carolyn – that was a memorable lunch today! I have rarely had such a delicious one and I cannot begin to congratulate you enough for producing such a wonderful example of the culinary arts!"
Carolyn says: "Receiving a note like this always served to remind me that I really did have the best job in the world: I was doing what I loved most of all and had the most incredible 'boss' that anyone could ask for."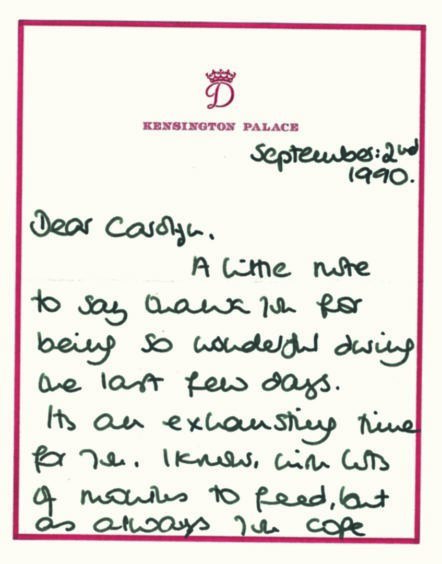 In another note, referring to caramelised pear and date puddings with butterscotch sauce, Charles wrote: "That pudding was sensational! Please can we have it again?" And Princess Diana always made sure Carolyn's hard work was appreciated: "Again a huge thank you for all your hard work. It doesn't ever go unnoticed," she wrote.
But it wasn't all a fairy tale, particularly when the family was travelling, reveals Carolyn.
"Some of the kitchens I cooked in were extremely basic – we certainly didn't always stay in palaces and castles! But I loved the challenge that presented.
"And there were so many highlights – it was incredible to be at the handover of Hong Kong, when Prince Charles represented the Queen and we were there on the Royal Yacht Britannia. We also did some spectacular fund-raising events at Windsor Castle and Buckingham Palace."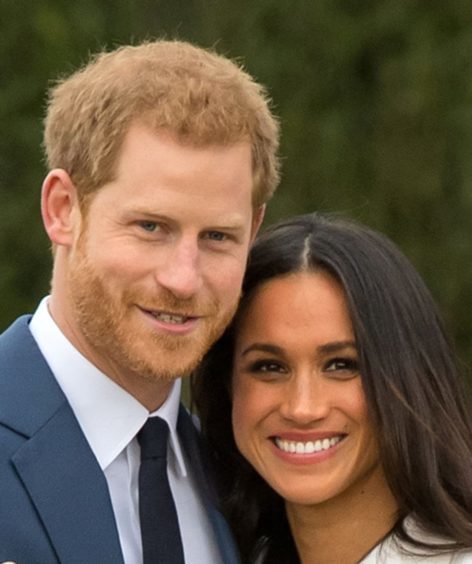 Carolyn's top tip for adding a royal touch to any meal is to keep it simple.
"Choose ingredients carefully and take time over the preparation and presentation of the food," she advises.
"Present food on lovely white plates with a minimum of handling and my secret weapon is using fresh herbs in abundance in both sweet and savoury dishes – for flavour, colour and decoration.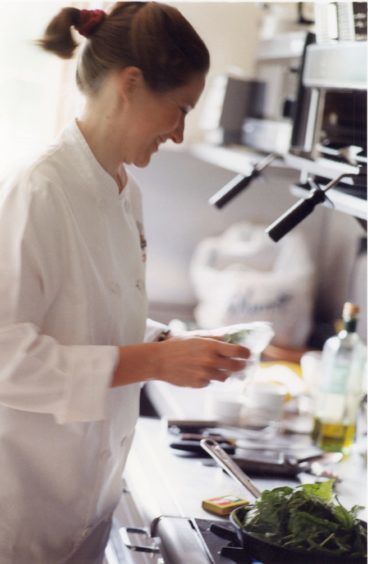 "It may seem contradictory, but nothing can beat a simple dish prepared to perfection – there is nowhere to hide!"
You can find Carolyn's recipe for chocolate biscuit cake on page 15 of this week's Menu supplement.
The Royal Touch: Simply Stunning Home Cooking from a Former Royal Chef is published by ACC Art Books, £25.