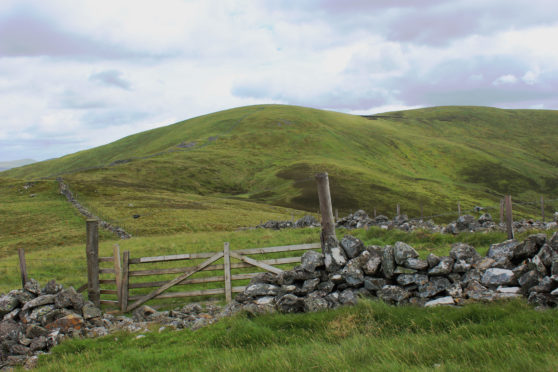 On my wandering through the glens of Scotland, I often tramp long established rights of way and ancient mountain roads and this outing, to the summit of Meall Uaine, would be no different.
A former drove road connecting the village of Kirkmichael, in Strathardle, with Spittal of Glenshee offered the perfect approach to one of Highland Perthshire's less well trod peaks.
First mapped in the mid-1700s and climbing through An Lairig pass, which stands at 650 metres (2100 feet) above sea level, the old road to Glen Shee was no easy passage for the early cattlemen and their herds. However, it was a vital link to Kirkmichael where the Michaelmas Fair was one of Scotland's foremost 18th century cattle markets.
Today, hikers and backpackers have replaced the drovers and their beasts and, as part of the Cateran Trail, the An Lairig crossing is both well walked and well-signposted.
This made for a straightforward if strenuous start to my day, the trail leading me from Enochdhu, a few miles north of Kirkmichael, up past Dirnanean House, through Home Farm and on to Calamanach Wood where the way weaves through a wide break in the conifer plantation.
Emerging from the trees at Greengate, the track strikes out across moorland to Upper Lunch Hut, a wooden estate bothy where I paused for a sandwich before continuing up the glen.
Beyond the hut, the track peters out into a grassy path which, accompanied by occasional marker posts, climbs steadily to the col.
Passing through Lairig Gate, I left the right of way, a slender grassy path running parallel with a fence and then a wall over the shoulder of Meall Uaine to the summit, marked by a small cairn
All-terrain vehicle tracks, peaty in places, follow the line of the fence down into the col between Meall Uaine and Meall Odhar where I dipped into the broad bowl of Coire Bhuraich. This is grouse shooting country so now is a good time to visit before the season starts in August.
Shooting was all but abandoned on the moors here in the 1970s following a decline in bird numbers but is currently enjoying something of a resurgence. While I failed to raise any grouse from the heather, I did spot a herd of red deer and stumbled upon a fine six-point antler lying in the grass.
Keep right on heathery ground to avoid damper grass and, at the foot of the coire, pick up a track that dips past a wooden hut to a sheltered plain where sheep and shaggy Highland cows graze.
Climbing once again, this time towards the ruin of Menachmore, I branched off the gravel road at a wooden gate in the wall ahead of the abandoned steading and clambered over slopes of grass and heather towards the summit of Menachban.
My map showed a path but there was little evidence of it on the ground, so I simply headed west for the highest point I could find. Descending, the way remained indistinct but, aiming for a fire tower across the valley, I followed a green line through the heather, passing grassy mounds that may be the remains of old grouse butts as I tramped down to a wooden plank bridge spanning Allt Doire nan Eun. Across the
water, a robust track beckoned, my route of return to Enochdhu.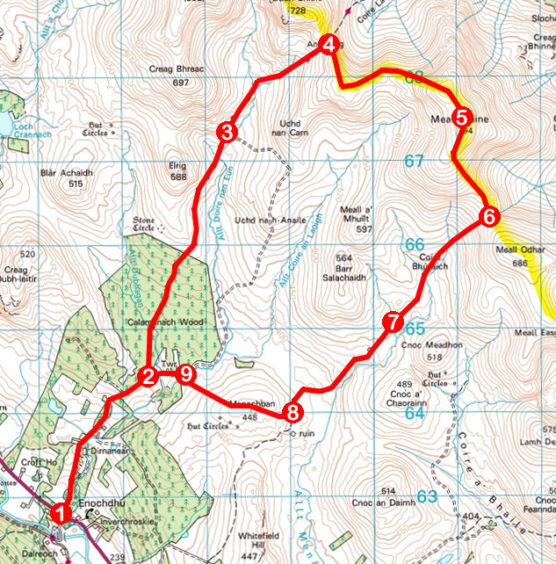 ROUTE
1. Cross A924 and ascend Cateran Trail (signed Spittal of Glenshee) for 2km, passing Dirnanean House, Home Farm and sheep dips.
2. Turn left and ascend Cateran Trail through Calamanach Wood to Greengate. Continue 1.5km north on track to Upper Lunch Hut.
3. Ascend track then path 1.6km north-east to Lairig Gate in An Lairig col.
4. Go through gate, turn right and follow fence south then wall east to summit of Meall Uaine.
5. Descend by wall, pass through gap in corner of wall and continue south by fence then turn south-east by fence, descending to metal gate in col.
6. Turn right through gate and descend south-west through Coire Bhuraich to meet track.
7. Follow track 1.8km south-west, passing estate hut.
8. Turn right, crossing wooden gate in wall, and ascend east over Menachban, descending to bridge spanning Allt Doire nan Eun.
9. Cross bridge, ascend to track, turn left and follow track to point 2. Retrace steps to Enochdhu.
INFORMATION
Distance: 18km/11¼ miles
Ascent: 700m/2310ft
Time: 5 hours
Grading: Challenging upland route suitable for fit, experienced hillwalkers following good tracks and paths for much of the way, although some sections are pathless. Keep dogs under close control due to protect livestock and ground nesting birds
Start/finish: Parking area adjacent to recycling bins in Enochdhu, 14km north of Bridge of Cally on A924 (Grid ref: NO 062627)
Map: Ordnance Survey 1:50,000 Landranger sheet 43; Ordnance Survey 1:25,000 Explorer sheet 387
Tourist Information: Blairgowrie iCentre, 26 Wellmeadow, Blairgowrie PH10 6AS (Tel 01250 872960)
Public transport: Stagecoach bus number 71 offers a limited service from Blairgowrie to Enochdhu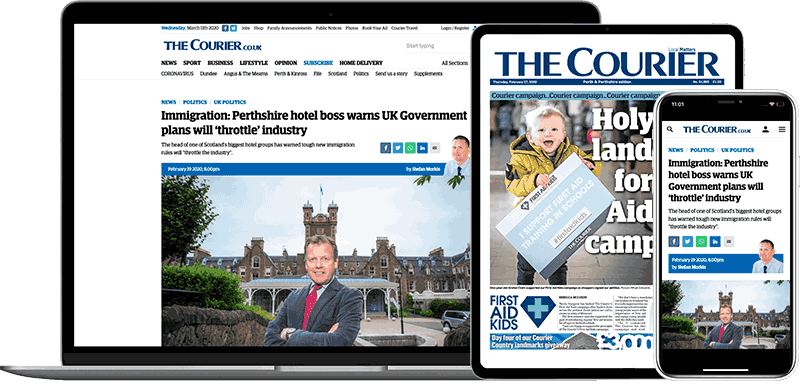 Help support quality local journalism … become a digital subscriber to The Courier
For as little as £5.99 a month you can access all of our content, including Premium articles.
Subscribe