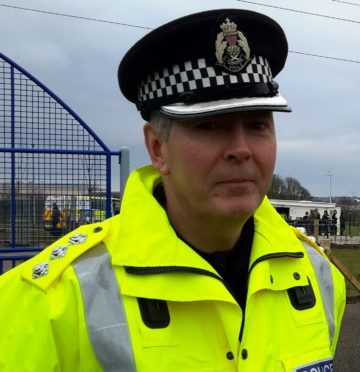 Legal highs are still a cause of concern for a prison governor and police chief.
Both Fraser Munro, who is in charge of Perth Prison, and Chief Inspector Ian Scott, area commander for Perth and Kinross, have stated that all efforts are being made to keep on  top of the problem of the new psychoactive substances (NPS), which have been found in Perth Prison and also Castle Huntly open prison.
On Friday, Mr Scott highlighted just how serious an issue it still is by revealing that a police prison liaison officer has been investigating several cases of inmates at both penal establishments having taken the highs.
"We are aware that a number of prisoners have a variety of addiction issues and we work closely with HMP's Perth and Castle Huntly to prevent and detect any associated criminality," he said.
"Unfortunately, we have seen the use of NPS within the prison estate and this has led to a series of investigations by our prison liaison officer."
And Mr Munro added: "Substance misuse is an issue for some of our prisoners and we make available recovery and other support, alongside our health partners within NHS Tayside, for those who request this.
"We also deploy various technologies, trained sniffer dogs and use intelligence sources and a very well trained and vigilant staff in order to prevent substances entering our prison."
He continued: "We have a close working relationship with Police Scotland and seek to prosecute all those we capture who attempt to bring illicit and illegal substances into this prison."
The recent clampdown on legal highs saw Liston Pacitti, of Aberdeen, and Paul Brocklehurst, of Gwynedd, Wales, jailed for a total of nine years at Dundee Sheriff Court after the pair admitted culpably and recklessly supplying NPS to the danger of health and life.
Two users of the legal highs were left in comas after taking a substance known as 'Psyclone' sold by Brocklehurst.
Brocklehurst's offences were committed between July 3, 2013 and July 29, 2015 at This 'N That in County Place, Perth. The shop is now shut down.
Pacitti's offences were carried out between July 3, 2013 and December 7, 2014 at shops in Angus.